HP had an area at the back of one of the halls where it was showing its workstation and professional products, including monitors. It was promoting a special project called 'Life on Mars' that was launched at Siggraph and invites customers to contribute to how humans might live on Mars.
We first looked at the Z38C which is new in Europe, although it was previewed at Siggraph. The monitor is a 38″ curved unit with the 3840 x 1600 21:9 IPS panel also being used by LG, Dell, Acer and others. Brightness is 300 cd/m² and contrast is 1,000:1 and the monitor is said to be factory calibrated. Colour support is 98% of sRGB.
Features include a 'micro edge' three side narrow bezel and height adjustment of 120mm. The monitor supports 65W of charging of a notebook using its USB Type-C connector. It also has DisplayPort (1.2) and HDMI 2.0. Pricing will be $1,199 and the unit will ship in October.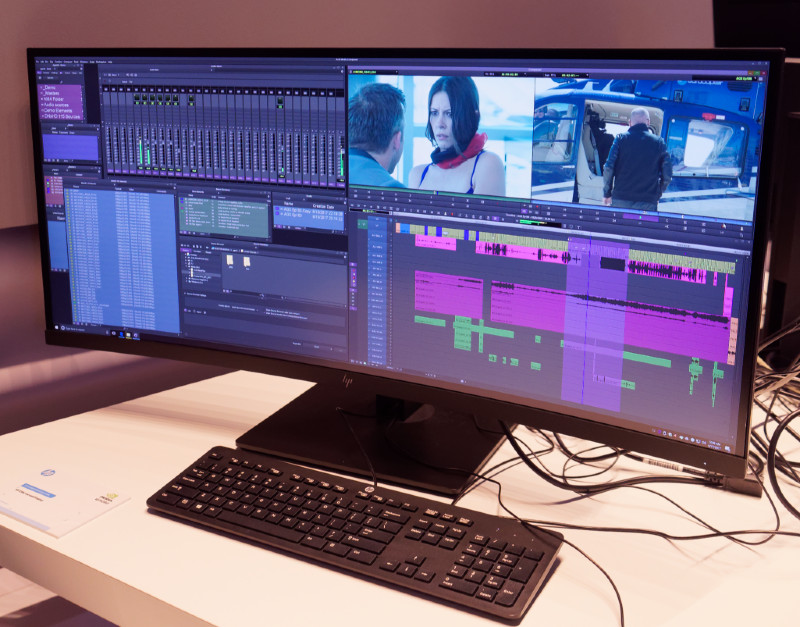 This was the first time that this reporter has seen the Z31X which is a DCI 4K monitor, but we reported it in some detail from the NAB event in the spring. (HP's New DreamColor SDR Reference Monitor Debuts).
The company was also showing its 'backpack dock' for the Z VR Backpack PC which apparently received a very positive response at Siggraph and is finding a number of applications in professional applications such as military simulators using VR and walkthroughs. The the harness holds the PC away from the body to allow cooling and spreads the weight (4.6kg/10lbs) evenly. The PC is a powerful unit with an Intel Core i7 and Nvidia Quadro P5200 graphics.