David Hsieh at Omdia has a good assessment of the Vision Pro's displays and their contribution to the total cost of the device. The internal OLEDoS (organic light emitting diode on silicon) device is the main component and the external display uses flexible OLED technology. These display pieces make up the most expensive components of the device, accounting for 35% of its overall component costs.
The internal displays are each 1.41-inch in size and have a resolution of 3648×3144, resulting in a pixel density of 3,400 ppi. Sony Semiconductor is the manufacturer and the displays are produced using a 130 nm process on a 300 mm wafer. TSMC supplies the silicon backplane, while the OLEDoS driver IC is manufactured by TSMC using a 28 nm process. The estimated cost for each OLEDoS piece is $228.
As for the external display, a single piece of flexible OLED with a 6-inch size and a resolution of 800×360 with pixel density of 145 ppi is used. The panel, produced by LG Display and comes in at an estimated cost of $70.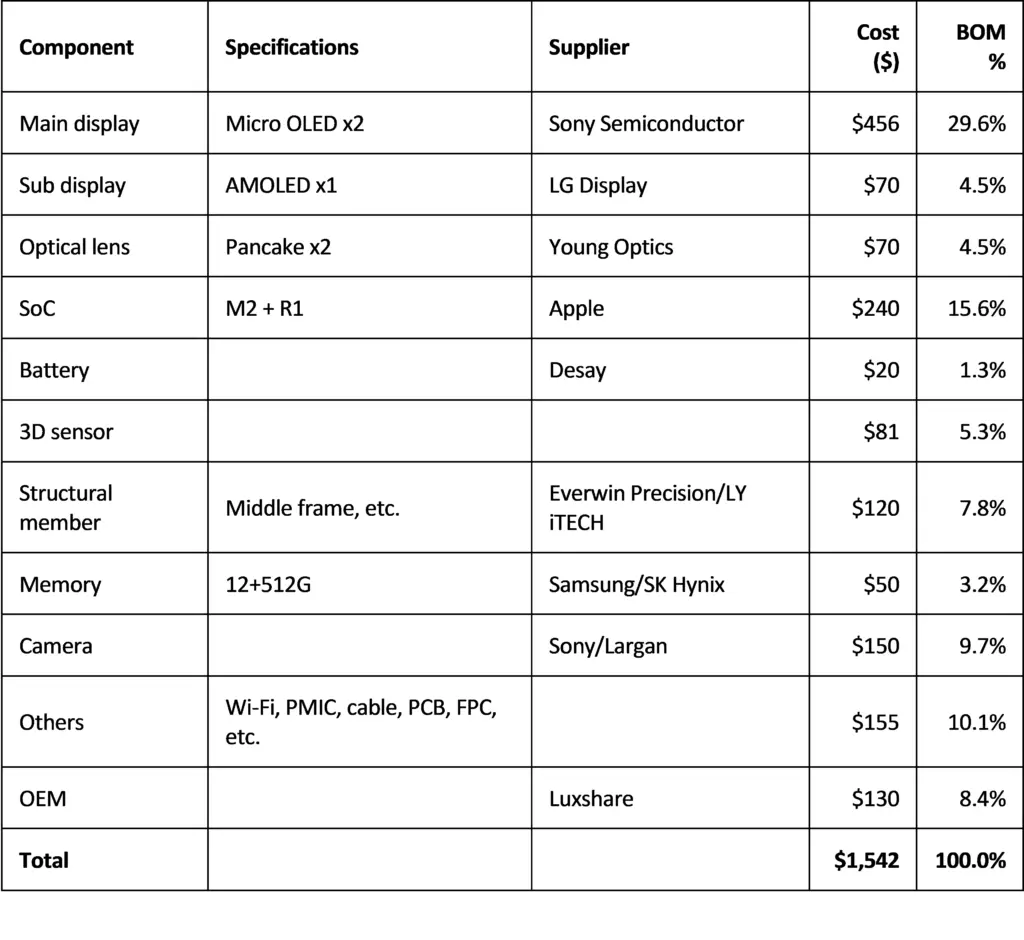 According to Hsieh, the display cost of Sony's PS VR2 is 30% of its total BOM cost, while Meta's Quest 2 uses an LTPS TFT LCD panel that represents 18% of its total BOM cost. Huawei's Vision VR device, on the other hand, incorporates an OLEDoS display that constitutes 39% of its total BOM cost.
For the initial production cycle, Apple plans to manufacture at least 200,000 units of the Vision Pro VR device in 2024. This will be followed by an estimated production volume of 1 million units in the subsequent years. In the long term, Apple may shift from white OLEDoS displays to RGB-type OLEDoS displays to achieve superior brightness and color performance.