Display specialist AOC announces the launch of five new Full HD monitors: three curved (C27G2ZU, C27G2ZE and C32G2ZE) and two flat models (24G2ZU, 24G2ZE) that competitive gamers have been longing for. The new monitors range from 23.8″ (60.4 cm) and 27″ (68.6 cm) up to 31.5″ (80 cm) and offer breath-taking specifications: a 240 Hz refresh rate and just 0.5 ms (1 ms for the 31.5″ version) MPRT create an incredibly 'connected' feel to the game world.
All models additionally come equipped with FreeSync Premium with LFC (Low Framerate Compensation) support, providing smooth game visuals without tearing or stuttering.
Built for e-sports enthusiasts
The e-sports and competitive gaming scene is growing rapidly; according to the analyst Newzoo1, global e-sports revenues will increase to $1.1 billion in 2020, compared to $950 million in 2019 – a 15.7% growth. The e-sports audience will also rise to 495 million people in 2020. While the scene is developing fast, more and more gamers consider e-sports as viable as competing in offline sports and become increasingly interested in competitive gaming.
As e-sports gradually reach a mainstream audience, more gamers gravitate towards competitive-grade equipment, too. 144 Hz refresh rate became standard in the PC gaming scene a few years ago, and 240 Hz and above monitors are starting to be more common, even in displays of gaming laptops.
Meet the 240 Hz G2 series
AOC's newest curved 27″ and 31.5″ competitive gaming monitors C27G2ZU, C27G2ZE and C32G2ZE are equipped with VA panels, which offer wide viewing angles of 178/178°, an incredibly high contrast (3000:1) and a wide colour gamut (120% sRGB, 89% AdobeRGB and 85% NTSC). The 23.8″ variants, the 24G2ZU and 24G2ZE come with TN panels, ensuring the highest responsiveness without any visual artefacts. AMD FreeSync Premium support also eliminates tearing and stuttering thanks to the variable refresh rate (VRR) capability.
All the monitors above are not only usable in demanding situations such as competitive gaming, but also suitable for any kind of game genre. Their wide colour gamut and punchy colours, coupled with the fast reaction times, make any action, RPG, FPS, TPS or racing games extremely immersive.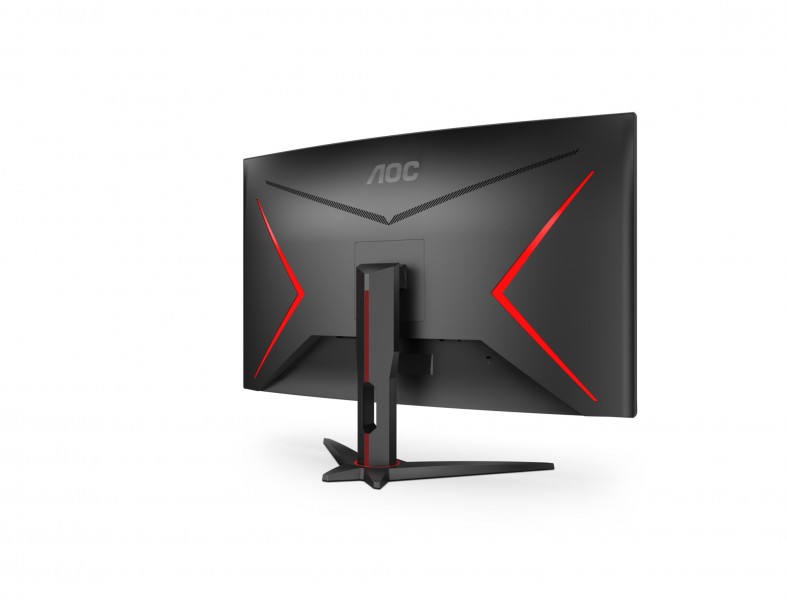 Choose your loadout
AOC offers two variants for the 23.8″ and 27″ models. The "essential" version, which features the ZE models 24G2ZE, C27G2ZE and C32G2ZE, is the more affordable, no-frills version for users who are primarily interested in the panel and its technical specs. The displays have a tiltable stand for basic ergonomic adjustments. They can also be attached to a VESA mount (e.g. a monitor arm such as the AOC AS110D0) for increased flexibility. Their better-equipped siblings, the ZU models 24G2ZU and C27G2ZU, have the same initial specifications, but come with a more enabling, height-adjustable stand, built-in 2x 2W speakers and a 4-port USB 3.2 hub for users who desire a complete package for their battle stations.
All the models come with an attractive 3-side borderless design for a sleek look on the desk and even more immersive multi-monitor setups. Low Blue Light mode and Flicker-Free technology ease gamers' concerns for their eyes' health in long tournaments. HDMI 2.0 and DisplayPort 1.2 sockets, audio input and output offer a variety of sources to be connected.
AOC's C27G2ZU is available in May 2020 with a RRP of £299 and the C27G2ZE will be available in June 2020 at an RRP of £279.
AOC's 24G2ZE, 24G2ZU, and C32G2ZE will be available in July 2020 at an RRP of £269, £289 and £329 respectively.
| | |
| --- | --- |
| C32G2ZE | £ 329 |
| C27G2ZU/BK | £ 299 |
| C27G2ZE/BK | £ 279 |
| 24G2ZU/BK | £ 289 |
| 24G2ZE/BK | £ 269 |
More information and technical specifications:
https://eu.aoc.com/en/gaming-monitors
1https://newzoo.com/insights/trend-reports/newzoo-global-esports-market-report-2020-light-version/