Next week is the annual get-together of the technologists of the display industry in the US, at the annual SID Display Week in San Jose, California. I'll be there, and there are a couple of things that I will particularly looking for.

The first is dual cell LCD technology. I've been writing about this for a couple of years*, as a very expensive, but superb quality development of LCDs for broadcast applications. With this concept, an extra monochrome LCD sits between the backlight and the main LCD to modulate the backlight. Around 1,000:1 contrast in each layer is multiplied together to give overall contrast of around 1,000,000:1, with control of the backlight at the pixel level of the monochrome panel.
Monitor maker, Eizo was the first to impress me with a unit built around a dual LCD panel from Panasonic's LCD business, but not the last. Several vendors in the market have products in the market and Sony surprised me at IBC last September by telling me that it had put development of OLED broadcast monitors on the back burner, to concentrate on dual panel LCD. The key reason is that, as Eizo demonstrated at IBC in 2017, at low levels of brightness, the technologies were very similar in performance. However, once brightness starts to go up beyond a certain point, the OLED starts to lose performance with peak white increasing but with reduced saturation in the high brightness colours. This is, effectively, a loss of 'colour volume', a topic I first became aware of in long discussions with Karl Lang, a consultant that worked with Epson on projection. In projection, DLP projectors based on an RGBW colour wheel can suffer from the same problem compared to 3LCD projectors. Lang had some cool 3D models of colour spaces that showed this concept. Samsung has also talked about it here.
Sony's OLED-based broadcast monitors have an indicator LED that shows when they reach the limit of accurate colour performance. Once the little light comes on, side by side, the LCD starts to look better and better as brightness goes up, while the OLED starts to degrade.
Now, it's one thing to make panels for €25,000 broadcast monitors, but at CES, I was surprised to see a couple of TVs (from TCL and Hisense) using the same concept (If One LCD is Not Enough, Try Two). Unlike the Panasonic panel, which uses a modulating layer that is the same resolution as the front panel, the panels shown in Las Vegas used FullHD modulators behind UltraHD colour panels. We speculated that the panels came from BOE and we were able to get some information from that company about its technology. It told us that it had shown the concept at the last two SID shows, but, to be honest, the company has so much to show at SID, that it's really hard to capture all of it!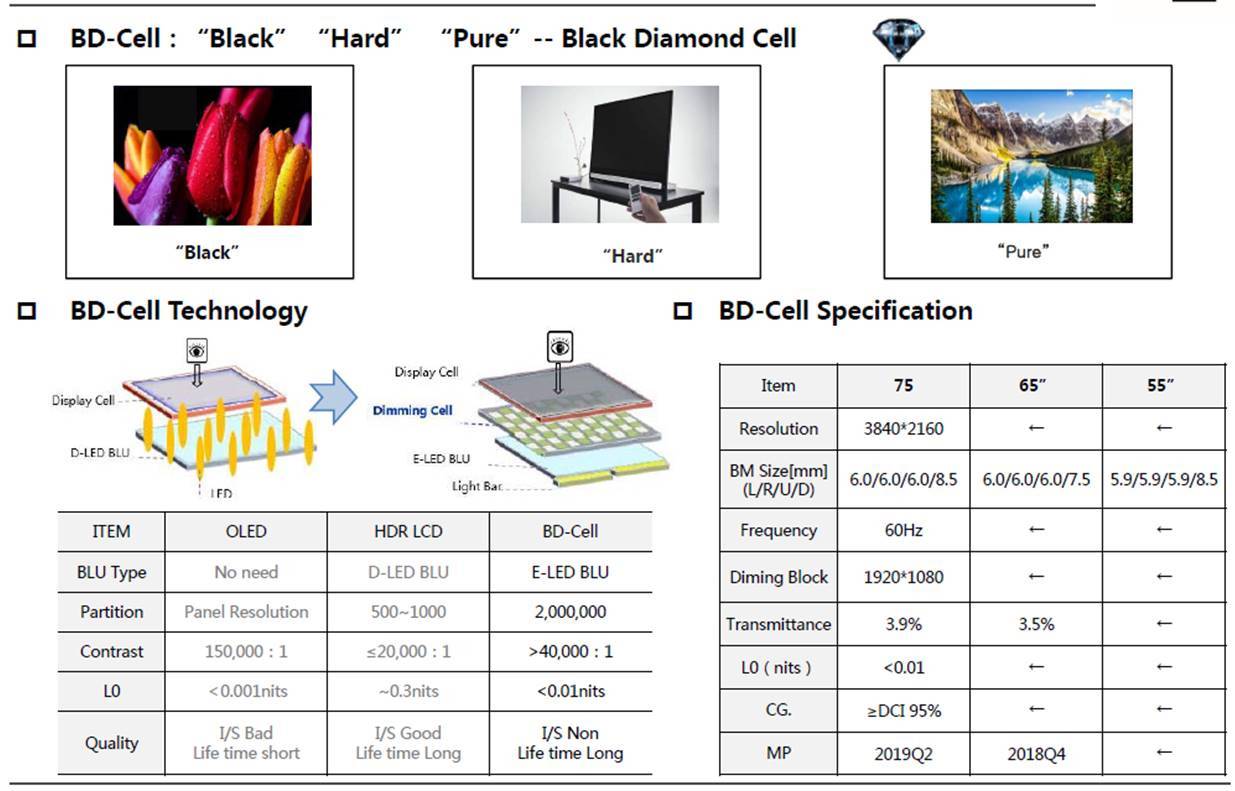 The technology is particularly interesting because it allows the use of IPS panels, without the typical disadvantage of IPS in the loss of contrast compared to VA when the panel is viewed straight on. When there are two million 'zones' in the backlight, specular highlights can look very good without 'halo' effects that come from miniLED backlights and other direct LED backlight technologies. The dual layer panel can use simple edge backlighting.
There are disadvantages, of course, as there always are. The first is an increase in material costs – you need at least one extra layer of glass and polariser film and some more LC material. On the other hand, there should be considerable cost savings in the backlight. The bigger challenge may well be the energy efficiency of the panels. The data from BOE shows transmittance that is quite a lot better than I had expected it to be at 3.5% to 3.9%. That's lower than current typical TVs, but I'll be checking how it compares next week. Aperture ratios keep improving in LCDs, but a desire for better colour and viewing angle performance typically tends to work against this as often it means that colour filters need to be more aggressive.
I was going to write about the other topic that I will be looking at which is flexible displays, but ran out of space! (BR)
* Many, many years ago, at a CES show, Sharp showed a 'million to one' contrast ratio panel, that I believed used the same idea, but Sharp would not confirm that at the time and as far as I am aware, never released a production product based on the idea. You can check out most of our coverage on this topic here as we have now set up a tag for Dual Panel LCDs.