Barco reports that will supply F70-4K6 laser phosphor UHS projectors with IR LEDs to Kratos Defense & Security Solutions for the Marine Common Aircrew Trainers (MCAT) being managed by RPA Electronic Solutions.
The USMC is procuring five MCAT devices. Designed to train the Sikorsky CH-53E Super Stallion, the Bell-Boeing MV-22B Osprey and the Bell Helicopter UH-1Y Venom enlisted aircrews, the reconfigurable MCAT is a single training device that can simulate each of the three aircraft types.
USMC aircrew will use the MCAT to train for a variety of aircrew skills to support mission readiness, including aerial gunnery, external lift operations, combat scenarios, standard and emergency flight procedures, hoist operations and crew coordination in simulated day or night all-weather conditions.
3D Perception announced that they have delivered the Northstar Visual Display System to Lockheed Martin Rotary and Mission Systems. The system is for the UK Military Flight training System (UK MFTS) fixed wing program. It will be deployed in the RAF station in Valley, Wales.
The visual consist of a 20' x 20' (6m x 6m) footprint with a 270º horizontal by 120º vertical FOV powered by thirteen WQXGA (2560 x 1600) projectors along with the nBox and Aurora alignment system.
Rockwell Collins has been selected by Lockheed Martin to provide display systems for two international F-16 training program customers. The solutions include customized configurations of Rockwell Collins' Griffin rear-projection dome and SpectraView display systems.
The 360º Griffin rear-projection dome configuration will include an expanded ingress and egress system to accommodate the larger cockpit of an F-16 and capitalizes on projector capabilities for enhanced night vision goggle (NVG) usage.
The tailored, front projection SpectraView solution will be the first of its kind to incorporate full NVG functionality while boasting a wide field of view, wrapping 300º around the user, 120º above and 40º below. The system also uses industry commercial off-the-shelf projectors.
Lockheed Martin announced the successful completion of the Combat Rescue Helicopter (CRH) Program Training Systems Critical Design Review (CDR). The USAF has a requirement for 112 Whisky models to replace the USAF's current HH-60G Pave Hawk fleet, which perform CSAR operations as well as personnel recovery for all US military services.
In all, six aircrew and maintenance training devices and instructional courseware designed specifically for the HH-60W aircraft will be delivered. The company said that, 'the training devices run the spectrum from full motion simulators, full aircraft maintenance trainers, and discrete part task training devices for aircraft systems such as avionics, rescue hoist and landing gear.' The flight simulators will be built to FAA Level D standards and include the capability to link with other simulators on the Combat Air Forces Distributed Mission Operations Network.
First flight of the HH-60W aircraft is expected in late 2018. Training devices and courseware are expected to be ready for training in early 2020.
Rockwell Collins has been selected by the US Navy to deliver a new E-2D Advanced Hawkeye Tactics Trainer in support of the E-2D Hawkeye Integrated Training Systems (HITS) III program.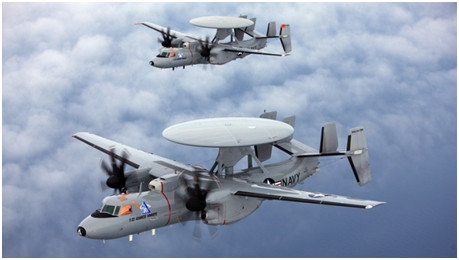 The advanced system is capable of being integrated with other trainers throughout the country and can help support high-fidelity training in a live, virtual, constructive (LVC) environment. Rockwell Collins' new E-2D Advanced Hawkeye Tactics Trainer is currently slated to be completed by August 2020 and will be deployed at the US Naval Base Ventura County in Point Mugu, California.
A joint venture between Precision Flight Controls (PFC) and Australia's Ryan Aerospace has seen the development of a new, cost-effective Bell 206 helicopter simulator which has just received certification under Federal Aviation Administration (FAA) rules as an advanced aviation training device (AATD).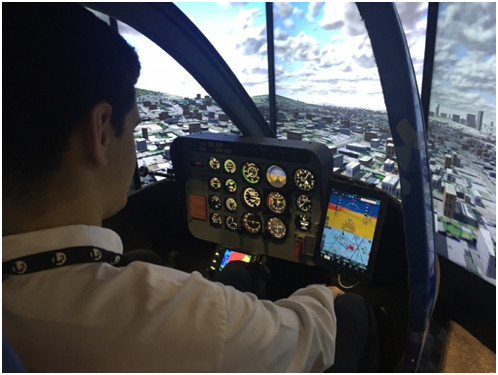 The simulator device is reconfigurable between the Bell 206 and Bell 407, but it can also be used as a generic rotary-wing training aircraft. The unit comes with a full PC rack system complete with licensed software and instructor operator station (IOS), which allows users to create scenarios, set weather conditions, change time of day or night, select any airport and induce failures. The Garmin 530W is included with virtually full functionality. There are also many options to choose from such as visual system (projection dome system or LCD panel display); avionics; and motion and vibration system, to name just a few.
GlobalSim has announced that it has been placed under contract by the US Army Reserve Command (USARC) to provide a number of different training simulators to be delivered in the first half of 2018. The company will deliver JLG Atlas II telehandler forklift simulators and Kalmar RT240 rough terrain container handler simulators.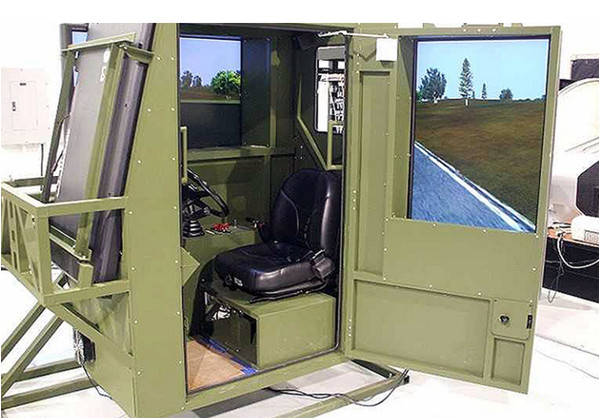 The simulators will each include operator controls from the OEMs, large flat panel displays, motion systems and full instructor operating stations for interactive training. The company's training scenario editor and student database will be included as part of the contract.
GlobalSim also showed its first virtual reality simulator. These are not just for aircraft and armored fighting vehicles but also have a place in supporting training for plant, considered by many as the less glamorous aspect of military training.
An Elbit Systems interconnected, multi-cockpit Mission Training Center (MTC) was recently inaugurated for the Colombian Air Force. The MTC provides realistic simulated battlefield training using a variety of aircraft systems and mission scenarios and uses a sophisticated computer generated forces (CGF) solution to enable simultaneous participation of friendly and enemy forces.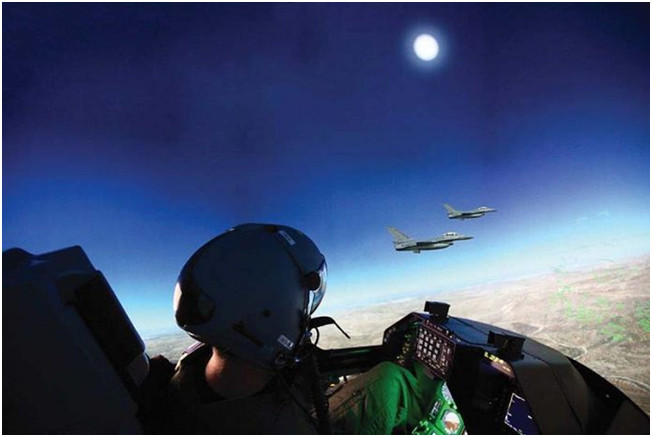 The Colombian Air Force MTC draws on Elbit Systems' experience with the SkyBreaker MTC, implementing the company's "Train as You Fight" concept, thus enabling pilots, squadrons and ground controllers to conduct realistic, up-to-date training exercises and save actual flight hours. The MTC can be used for basic and emergency training or for advanced mission-oriented training with up to 24 trainees, training together in a "real" mission environment. The MTC covers all stages of tactical mission training including planning, rehearsal, and debriefing. – CC