Visteon is one of the biggest suppliers of instrumentation and consoles for vehicles that was spun off from Ford in 2000 and we first met them at CES in We had a tour around the booth which had direct view displays and HUDs.
We started by looking at a range of different digital/hybrid options. Visteon can support dual mechanical dials, with a display between, one dial and one digital or fully digital configurations, using displays from 7.0″ When using a mechanical dial, coloured LEDs can be used to highlight different segments or the pointer. Cost goes up with more digital, but, of course, the designer gets more flexibility.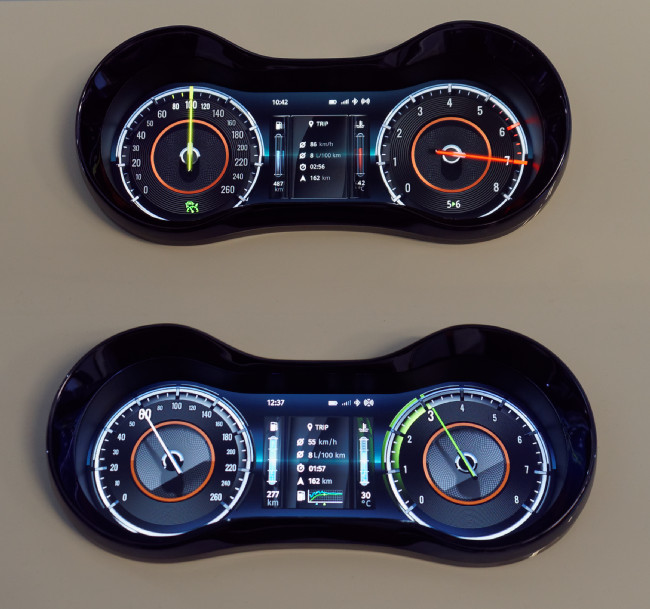 Visteon can support hybrid (top) or fully digital instruments (bottom). Image:Meko
To keep costs down, there is a lot of standardisation in automotive, and 10.25″, usually with 1280 x 480 or 1920 x 720 for more up-market solutions. Visteon believes that as much as 80% of the market could be using this kind of display in five years. Target brightness is typically 800-1000 cd/m2. Moving up from 10.25″, 12.3″ with1920 x 720 or 2880 x 1080 are the kind of resolutions used.
The company was also showing OLED concepts which can have organic shapes and bends which are very attractive to automotive designers. There's a lot of work being done to qualify OLEDs for automotive applications, but there remain some challenges today.

Visteon's OLEDs are attractive to designers, but need qualifying. Image:Meko
Visteon has had a good response from makers for using 3G glass over flat displays, which can meet the desire for curves, but is easier to qualify, using LCDs.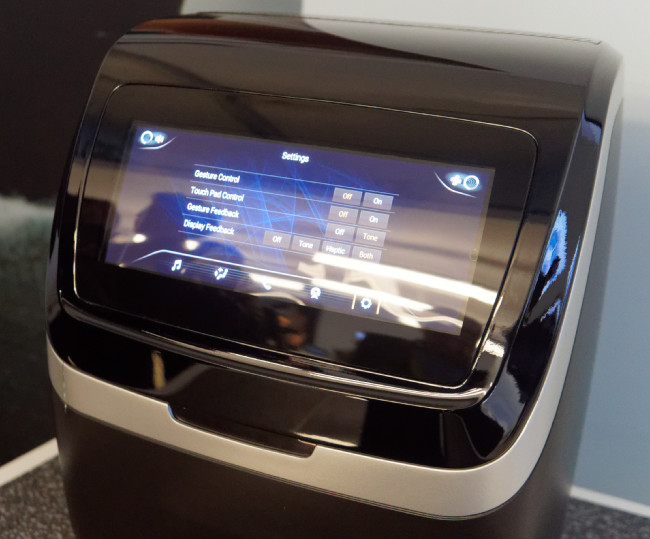 Visteon can offer 3D Glass over flat LCDs. Image:Meko
We also looked at the company's HUDs which looked very good. They use LCDs as imagers, rather than DLP, and we were impressed by the relatively small volume of the HUD assembly, which was just 2.5L. The HUDs can have different mechanical systems, depending on the budget, with the most expensive storing themselves and covering the aperture with a motorised panel.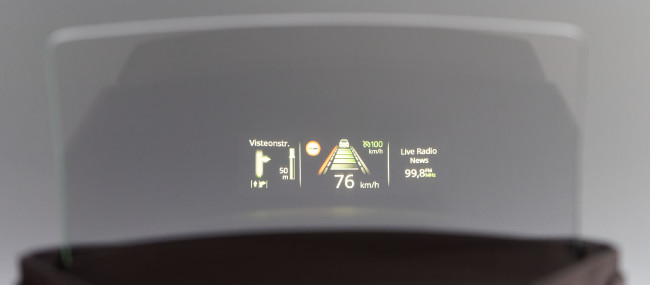 Finally, by 2019, Visteon will be offering an autostereoscopic S3D display that has real depth and using dual displays with a combiner. We were impressed with the quality and Visteon told us that customers have also reacted well – it expects to have a customer in around that time frame. This kind of display often works best when head tracking is used to define where the viewer is, but in a car, the driver's head is only going to be in a limited number of places and so this is not needed.