At CES, the North Hall of the Las Vegas Convention Center is the center of things automotive, with driving demos being held in the so-called Central Plaza near the Monorail station. Many of the cars and trucks were relatively ordinary, simply being used as platforms for thousand-watt (or more) speaker systems, which we will not cover here. But there were a number of genuinely interesting production and concept vehicles.
Ford Keeps BEV Secret
Although it wasn't front and center in Ford's booth at CES (or its booth at the North American International Automobile Show in Detroit the following week) the new 2017 Ford Focus battery electric vehicle (BEV) is notable for being a very well kept secret. Unlike Tesla and Chevrolet (and Hyundai and others), who started talking about their relatively affordable BEVs months or years before they would be available for sale, Ford saved its reveal for early January. A Ford rep told me the car would be available in showrooms "very soon."
The car has a 113-mile range and a base price of about $30,000 after the $7500 government rebate. Intriguingly, the transmission has conventional-seeming PRNDL shift positions. Does the electric Focus really have a two-speed transmission? No. L, the rep said, supplies higher current for greater acceleration. "It's really a sports mode."
Although Chevy and Tesla worked hard to give their $30,000 electrics ranges of over 200 miles, which is considered the range at which many consumers will consider an electric car for their primary vehicle, Ford and many others are introducing cars with a range only a bit over 100 miles. The Ford rep discussed studies showing that only a modest percentage of the market really needs that extra 100 miles of range. Hmmm. If you need only 40 miles of range six days a week but need 200 miles on Sunday to visit grandma, that difference means your electric can't be your primary vehicle.
Ford, of course, understands this. Just prior to CES Ford "confirmed seven of the 13 new global electrified vehicles coming in the next five years." Among these are "an all-new fully-electric small SUV, delivering an estimated range of at least 300 miles [that] will be built at the Flat Rock, Michigan assembly plant beginning in 2020…."
Another is a "high-volume autonomous hybrid designed vehicle designed for commercial ride hailing or ride sharing," which will also be built in Flat Rock and will debut in North America in 2021. Ford will also be producing two new pursuit-rated hybrid police vehicles, one of which will be built in Chicago.
Divergent3D Printed a Car
Divergent3D showed its beautiful one-person-wide Blade super-coupe that was was entirely 3D-printed. The car contains a 700-horsepower engine, weighs only 1400 pounds, and accelerates up to 60 miles per hour (100kph in 2.5 seconds. Based on photographs, it appears that at least two Blades exist. Divergent3D is apparently using them to promote its 3D manufacturing platform.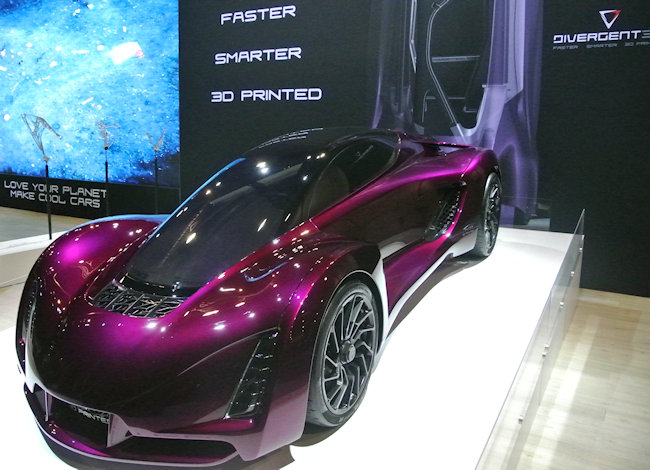 Divergent3D's Blade supercoupe is made entirely with additive machining — that is, 3D printing. (Photo: Ken Werner)
Volkswagen showed its I.D. autonomous concept car and outlined a now-familar list of connected and autonomous functions. The interior has a starkly clean design that almost screams "I drive myself." An interesting element is that the instrument display bezel pulls toward the driver to become a steering wheel.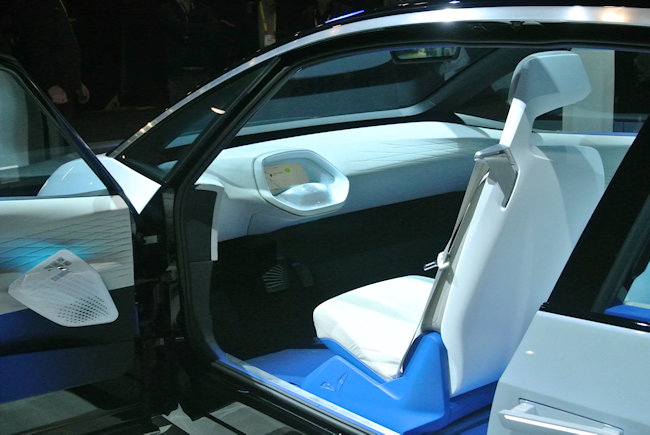 Volkswagen's I.D. autonomous concept car. The instrument display bezel pulls out to become a steering wheel. (Photo: Ken Werner)
Neighborhood Electric Vehicles Propogating
Specifications for low-speed vehicles (LSVs) were established by the NHTSA in the U.S. years ago, but each state establishes its own rules for licensing LSVs and neighborhood electric vehicles (NEVs). Such vehicles are limited to a speed of 25 miles per hour (40kph) by NHTSA, although some states have a slightly more generous speed limit. However, this means that any manufacturer who wishes to sell vehicles nationwide must comply with the 25 m/hr limit. LSVs and NEVs are subjected to much more lenient requirements for safety equipment than standard motor vehicles.
There seemed to be an explosion of NEVs at this year's CES. Among them was the Eli Zero, a 770-pound (350kg) vehicle with a wheelbase of 63 inches (160cm), a turning radius of 12 feet (3.66m), and a 48V lithium battery that will power the Zero's 4kW AC asynchronous motor up to 40 miles (64k) at a top speed of, naturally, 25 m/hr.
Doohan's iTank "smart motorcycle" is not formally a NEV because it only has three wheels and it's a little too fast to be an NEV in most states. Introduced in China in April 2016, it was receiving its U.S. introduction at CES. The iTank's in-hub Bosch motor can power the trike up to 45 km/h in "power gear." It is not clear whether this is an actual second gear or a high-current mode. Top speed is 25 km/h in "comfortable gear." The range from the "LG/Panasonic" lithium battery is 100 miles (160km) at 20 km/h, and the battery is good for 600 charge/discharge cycles.
The iTank is particularly because it's designed as an entertaining on-road/off-road vehicle. Doohan describes it as "a motorcycle that can easily make banked turns, drift and burnout." The i in iTank derives from the mobile-phone app that displays vehicle location and track, battery charge and remaining range, alarm in case the iTank leans excessively, and quickly makes service appointments. The iTank appears to be an unusually robust and entertaining electric vehicle. MSRP is $3200.
Honda Checks the Driver's Mood
Honda revealed a demonstration self-balancing motorcycle and the NeuV (say New-Vee) electric concept city car. The interior of the NeuV is dominated by a huge wide-aspect-ratio display, a minimal steering wheel, and not much else you can see. What you can't see is the Honda Automated Network Assistant (Hana). Hana monitor's the driver's heart rate and performs facial analysis to assess his or her emotional state. It will also carry on a conversation, and learn your preferences (such as your favorite donut shop). The NeuV is an SAE Level 4 (out of 5) autonomous vehicle.
Honda also showed its "Safe Swarm" concept, which attempts to answer the question, "What if traffic flowed more like a school of fish?" The idea seems to be that V2V communications allows vehicles to merge cooperatively.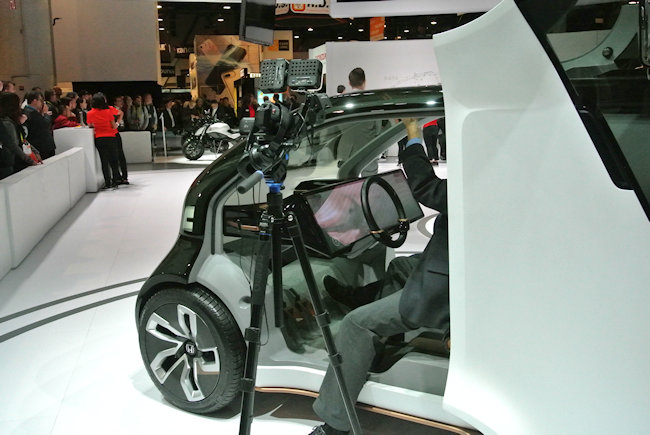 Honda's NeuV concept is an electric city car with SAE Level 4 automation. Note the huge display. (Photo: Ken Werner)
Hyundai showed an autonomous demo version of its new hybrid Ioniq, and described the latest version of its Mobis autonomous driving technology, which incorporates Level 2 highway driving assist and V2X connectivity. The Level 2 automation includes steering a velocity control in highway environments and incorporates 360-degree multi-sensor fusion and tracking. The sensors include front long-range radar, front camera, and corner radar (one at each corner of the car).
The V2X system seems to also incorporate V2V communications. It delivers mapping from the infrastructure and provides warnings, advice, and information to the driver.
FCA (that's Fiat Chrysler Automobiles) showed its Portal concept electric vehicle, which looks like a cross between a CUV and a hatchback. The platform is front-wheel drive, and FCA is predicting a 250-mile (400km) range. The Portal incorporates a "modular smart corner concept," developed in cooperation with Magneti Marelli. It includes ultrasonic sensors for close-range spatial awareness and parking assist, short-range Radar for blind-spot monitoring and cross-traffic collision warning, long-range Lidar, and long-range Radar. Put them all together and the situational awareness is impressive.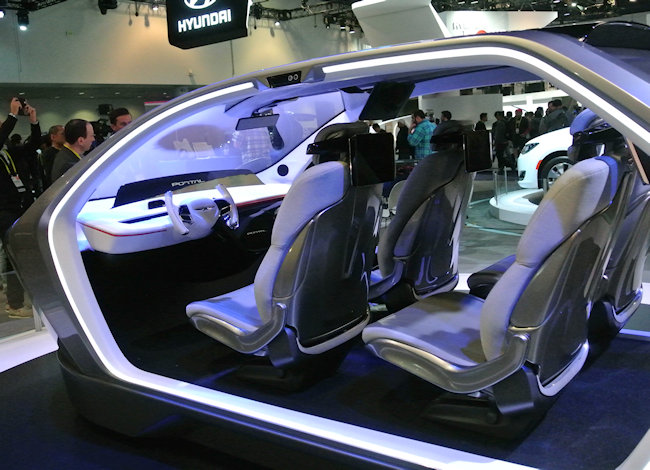 The interior of FCA's Portal concept vehicle. (Photo: Ken Werner)
Harman Shows Garden Car
The Rinspeed Oasis concept car was being shown in the large Harman display area in the Hard Rock Hotel. The concept is intended to demonstrate "ride-sharing reimagined," with an implementation target of seven years from now. The focus is on the user experience, a Harman representative said.
The car will download different personal profiles for different people or personas so the car is customized for the rider when he or she enters the car. The profiles can include social, business, personal, and entertainment data. "The car is there for you," said the rep.
The Oasis, Harman says, aims for a "living-room environment." The car is short, but wide, tall, and very airy and comfortable. Rinspeed has integrated subsystems from a variety of suppliers. WayRay supplied the AR display. The extensive direct-view displays are from Samsung, said Harman's Rashni Rao (formerly of Apple).
The first Harman rep called the Oasis "the future of ride-share mobility" and said that Harman is the only Tier 1 supplier that has integrated all of these systems.
I can't leave the Oasis without noting that the space between the large windshield and the dashboard looks something like a greenhouse, and Rinspeed has indeed used it to house a small garden, part of which is removable. All this is intended to make a "green" statement, but it is just plain silly, and the one false note in an otherwise impressive concept.
Let's conclude our tour on a more practical, and display-related, note. Rashni Rao pointed out an FCA Pacifica that incorporated a Harman system that lets the cluster and center stack communicate with each other, which is rarely the case in current vehicles. Eighty percent of the system is standardized, with the remaining 20% allowing the car OEM to customize the look and feel of the cluster. FCA can use same basic system in a Pacifica and a Maserati, with each having its own distinct appearance, Rao said. — KIW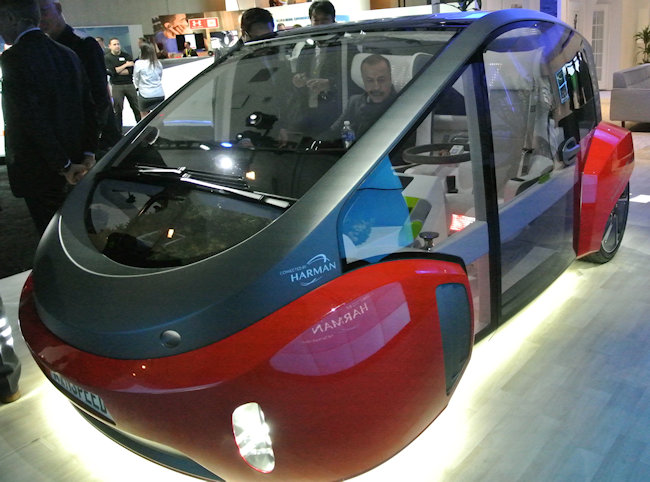 The Rinspeed OASIS concept car is intended to provide a shared vehicle that adapts to each user through extensive connectivity. There are photocells on the roof and a garden — yes, garden — under the windshield. (Photo: Ken Werner)