The Ultra HD Forum, a group that sets best practices for the pixel-packed video format, helped support 14 HDR demos at NAB 2017. These included "Deployable Phase A" technologies that represent current challenges, including broadcaster HDR video delivery, SDR and HDR mixing and delivering quality HDR video. There were also three "Phase B" tech demos dedicated to dynamic HDR metadata; HDR and SDR improvements; and High Frame Rate Video.
In the UHD Forum Booth in the North hall were five pods.
Pod 1 – Broadcaster HDR – Phase A
Pod 2 – Mixing HDR and SDR formats and the quality of UHD HDR – Phase A
Pod 3 – Dynamic Metadata – Future
Pod 4 – HDR and SDR Improvements – Future and Phase A
Pod 5 – High Frame Rate Video – Future
These demonstrations are the result of work by the Ultra HD Forum Interop Working Group, and specifically key members from Dolby, Sony, LG Electronics, Technicolor, NeuLion, PBS, Sigma Designs, Huawei, Harmonic, BBright and Beamr.
Pod 1 focused on work by Sony, DirecTV and LG Electronics to establish an HLG-based broadcasting solution. As shown in the diagram, it can support inclusion of SDR and PQ-based HDR content, converting everything to HLG at the headend for distribution. This workflow maintains full backward compatibility with SDR (but HLG still uses SDR 709 primaries so not wide color gamut).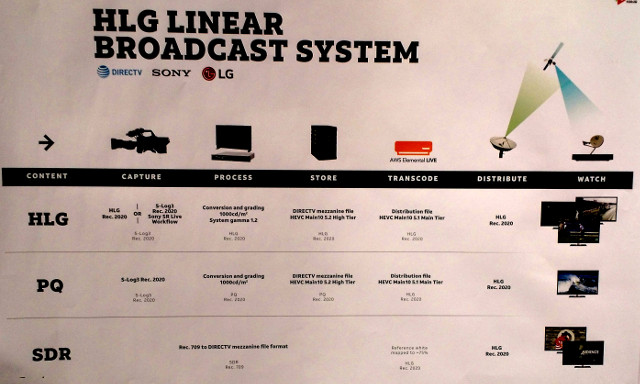 Pod 2 focused on conversions of HDR and SDR content. Harmonic and Sigma highlighted how their chip sets, implemented in set top boxes, can down convert from HDR to SDR. Such conversions are needed if HDR content delivery becomes the platform of choice, with down conversion done by an appliance in the home. SDR-to-HDR conversion at the headend was shown by a team of Harmonic, BBright, Huawei and Sony using inverse tone mapping to generate the HDR10 signal in the STB.
Other demos did the same thing without tone mapping – just taking the 709 colors and putting them in a 2020 container by changing the RGB coefficients. This pod also showed how content encoded with HEVC DASH can provide an adaptive bit rate solution for HDR. Resolutions varied from 720p to 2160p and bit rates from 1 to 18 Mbps as part of the demo. An app developed by Neulion was used on a Sony TV to execute the demo.
Pod 3 focused on dynamic metadata where Dolby highlighted how PQ10 can be used in broadcast product. This means using the 10-bit PQ curve during the production process, but without metadata. Just prior to the final encoder, the HDR content is run through Dolby's Content Management Unit (CMU) to generate HDR scene-by-scene metadata and the SDR version.
Pod 4 focused on HDR and SDR improvements and was essentially a description of Advanced HDR by Technicolor. See separate coverage of Technicolor's system. (Technicolor HDR Workflow Updates from NAB)
Pod 5 focused on high frame rate content and featured a demo by LG, PBS and Sony to display 4K/120 content to show the reduction in motion artifacts.
Separately, the Ultra HD Forum said it has released the 1.3 version of the UHD Forum Guidelines (UHD Forum Issues Forensic Watermarking Guidelines), which include the additions dedicated to forensic watermarking. It said several member companies initiated the creation of those security guidelines, including ContentArmor, Irdeto, MarkAny, NexGuard, and Verimatrix. Those guidelines, the Forum added, take the MovieLabs specification for Enhanced Content Protection "to the next level", and have been vetted or reviewed by orgs such as MovieLabs, the Digital Watermarking Alliance, and the Streaming Video Alliance. – CC