Seven Star Works is the name that is now on the booth of TVLogic, as the company was acquired by that Chinese company which changed the name in December 2015. TVLogic is still the brand name that will be used for broadcast monitor products. There were four new products all in the 4K class.
The LUM-240G was shown last year, but is now shipping and is a 24″ unit with UltraHD resolution, 350 cd/m² and contrast of 1,000:1 and 10 bit colour depth. Features include 12G SDI single and 3G quad link as well as aids for video such as focus assist. The LUM171G is a 16.5″ FullHD unit that has 450 cd/m² and contrast of 1,400:1 and both monitors have HDMI inputs.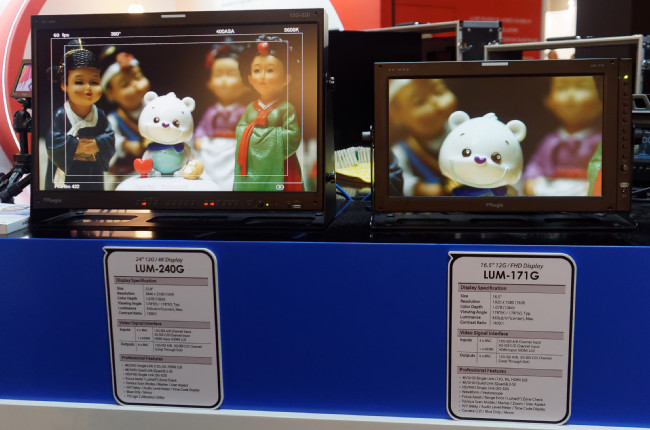 TVLogic has a new UHD 24″ monitor. Image:Meko
The LUM-550M is an IPS-based UltraHD unit that has the same inputs and features quad image display. Brightness is 300 cd/m² and contrast is 1,100:1 The case has been redesigned to reduce size and weight and the new model is less than 30kg compared to the >40kg of the previous model.
The LUM-310R is a prototype DCI 4096 x 2160 31.1″ unit that is a derivative of the LUM-310A but adds support for HDR. Brightness is 2,000 cd/m² (the unit at the show was producing 2,200) and contrast is quoted at 400,000:1 with a backlight using more than 2,000 direct LEDs. The gamut is P3 and 88% of Rec. 2020. It supports both PQ and HLG HDR content and TVLogic is targeting NAB for mass production.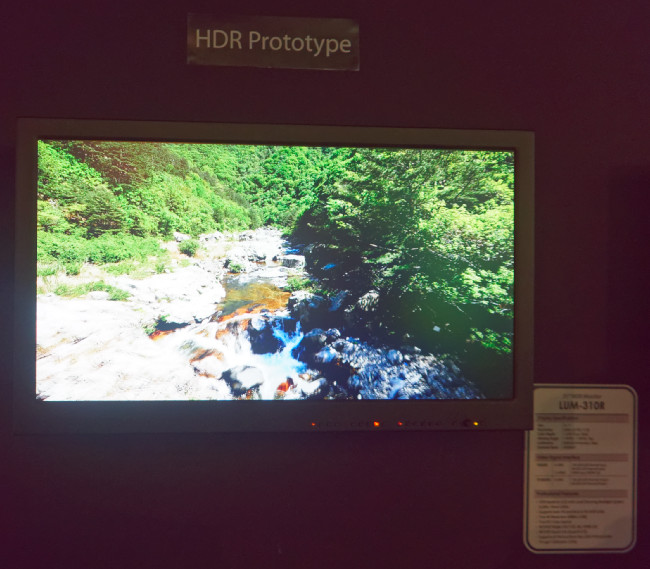 TVLogic's LUM 310R Prototype supports HDR. Image:Meko
TVLogic is one of several companies that the Korean government has funded to try to get a good start in VR and was showing a simple headset that the company has developed.