The integration of third party Operating Systems (OS) into TV and bundling of content from a wide array of sources, picked up steam at CES 2017. The range of solutions seems to be consolidating down to a handful such as Tizen (Samsung), WebOS (LG), Android/Chromecast, Fire TV, Apple TV and Roku. The line seems to be blurring between where the OS stops and content aggregation begins, as well. Below, we summarize some of the news in this area from CES 2017.
Amazon Fire TV
Amazon certainly made headlines at CES with its Fire TV service as well as deals with integration with Alexa. At CES, there was news of the first integration of Fire TV into TVs. For example, TongFang Global, which controls TVs brands Westinghouse, Seiki and Element, unveiled that they will all use Fire TV. These are brands you will see at retailers Best Buy, Wal-Mart and Target among others.
These Fire TVs include streaming services including HBO, Hulu, Netflix, and Amazon Video, plus over-the-air content via a separate antenna. Naturally, Alexa powers the remote for voice commands, and you can access Alexa skills and perform home automation tasks as well. The TVs will also be controllable from an Amazon Echo, and Amazon is said to be working on Alexa control for third-party apps and scene-by-scene content navigation.
Amazon seems to be following the Roku playbook by starting with boxes and sticks for lower tier brands, but is now moving to full integration into TVs.
Goggle ChromeCast
Google offers its Android TV platform as well as the Chromecast streaming service, which was renamed from Google Cast.
Chromecast can be integrated into audio or video devices to provide access to music and video content. Chromecast's pairing capability spans over 1000 apps, 200 thousand TV shows and movies and 30 million songs. Customers with Chromecast-enabled AV products will be able to use their phone or tablet to stream and control audio and video from anywhere in the home via any Chromecast-enabled apps, which are available across iPhone, iPad, Android phone and tablet, Mac and Windows laptop, and Chromebook. Chromecast works over Wi-Fi, so the user doesn't need to be within a fixed proximity to connect to the speaker (as it has to when Bluetooth is used).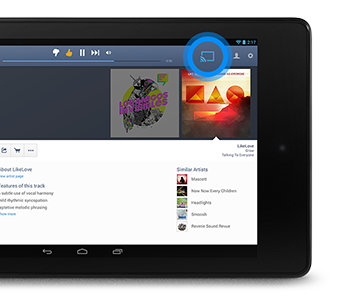 Chromecast can also work with the Google Home voice-activated assistant to control music with voice commands. Multiple devices can be connected to the speaker at one time, and music is uninterrupted by phone calls or text messages.
AV manufacturers including Harman JBL, Sony, Pioneer and Onkyo introduced Chromecast speaker solutions at CES while Haier and Philips feature Chromecast built-in on their newest TVs.
Google is also continuing to develop Google Assistant. This has only been available on the Pixel and Pixel XL smartphones, as well as Google Home, so far. However, it looks as though the company wants to integrate this in the Android TV platform. Google plans to roll out the software update to any Android TV devices running Android 6.0 or Android 7.0 in the U.S., including smart TVs and streaming boxes.
Samsung Invisible Connection
Samsung says its 2017 lineup of QLED feature a 'Chromecast-like' connection they call "invisible connection". It has similar functionality except instead of pairing with Chromecast-enabled apps, it allows any user with access to Samsung's Smart Hub and the Smart View app to stream movies or TV shows from their phone or tablet to their QLED TV.
Samsung says the updated Smart View app will display notifications showing when users' favorite TV shows are airing and where they can be watched.
Vizio SmartCast
Vizio was not at CES on the show floor, but it issued some news regarding new features and user interface enhancements to its SmartCast application, which aggregates access to content from sources including Vudu, Hulu, iHeartRadio, Crackle, FandangoNow and Google Play Movies & TV1.
Announced updates include an improved home screen, content catalog updates and a tutorial to help users get the most out of their entertainment experience. Changes include larger buttons on the home screen interface, a "featured" section and a "discovery" section, for example.
In the Cast Apps section are Chromecast-enabled apps including Netflix, Xumo and Pluto TV for quick accessibility. Chromecast is built into every VIZIO SmartCast display, sound bar and speaker.
The VIZIO SmartCast app also transforms iOS and Android mobile devices into touchscreen remotes, allowing viewers to use text or voice search to simultaneously search and browse content across multiple apps by genre. Once users find a title, they simply tap their desired service to begin streaming content directly to the display.
Roku OS 7.5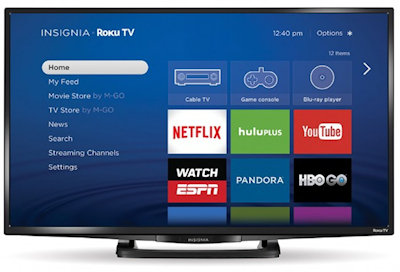 Roku CEO Chas Smith used an appearance at the TCL press conference to talk about some of the updates that Roku has introduced – and to clarify their position in the market.
Smith said that in 2016, Roku TV sales represented 13% of overall TV sales in the US. Users have grown 40% in the last year and they now have 13 million active accounts. The number of hours watched over the Roku TV platform has also increased by 60% over 2015 to nine billion hours watched. By any of these measures, Roku is doing well.
In 2016, Roku upgraded its remote to allow voice search capabilities and the ability to play the audio from the TV through a mobile device, letting users wear their headphones so as not to disturb others if needed. They also integrated the Concast Xfinity app into the platform, expanding the available content to 450K movies and episodes.
Roku can now also support streaming of live events and it can support playback of 4K HDR10 content as well.
For 2017, Roku will add a new UltraHD channel. This will be an aggregation of UltraHD content from a number of sources to make these more accessible for UltraHD TV owners. Content will initially come from 15 partners and should grow from there. They also plan more HDR options. Although Smith was not specific, this could mean support for HLG, Technicolor Advanced HDR or Dolby Vision.
The Roku OS 7.5 operating system, which offers the ability to pause live over-the-air programming, also gives viewers access to more than 4,500 streaming channels, as well as more than 450,000 movies and TV episodes.
TCL is embracing Roku in a big way and will offer 25 models for the US market in 2017. Hisense plans to launch the H6 and H8 series next year as well. The H8 includes Dolby Vision HDR technology. Dish, Dolby, Element, Hisense, Hitachi and TCL are among the vendors showcasing Roku TVs in Las Vegas. – CC
Nvidia's Shield TV
Nvidia used CES to unveil its updated Shield TV — an Android open-platform media streamer "built on bleeding-edge visual computing technology that delivers unmatched experiences in streaming, gaming and AI." It is shipping now with both a remote and a game controller.
Shield TV includes advanced Nvidia GPUs to offer great gaming performance but also great UHD HDR performance, says the company, offering "3X the performance of any other stream on the market today." 4K content is available from Amazon, Netflix, YouTube Google Play Movies and Vudu. YouTube's flagship TV app will also be available for SHIELD in the coming months, delivering immersive, 360-degree viewing experiences.
In gaming, its library of games has been expanded to thousands of titles, with the ability coming soon to stream Ubisoft's catalog of hits, including Watch Dogs 2, Assassin's Creed Syndicate, For Honor and countless others. New Ubisoft games will also be available, simultaneous with their PC release.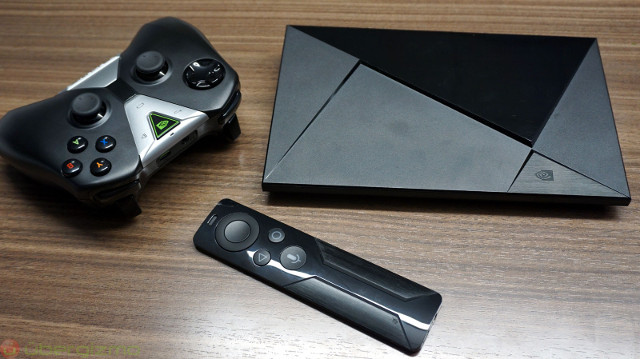 In the coming months, Shield TV will be expanded with a series of AI capabilities too. The platform will be the first one to get Google Assistant integrated to improve the TV experience. It will allow the TV to display answers or provide an audio reply to questions. One can also use voice commands to replace clicking a remote for finding content, pausing, fast-forwarding or rewinding.
The new Shield also works with Nvidia Spot, a small little orb that integrates the Shield with Google Assistant from anywhere in your home you decide to place the Spot. Basically the Spot works as an extender for the Google Assistant functionality, so you don't need to scream across your house when you want the assistant to do something for you.
Shield TV is available for pre-order now and will ship in the United States, Canada and select European regions later in January for $199.99, including controller and remote. Shield Pro will also be available later this month with controller, remote with headset jack and 500GB of storage. A separate version of Shield, with custom software optimized for China, will be available later this year. (See NVidia Looking at GPUs to Enable Deep Learning and Autonomous Vehicles – Shows HDR Monitor)
Dish's AirTV
Dish announced that its new cord-cutting 4K streamer called AirTV, will feature hardware sourced from Technicolor. The Android-based streaming and over-the-air device has built-in WiFi, and when used with an AirTV adapter and an OTA antenna, viewers can access pretty much any service they're looking for, including the Sling TV OTT video platform and more than 2,000 games and apps via the Google Play Store.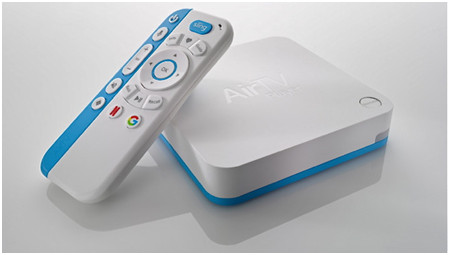 AirTV features Sling TV, Netflix and Android TV for streaming apps and OTA channels, with the Sling TV guide as an organizer for all of the content. The accompanying remote control, which connects to the box via Bluetooth and offers voice controls, provides dedicated buttons for the streaming libraries. The set-top box is "about the size of an Apple TV or Roku box," with ports for power, Ethernet, HDMI and USB. AirTV is priced at $100 or $130 for the antenna-compatible version.
The Sling TV guide features rows of options divided up by service including OTA channels, with horizontal scrolling that reveals each service's options. The user does not need a paid Sling TV account to use AirTV to access OTA channels and streaming apps.
Zappiti 4K HDR Media Player Range
Zappiti reports it has launched new 4K media players. The lineup includes three new models:
the Zappiti Mini 4K HDR, a compact set-top box ($249)
Zappiti One 4K HDR, a media player equipped with a hot swap internal SATA HDD 3.5-inch rack ($299)
Zappiti Duo 4K HDR, the world's first 4K HDR media player equipped with a hot swap internal SATA HDD 3.5-inch dual rack, enabling a huge capacity up to 32 TB ($399)
Supporting almost all video and audio formats, codecs, and file containers, including HDMI 2.0, Ultra HD 4K, HDR, HEVC, and 4K60p, the Zappiti 4K HDR media player range plays ISO Blu-ray, M2TS, MKV 4K, MVC 3D with 3D subtitles, home theater audio (including Dolby Atmos and DTS:X), and high-resolution lossless audio files up to 32-bit/192 kHz. This new player range is also compatible with Zappiti Media Center v4.