Despite the travials of its parent company, the professional displays group in Toshiba has been making steady progress over the five years that it has been building its B2B display business by focusing on a couple of areas where it has been able to find some traction.
We started by hearing that the company has now got wider support for its SoC-based LFDs and has support from, among others, Deneva, Stino (Germany), SignStix (UK), M4B (QSR ordering) and Red-V and Assinfonet for education.
The company has been active in the hospitality TV segment for some time (it included all the special features in its regular TVs as soon as it 'went smart') and continues to develop its range. Its total model range has gone from 16 to 36 models over the last year or so and has increased its count of active partners by 75% over that period. As well as adding LFDs at a 16/7 entry level, it has added sets with 700 cd/m². The LFD range is fully supported by SoC technology and the company has been working to ensure that POS software is supported using partners and independent SIs.
OPS is a feature that the company has been promoting for applications including education and the firm has developed its own overlay for infrared touch. By adopting the same industrial design for its 16/7, 24/7 and 700 cd/m² displays, the company has been able to optimise the inventory of stands, mounts and overlays needed by its channel.
One of the areas that it is working on to develop is in the voice control area and it was showing the integration of voice control in its hotel TVs and with plans to integrate it, also, into its LFDs for both hospitality and retail. It expects to also integrate other features such as proximity sensors for retail which could be used to trigger audio and voice interaction. The company said that it expects voice to become important in a number of configurations including kiosks.
The company has also seen significant success in the menu/QSR segments with big roll outs for Burger King in Poland and KFC in Spain, among others.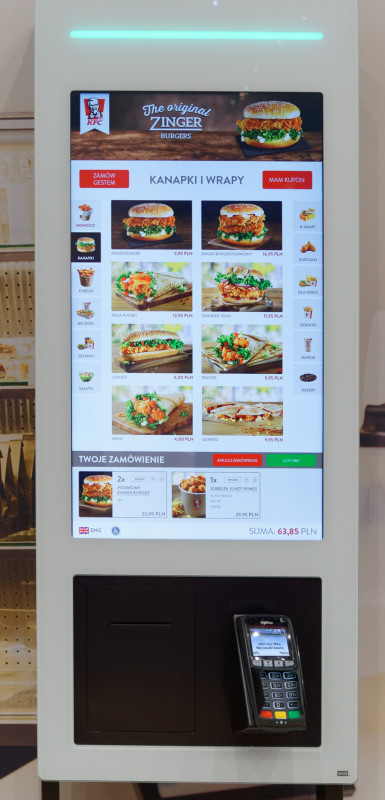 Toshiba does well in QSRs and has supported a partner in developing this ordering kiosk. Image:Meko
New in Amsterdam were 75″ and 86″ UltraHD sets – before the 65″ was the largest panel it had. The 75″ is already available, with the 86″ available soon after the show. A 98″ direct lit LCD 'technology demo' was being shown to get feedback from partners, although even at the early stage in the show that we talked to the firm, it was clear that there were a number of integrators interested to replace 2 x 2 video wall set-ups. The set already has a tentative part number, the TDP983-E. Also new were 49″ and 55″ video wall panels with 1.8mm or 3.5mm bezels.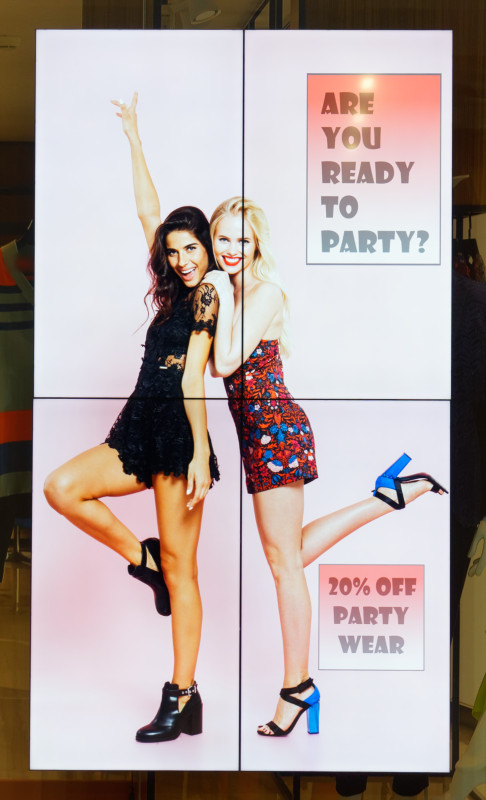 Toshiba is extending its video wall range. Image:Meko
Another new feature in the LFD range is integrated calibration, which will be enabled with a firmware upgrade from the end of February and which can support the use of a USB colorimeter.
Toshiba is also interested in developing high brightness products and had a 75″ set with 2,500 cd/m² of output, but which uses passive cooling, so there are no fans. The company told us that it also has a 55″ in development that should be available in Q2. Another future product that is expected about that time is a 65″ touch-enabled panel that uses PCap touch technology.
Analyst Comment
The sheer number of new products at Toshiba was impressive and the company has been steadily developing its B2B display business. It has yet to hit the volumes of the top four or five, but the potential certainly seems to be there. One question mark is over the hospitality TV business. As we reported, Toshiba sold its TV business to Hisense in November (Hisense to Buy Toshiba TVs – Asus for PCs?). The LFD business is not part of that deal and, in Europe, is the Business Display Solutions Business, which is a part of Toshiba Europe GmbH. The division expects and hopes to be able to continue to sell TVs from Hisense for hospitality. (BR)