Broadcast systems and environments have different time scales to the technology cycles that we often talk about on Display Daily. Rec. 709-based standard definition existed as almost a single standard for a long time. (let's ignore PAL vs NTSC vs SECAM for now!). However, in recent years, new resolutions and features such as HDR are real challenges.

It takes years and years for the TV set market to upgrade to new levels of quality, whether we're talking about resolution or colour or, in this case SDR vs HDR (and we'll leave frame rates for now!). For broadcasters, this is tricky. They have no choice, however, as viewers that have HDR-compatible displays can get HDR content from streamers – it always makes my heart glad when I see my TV react to a new item of content that is in HDR. The experience doesn't always match the hype, but some of the content is spectacular when the HDR is well used.
So broadcasters have to be able to support multiple formats and technologies to meet the desires of those with simple old sets or the latest technology and they need to know that the content is going to look good however it is viewed. That's fiddly when you are making pre-rendered and produced content, but the challenges there may be mainly logistical and in cost. However, in live broadcast it is a big, big challenge as you can't easiy watch both streams at the same time and optimise them both.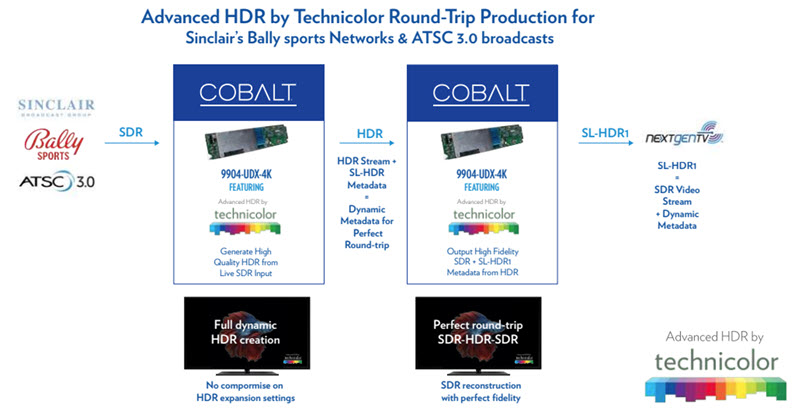 At NAB, Technicolor announced a new feature of its Advance HDR technology. As well as being a way of delivering HDR content (as an alternative to HDR10, HDR10+, HLG and Dolby Vision), the firm has very well developed technology for automatically converting content from SDR to HDR or the other way. Ideally, broadcasters that want to supply HDR have to be able to combine and manage content that may be arriving in any of those HDR formats, or SDR or in one of the camera-maker's formats such as Sony's S-log3.
In the final production, the Advanced HDR technology can and has been used to convert these formats to whatever the final HDR delivery format is. SDR video has its dynamic range expanded to look great when mixed with native HDR content. Over the years, I have seen a number of demonstrations of how well Technicolor can do this conversion – automatically. At NAB, the firm said that it has now developed what it calls 'round-trip conversion', enabled by AI technology. That means that SDR content that has been through the process of upconversion to HDR can be automatically converted back to SDR 'with perfect fidelity'.
That means that a content creator can focus on creating an optimised HDR stream and know that if that is good, the SDR will be good as well. The parameters for SDR to HDR conversion can be set using Technicolor's Intelligent Tone Management (ITM). The round-trip function is an extension of the ITM approach.
The technology has been adopted by Cobalt Digital which makes 12G/6G/3G/HD/SD conversion, throwdown, and multiviewer technology for the production and broadcast television environment.
Now, this is an interesting development at an academic level to a display and TV geek like the writer, but as the saying has it "The proof of the pudding is in the eating". The firm said that Sinclair Broadcast Group has signed up to use the technology to provide HDR and SDR with equipment from Cobalt Digital. It will certainly have given the pudding a good chew before deciding to order it from the menu! (BR)