Yesterday I reported on what I saw from Vrgineers and its latest XTAL 3 headsets at the IT²EC show in London last week. Today I'm catching up with the other things I saw.

The first new headset I saw was from JVC. The HMD-VS1W device has a very wide field of view of 120° x 45° in the main view and with a transparent lower section of 18° that allows the wearer to seem to see through the bottom of the headset to allow instruments and the hands to be viewed. (I was able to easily write notes as I tried the headset). The headset uses 'birdbath' optics with dual 5.5″ LCD displays of 2560 x 1440 resolution and a 'half mirror' design to allow some view of the real world. That level of resolution means no screen door effect. The headset is connected via dual 1.4 DisplayPort connections.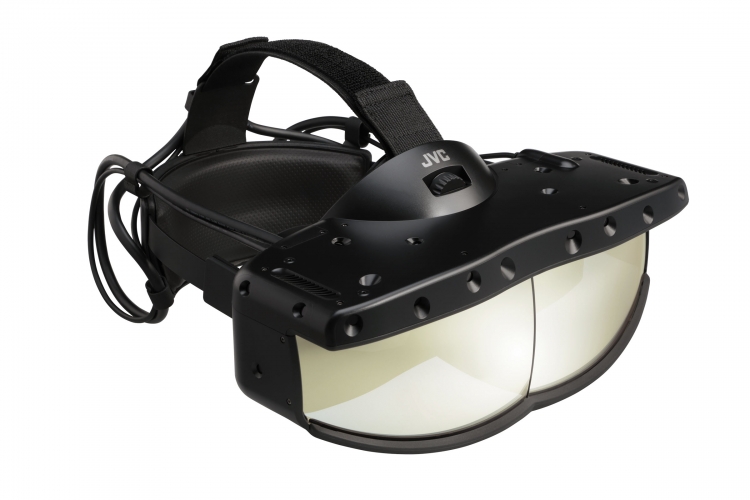 The optical performance seemed pretty good to me, but the downside seemed to be that the amount of optics made the headset feel heavy. The weight is quoted at 640gms, but I suspect the weight may be concentrated away from the head, which makes it feel heavy. I was not convinced, either, that the view of the hands and instruments was better than the various solutions I have tried using pass-through video.
The headset is already on sale and costs around €15K. You can find details here.
3D Projection Confident About Projection
We had a brief conversation with 3D Projection about the likely future of LED in simulators. The firm has been working with DLP projection for around 25 years and started with that technology for a long time. The firm pointed out that its hard to get the dual plane curve that you need for a good dome, whereas it's not very difficult with projectors. (Afterwards, it occurred to me that lining a dome with microLEDs might be a very real and useful application for stretchable displays).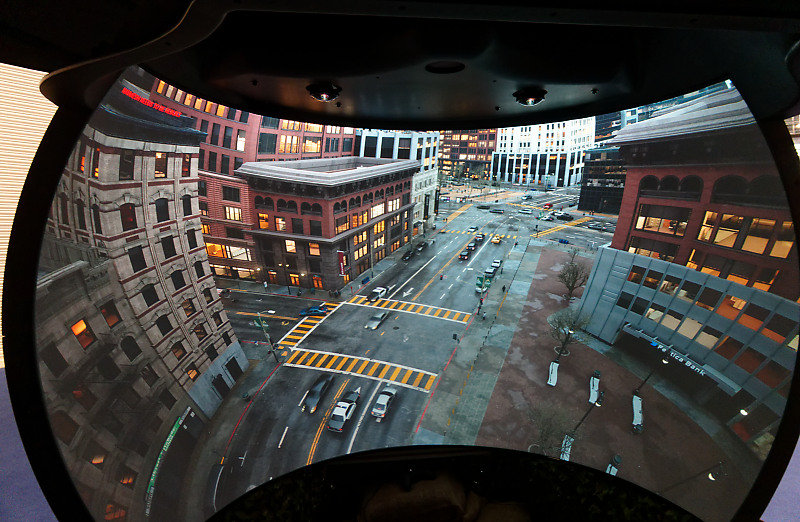 The only dome display with projectors that I saw at IT²EC was from Cobra showing its OmniWarp technology- image:Meko
Matrox used to say that it was often the technology behind the display you were looking at and the firm was at the show to promote both its H.264-based Maevex series of AV distribution products and its ConvertIP boxes which can connect to 2110 AV networks to convert the streams to AV signals such as HDBaseT. The firm was also promoting the IPMX proposal for AV over IP that it feels can add open standard-based capabilities that are optimised for Pro AV workflows. The firm believes that the development of IPMX can help SMPTE ST 2110 technology to be used in AV and beyond its initial broadcast application.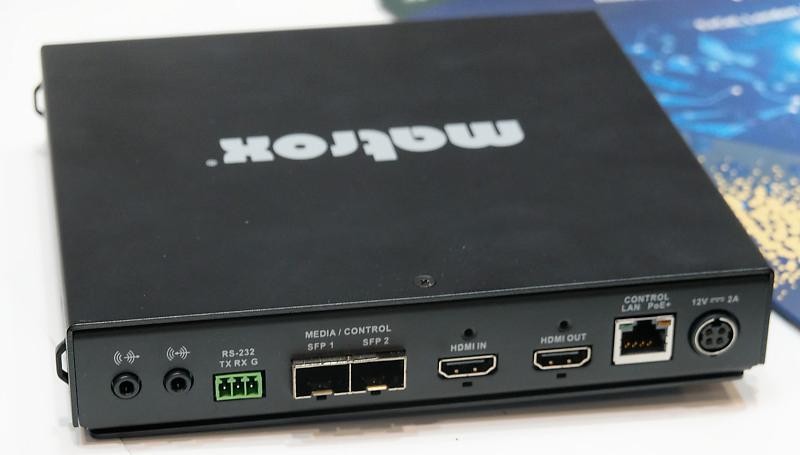 Varjo was showing its XR-3 high end headset, which I tried at the recent BETT show but is ideal for flight and other detailed simulation applications because of the high resolution. It had a busy stand all the time I was there, although it was not overall a busy show in terms of visitors.
As I mentioned in my article about Varjo's Reality Cloud system last week (OK, Varjo, I Finally Get It!), I was finally able to get a chance to try the Aero headset on a high end PC running Microsoft's Flight Simulator and I can now see why this is a compelling application for the headset. At one point in the demonstration, I thought I saw some green fringing in the display, but I then realised, with a bit more flying around I realised that this was Microsoft's idea of tropical vegetation at a distance!
I usually meet with Project Syntropy at the ProLight and Sound event in Frankfurt. I might have got to that event, but it was the same week as IT2EC. The firm specialises in dome and image mapping projects both for simulation and for entertainment. It has a very impressive set of thumbnails of simulation projects on its website. We had a chat about entertainment applications. The firm has done a number of major projects around the world and especially in China. Staff told us that it has created a 40 person 'virtual dog ride'. It has also created a planning space in Shanghai that used stereo projection on a 10m high screen with 23 4K projectors. There is a link to the project here.
Other things I noted
Lockheed Martin was using Varjo headsets at the event, although it can support other headsets. Just after the show, Vrgineers announced that it has worked with the firm to ensure that its XTAL 3 headsets are supported by Lockheed Martin's Prepar3D Version 5 'out of the box'. The headset has being adopted by Pison Technology (www.pison.com) as the core headset and mixed reality solution for two distinct Phase II SBIR Program R&D contracts that seek to develop advanced simulation technologies for manned flight simulators, funded by AFWERX (Contract No. FA8621-21-C-0052) for the U.S. Air Force and the U.S. Navy (Contract No. N6833521C0217). We covered other Vrgineers' news yesterday (Dodging Bullets in London at IT²EC 2022).
Next year's event will move to Rotterdam on 24th to 26th April 2023. (BR)