TCL used IFA to showcase a broad range of display expertise including HDR LCD TV, 8K displays and laser projection TVs. Just prior to IFA, it also announced plans to invest $7 billion to develop a Gen 11 LCD and OLED production line in Shenzhen through its subsidiary panel display maker, China Star Optoelectronics Technology Co. (CSOT). (Samsung Invests in TCL LCD Fab)
TCL said that the G11 Project will use oxide semiconductor, Cu process, POA, Super GOA technology, and OLED Printing technology to produce 43″, 65″, 70″ (21:9), 75″ LCD displays, ultra-large public displays as well as OLED displays. Of course, this mix could very well change by the time production begins in 2019, but it indicates how aggressive Chinese players have become. And TCL is only the third ranked TV maker worldwide.
At the company's IFA stand, TCL was highlighting the world's slimmest local dimming HDR TV, the 65" Xclusive X1, the UHD TV Cityline S79 series and its 65'' 8K TV.
The X1 was first shown at CES 2016 and uses quantum dot technology with a full array backlight with 288 zones of local dimming. It achieves a market leading 1500 cd/m² of peak luminance in a 20% window (many others use a 10% window to specify peak luminance). It goes to 600 cd/m² of luminance for SDR content, however. The color gamut spec is 93% of DCI-P3, which seems low if they are using quantum dots. It has also been certified as a UHD Premium set by the UHD Alliance. The curved X1 has a special anti-reflective coating that reduces reflections from 3% to 0.9% for better black levels (and perhaps to reduce those disturbing reflections on dark screens) and it runs Android 6.0 so you can load key features such as Voice Search and Google Cast. The 17.4 mm thick Xclusive X1 (U65S9906) will be launched in Europe in Q4.
The TCL Cityline (S79) mid-range Series is only 9.9 mm thick and incorporates the edge technology found in the UHD TV family to deliver 85% of the DCI-P3 color space. These are UHD sets but they are not HDR capable. Peak luminance is only 400 cd/m² for 2016, but should rise to 1000 cd/m² for some 2017 models and so these will become HDR-ready model. The S79 Series is available now in 3 sizes (50'', 55'' & 65'') with the commercial references U50S7906, U55S7906 and U65S7906.
The 65" 8K UHD Curved TV with a panel produced by CSOT, was also on display. It uses quantum dots, reaches 1000 cd/m² of peak luminance and can actually support 3D as well, but is not yet commercially available, we believe.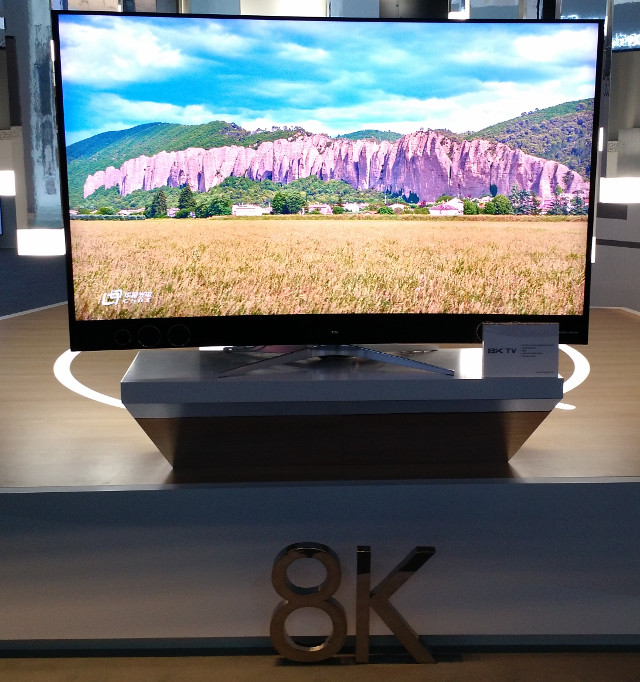 TCL's entry level products will continue to offer rec. 709 color performance from YAG white LEDs direct backlights and with 350 cd/m² of luminance, but in 2017 they may become HDR-capable to allow reception of these better images with processing to offer a better SDR image on these TVs.
TCL offers a version of the X1 in China and North America that supports Dolby Vision, but this is not being offered to European customers? Why? There is too little Dolby Vision content right now in Europe.
These same models, or very similar ones, will also be branded in Europe under the Thomson brand, a brand owned by TCL. (Note that for STBs, the Thomson brand is licensed to Strong GmbH).
To get close to meeting the full BT.2020 color gamut, TCL believes a change in the LCD color filter is needed because there is too much leakage between the red and green. They see this change as likely over the next 1-2 years which should allow TVs to get to 99% of BT.2020 using quantum dots and the new color filters. Phosphor solutions will not allow display makers to get this wide a color gamut.
We also were quite impressed with TCL's Laser TV – their version of a short throw projector to create a 100+" image. The projector will launch soon in China and has 3000 lumens, 80% of DCI-P3 and uses the e-shift 4K imager from TI. TCL used a Fresnel screen from DNP for the demo in a fairly dark room and the colors looked quite good as did the contrast. The image did look soft however, so they may have some work to do in that area.
Laser safety is a concern for them, especially in Europe, which may mean a delay in launching in that region. – CC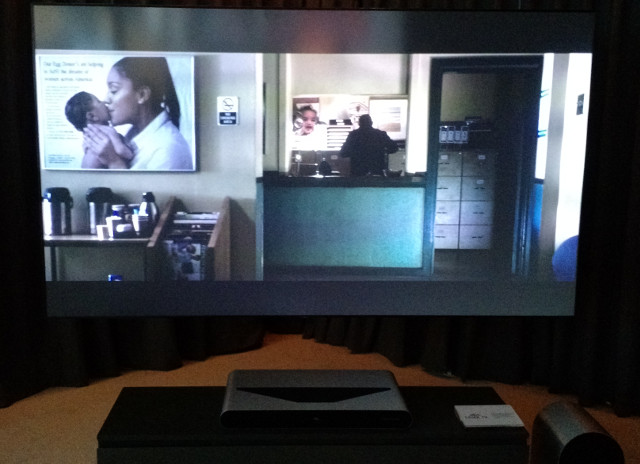 TCL controls the Alcatel brand, but we have covered this in a separate article. (Alcatel Has Stand-Alone Headset)