Alcatel, now owned by TCL of China, is keen on VR and has multiple solutions. First, the company is supplying a 'smartphone add-on' (think Gear VR) headset for free with its Idol 4S phone. Our attention was drawn to a separate development of a VR headset, the Alcatel Vision, that does not need a display as it is integrated (although it can be driven from an external PC if desired).
The headset uses dual 3.8″ OLEDs, each with around 1K resolution (1080 x 1020) and the headset has a 120º field of view. The company told us that the display can be refreshed at up to 90Hz and that latency is 17ms. It can connect to Wi-Fi to access content, or it can be downloaded via an SD card slot that is built in. There's a 3,000 mAh battery that is rated for three hours use and can be charged via a micro-USB. The octacore processor has 3GB of RAM and 32GB of flash memory.
Alcatel is developing its own content ecosystem and is working with Jaunt, among others.
Final pricing is not fixed, yet, but is likely to be in the range of €500 to €600.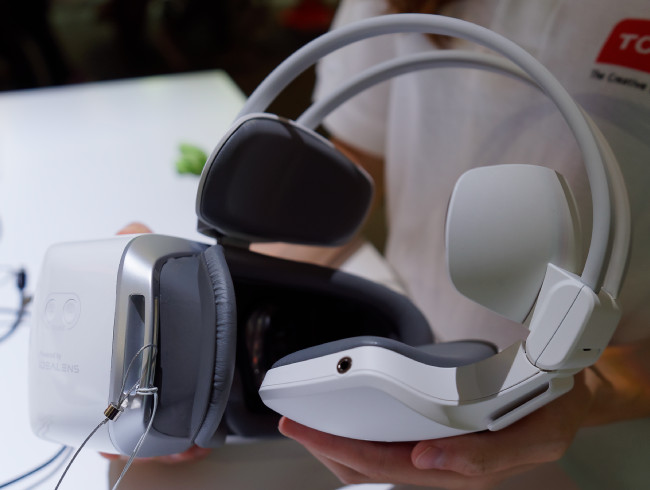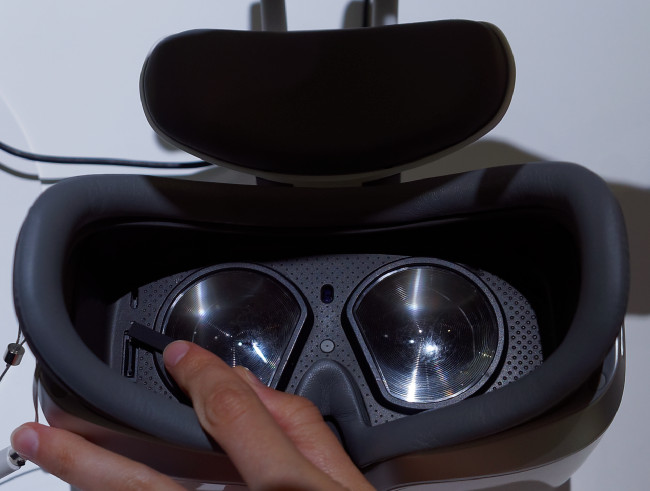 Alcatel Vision has an SD card slot by the lens. Images:Meko
Alcatel launched its Pop4 mobile phones around MWC, but at IFA it had a new LTE-based 10.1″ 1920 x 1200 (224 ppi) tablet to go alongside its existing 7″ 600 x 1024 version launched earlier this year. The 10″ uses a Snapdragon 430 chipset, has a 5 megapixel camera and has 2GB of RAM and 16GB of storage. Thickness is 7.99mm.
Also new was the Shine Lite, a basic Android phone with a 5″ 1280 x 720 display (294ppi), has a 13 megapixel rear camera and 5 megapixel front phone. It will cost less than €200 and has a bonded display with 2.5D Dragontail glass. It is based on a Mediatek MT6737 quad core processor with 2G of RAM and 16GB of storage. Expansion is via microSD. The connector is micro USB.
Alcatel's Plus convertible has 4G connectivity. Image:Meko
Finally, we looked at the 'Plus', a 10″ 1280 x 800 IPS LCD Windows-based convertible PC that also has 4G connectivity and will cost €350. The processor is an Intel Atom x5-Z8350 and the unit can be used in tablet, laptop or docking mode. The unit was released earlier this year, but this was the first time that your reporter had seen it. There are batteries in both parts of the system of 5830 mAh and 2580 mAh, which means plenty of battery life.
Analyst Comment
Alcatel clearly has put in a lot of attention to trying to design a comfortable fitting for the Vision headset, with the weight being spread but we couldn't quite get it comfortable. Skyworth was showing a unit that looked very, very similar. (BR)