LG announced new 21:9 aspect ratio IPS LCD curved monitors along with a new pico projector at IFA this year. It did not announce any new TV products or deals at IFA, but it did have an impressive booth that highlighted the growing opportunities for OLEDs. Most interestingly, the company said it would offer quantum dot LCD TVs next year using a "new kind of quantum dot technology" that is different from what Samsung uses.
According to Kwon Bong-suk, executive VP and CEO of LG Home Entertainment Unit, LG will release the new QD sets next year and they will be priced competitively with similar sets from other brands. Today, the OLED TV carry about a $1000 premium over comparable LCD sets, he said.
In OLEDs, Bong-suk said they would use CES 2017 to debut new models with "an exclusive hardware platform that only LG can produce." We suspect this is will mimic the increased luminance and much better dark gray level rendering as exhibited by Panasonic on their new OLED prototypes.
And, LG has plans to move OLED display beyond just TVs. It already offers video wall panels and Bong-suk said they are now negotiation for the use of OLEDs for in-flight entertainment screens. Meanwhile, the LG medical group is planning on releasing OLED monitors by the end of the year.
The new pico projector, the PH450UG, is LED based and has a battery that is said to last 2.5 hours. There is Wi-Fi, Bluetooth, HDMI and USB connectivity, the latter supporting connection to a 1 TB hard drive. Light output is 450 Ansi lumens and resolution is 1280×720. It can be used in a variety of orientations and creates an 80″ image from 33cm with a UST system. It is the little brother of the PF1000U, previously released and costs between €600 and €700.
The new curved monitors are both 21:9 aspect ratio and are offered in 34" and 38" screen sizes. The 34" offers 2560×1080 resolution, 250 cd/m² of luminance and 144 Hz refresh rate. It will be available for €699. The 38" has 3840 x 1600 resolution, better speakers, 99.9% of the sRGB color gamut and 300 cd/m² of luminance and supports FreeSync. Connectivity includes a USB Type-C connector as well as dual HDMI and Displayport. The USB hub supports USB 3.0 mobile quick charge and the monitor has dual 10W speakers and Bluetooth connectivity. It will sell for €1399 in Europe in mid-October.
The LG booth itself had a big focus on OLEDs. One of the main attractions was a tunnel at the entrance to the booth that was composed of curved OLED TVs with a custom show that was quite a marvel. Inside, they showed OLED panels for video walls. There were a number of examples showing OLEDs compared to LCD to highlight the improvements in viewing angle, colors and black level. There were SDR vs. HDR demos (HLG, HDR10 and Dolby Vision) and even a demo of high frame rate UHD HDR using the HLG format. This was a project done with the EBU and the 4ever project and rendered content at 100 and 120 frames per second on the display. The demonstration showed HFR HLG content that is compatible with both MPEG DASH (IP streaming) and DVB-T2 transmission systems. Unfortunately, there was no one in the booth that knew anything about the demo so no other details were available. (watch out for our IBC report for more on this project)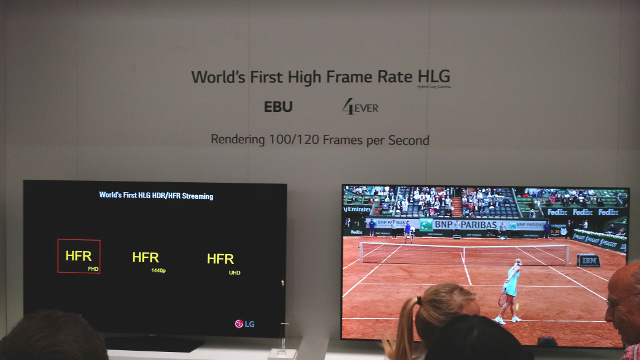 We also had a chance to talk to Ken Hong, the Global Director for Corporate Communications for the Broadcasting team. He said he heard about Samsung's 10-year no burn in warranty claim and he agreed it was aimed directly at LG and OLED, but he said that LG would not respond.
He noted that OLED panels do offer lower peak brightness than some of the premium LCD products and that they are not going to win that war, so they won't try to. LG believes in OLEDs and is investing in increased production. They still need to push on yields, but they are making steady progress. Most importantly, they are seeing brands adopting OLEDs into their TV lines. They now have nine companies sourcing panels from LG Display: LG Electronics, Skyworth, Grundig, Metz, Loewe, Philips, Panasonic, Changhong and Vestel. That's not bad.
LG also had the new V20 smartphone at the event. The metal-cased phone has a 5.7″ 2560 x 1440 IPS main display (and a 1040×160 secondary display) in a compact case and has Mil-std 810G drop protection, meaning it can survive a drop of 4′ (1.2m). There is a dual camera (16 mp F1.8 main with optical stabilisation and 8mp wide angle) on the rear and a front-facing 5mp unit. The phone has USB type C, a removable 3200mAh battery. 4GB of RAM and 64GB of flash are standard and a 32 bit quad DAC for audio. The V20 will run the latest Android (Nougat) out of the box. (CC/BR)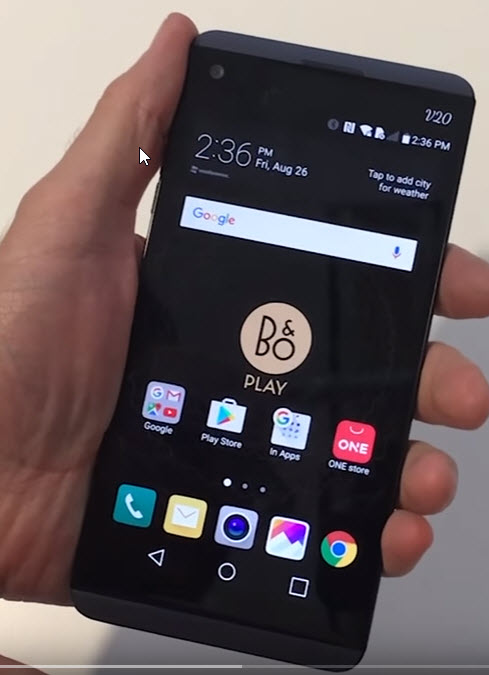 LG V20 smartphone – Image:Digital Trends
Analyst Comment
The new 38″ (37.5″) 38UC99 monitor looks good and is the first time that anyone has shown this size and resolution. It looked very good and gives UltraHD horizontal resolution, but the reduced height compared to a 3840 x 2160 32″ or above display should make the ergonomics better. The stand allows vertical adjustment and it looked as though the display will get close to the desk. We'll try to get one in for review after the show. LG was also promoting its existing 27″ UltraHD monitors.
LG also showed the 'Gram', a very low weight notebook (980 gms), but this will not be sold in Europe, except in Spain (which is strange!) although nobody could tell us why. It uses a 14″ FHD display in a '13 inch body'.
The V20 is also reported to be unlikely to be available in the UK, although it will be shipped in some parts of Europe. (BR)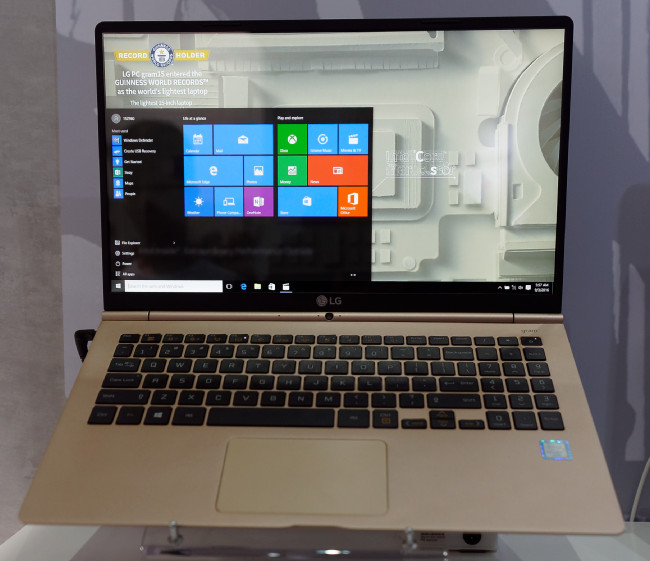 LG's Gram notebook, which will only be sold in Spain. Image:Meko
LG had a pavillion in the grounds of IFA that was fitted with nearly 800 OLED lighting panels and intended to position its 'Signature' range of products.
LD Signature Pavillion – Image:Meko