There was no talk of display or TVs at the Sony press conference, but they were showing the new ZD9 TV in the booth along with other high-end TVs, plus the Backlight Master demo shown previously at CES 2016.
The XD93, XD94 and ZD9 are current models that meet the performance level of the UHD Premium certification, but Sony has chosen not to get them certified. When we asked about performance numbers, we were told Sony does not disclose peak luminance levels, black levels, contrast levels, color gamut coverage, number of dimming zones, number of LEDs, etc. – so nothing really.
The ZD9, announced in July, uses the Backlight Master Drive technology and the newly developed 4K HDR X1 Extreme processor. It has 40% more processing power than the predecessor, the X1. This was being highlighted at the show but only top level messaging was used to describe it:
Incorporating three new technologies – object-based HDR remaster, dual database processing, and Super Bit Mapping 4K HDR.
By analyzing images in each scene and correcting color and contrast of each object individually, object-based HDR remaster can reproduce scenes with the detailed texture and the appearance of real life. This technology also up-scales standard dynamic range HD content to near 4K HDR quality.
Sony-exclusive database for noise reduction searches through thousands of picture patterns, the dual database processing removes unwanted noise and up-scales every segment of the image. (Panasonic has previously used this kind of look-up for scaling – Man. Ed.)
Super Bit Mapping 4K HDR creates a smoother, natural picture. With 14-bit powerful signal processing, it breaks up the solid bands of color of 8-bit (FHD) or 10-bit (4K) source, up-converting 14-bit equivalent gradation with 64 times more color levels. It delivers graceful reproduction of faces, sunsets and other areas of subtle color gradation.
The Backlight Master Drive combines a dense LED structure with an accurate lighting algorithm and unique optical design. It allows individual LEDs to be addressed creating a low resolution gray scale image of the video scene. This light is also more collimated than conventional LED BLU light to reduce halo effects. The design for each screen size is different, said Sony.
The ZD9 series is offered in 65", 75" and 100" models with more than 1000 cd/m² of peak luminance. The 100" demo unit looked exceptional good with deep saturated colors of yarns on display. The 65" (€4999) and 75" (€6999) will be available in October and the 100" (€7999) will ship in November.
Sony also unveiled its new 4K projector, the VPL VW55ES. We will take a closer look at this one at CEDIA and report from that event.
We also met with Thomas Issa, from Sony's Professional group. He is very happy with recent developments in the B2B display market especially with the Sony market share in the high end of the home cinema market, where he claims a market share of 65%. At the show, the VPL W55ES looked very good and was being shown in a typical living room environment, rather than in a fully blackened environment. The image quality was very impressive although Sony always knows how to create a great demo! Sony introduced white cases as well as black ones for its projectors and has been surprised that as many as 50% of its projectors are selling in the white cases. These are being chosen where consumers want to ceiling mount the units in rooms that are not totally dedicated to cinema.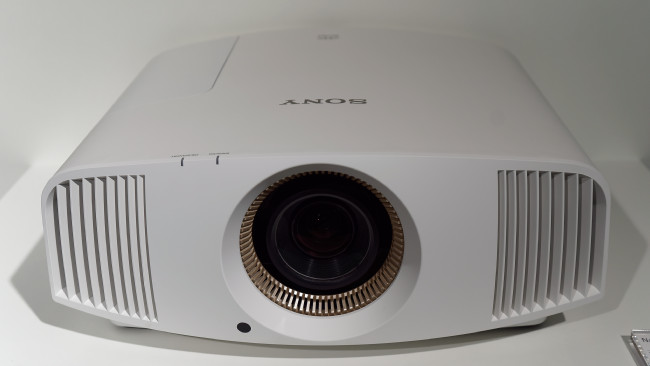 Sony VW55ES projector in white. Image:Meko
We reported on the touch-enabled portable ultra short throw projector from Sony in the Life Space Ux at Mobile World as a technology demo, but it has now been launched as a product. It can throw an image of up to 80″ and there were demonstrations of it projecting onto table surfaces as well as walls.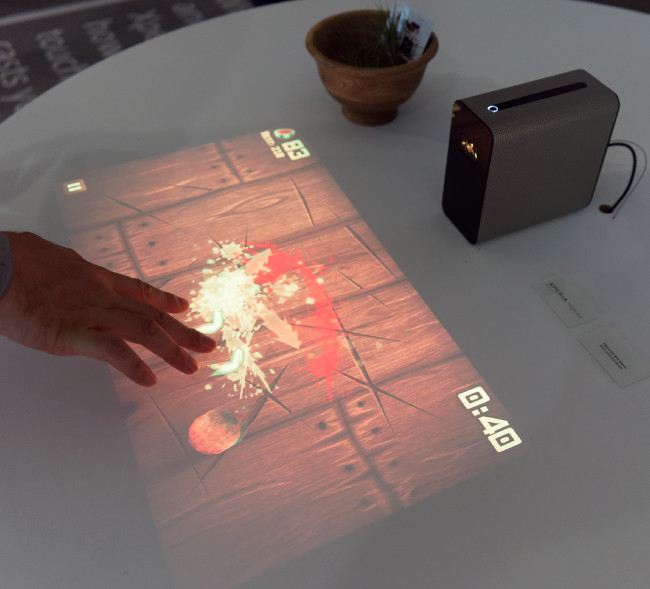 The Sony UST Life Space projector is interactive. Image:Meko
Sony used IFA to launch its latest Xperia phones, the Xperia XZ (to be released October), and Xperia X Compact (due in September). The XZ has a 5.2″ IPS LCD with FullHD resolution (424 ppi) while the Compact has a 4.6″ display with 720 x 1280 format (319 ppi). Both will ship with Android 6.0.1 (Marshmallow) but there will be an early update to Android 7 (Nougat). The processor is a Snapdragon 820 in the ZX and Snapdragon 650 in the Compact. Both have 3GB of RAM and 32/64GB of flash.
Expansion is via microSD and the phones support USB Type-C. Of course, Sony has great sensor technology and the cameras have 23 megapixel sensors with 24 mm focal length and phase detection autofocus. Sony said that the cameras have triple sensing using the main sensor, a laser distance sensor for low light focus and colour snesing using an RGBC-IR sensor to ensure correct colour balance.
The XZ can capture video at 2160 P30, but the Compact is limited to 1080 P60. Sony said that the new phones are the first to feature 5-axis image stabilisation,. There was a lot of emphasis by Sony on audio at the event and the new Xperia phones support noise cancelling operation (and the latest closed over ear noise cancelling earphones are extremely effective)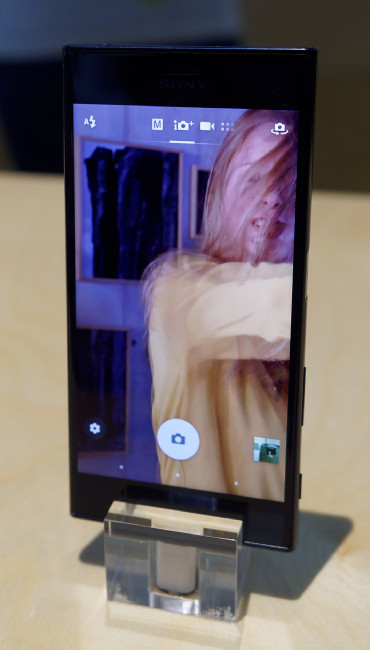 Sony Xperia XZ – Image:Meko
Sony has been emphasising its Future Lab programme and one of the products that is under development is a smartwatch that exploits E Ink display technology to allow the watch strap to be reconfigured dynamically to match the watch face.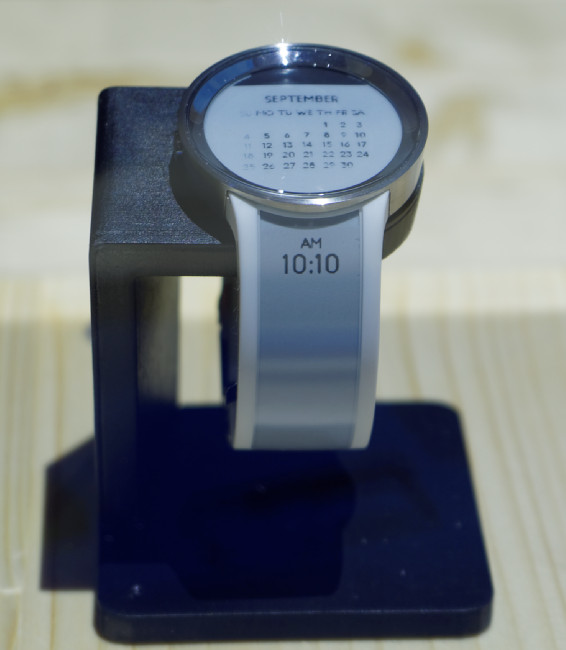 An E Ink watch strap is used on this prototype watch strap. Image:Meko
Also in the Future Lab area, Sony was showing a system that is a bit like the HP Sprout or the systems that Fujitsu has shown in the past using a projector mounted above the user's work surface and combining projection with object recognition and mapping. At the moment, this is a prototype system, called 'T' but the technology seemed quite reliable when we watched a demo.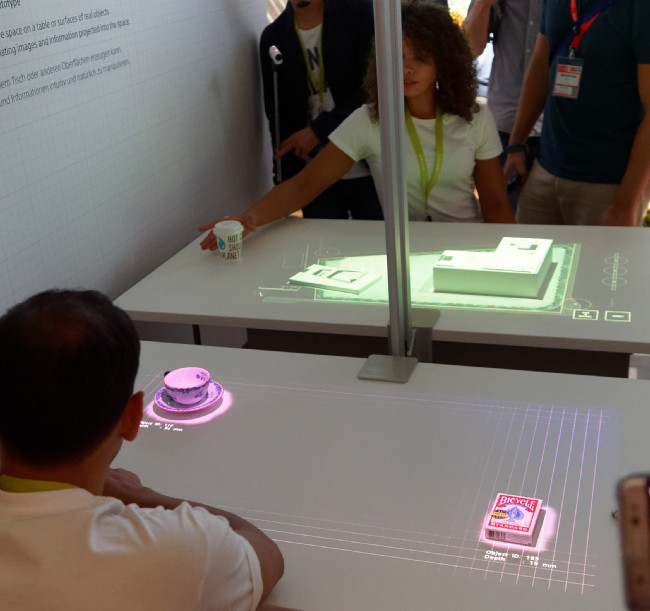 Sony Sprout style prototype. Image:Meko