TCL continues to grow, said North American VP Chris Larson at the company's press conference. TCL was the largest TV exporter in China in 2015, for the seventh year in a row, and is the only vertically-integrated TV company in China.
TCL owns the China Star (CSOT) brand, and opened the second phase of a CSOT fab last summer, doubling its LCD output. The company also broke ground on a new G6 LTPS OLED fab.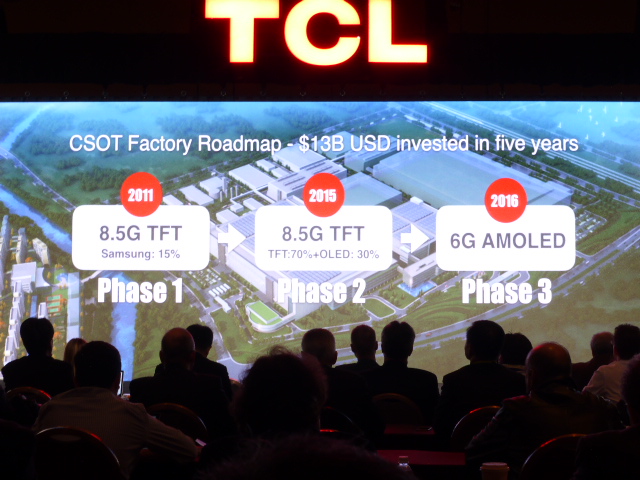 Four TV series will be developed this year: the D-, S-, P- and X-series. The D-series will be HD and Full HD, but all other series will be a mix of Full HD and UltraHD resolutions, or pure UltraHD for the X-series. They will also use the Roku smart TV platform.
Chas Smith is an SVP at Roku. He discussed the platform's new UltraHD support. There will be an UltraHD spotlight channel, which aggregates content from different sources, and a category dedicated to UltraHD sources in the channel store. There will also be a new reference platform, bringing HDR support to UltraHD Roku TVs. (Digital Experience Has Lots to See)
Larson came back on-stage to announce continued R&D investment, then introduced Warren Wang, VP and general manager of TCL's overseas business unit.
Wang introduced TCL's new quantum dot TVs, which will be called QUHD; the X1, the first model in the X-series, will be the first product. These TVs use optical components from Nanosys, with 100% DCI-P3 coverage and 288 zones of local dimming.
The X1 was described as the world's thinnest local dimming TV, at 15.9mm thick. It has a 'black crystal' screen, which lowers ambient light reflections by 90%. The curved display has a 1mm bezel (it was claimed), and TV+ OS 3.0 is used for the smart functionality. It was pointed out to us that the powerful spotlight used to draw attention to the TV couldn't have been used had it been an OLED set (although we think that the speaker might have been slightly biased!).
TCL has integrated its Intelligent Display Process (IDP) engine into the X1. The IDP focuses on accurate colour reproduction (chromatic aberration Delta E is <5), SDR-to-HDR conversion and motion estimation and motion compensation (MEMC) technologies. The MEMC is enabled through MStar's A73CPU chip.
Dolby Vision is the HDR system that TCL has elected to use. Roland Vlaicu – VP of consumer imaging at Dolby – discussed the format. He said that Dolby Vision's competitive advantage is its ecosystem. Content is graded at "the highest quality that Hollywood has ever seen".