Sony has undertaken a major project with Circuit Paul Ricard, a motorsport venue in the South of France, near Marseille. Sony supplied all of the AV infrastructure including cameras to monitor the track, video processing and both laser projectors and flat panel displays in collaboration with networked communications specialist Sogetrel and software vendor SeeTec.
In capturing video, a major challenge is that for some races, there is a need to video for 24 hours per day. It needed particular attention to maintain some details of the car when they are driving at night with powerful headlights. In terms of displays, the main control panel is a 3 x 3 display using 60″ Sony Bravia displays. There are two VPL-FHZ55 laser phosphor 3LCD projectors show the race leader and also provide on overview of the circuit for organisers.
Twelve VIP boxes are equipped with 48'' Bravia displays. They're supplemented by a further 75 32'' Full HD displays in the main stands and eighteen 40'' Full HD displays in the Press room. Sony solutions also feature in the main reception area, with three 65" Bravia 4K Professional Displays offering 4K images of the Circuit Paul Ricard, together with touch-enabled Bravia professional display solutions to guide visitors around the installations. Kids and adults can play automotive games on Sony PlayStation 4 to enhance the true fan experience.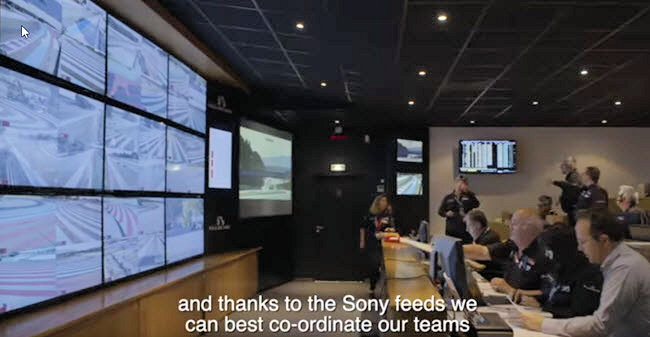 The nearby ´Grand Prix Burger´ restaurant is also kitted out with eight Sony displays in 48" and 65" sizes that show menu prices and sporting action.
Five SNC-EM632R outdoor IR ruggedised 1080p/30fps cameras monitor the venue. Out on the circuit itself, 40 SNC-WR632 Full HD PTZ network cameras capture race vehicles at 60fps.
"Now we're getting pictures from night-time races with a quality that's close to daylight conditions. We can really follow the cars and react quickly if something happens. Video from the cameras can be displayed on the video wall of Sony screens and video projectors, and we can also share this externally with our customers.
What we really appreciated – above the quality and compatibility of Sony's products – is the responsiveness of the team, who've always been on hand to answer our questions", said Thierry Dostes, IT Systems Manager, Circuit Paul Ricard
This 4K video case study was filmed with 4K drone cameras during a Blancpain GT Series live race event