Kazuo Hirai is the President and CEO of Sony, and he was at the show in that position for the fourth time. At the time he took over, Sony was re-structuring. Hirai said that he now believes that Sony is set back on a path for growth and development of innovative consumer products that "engage consumers emotionally".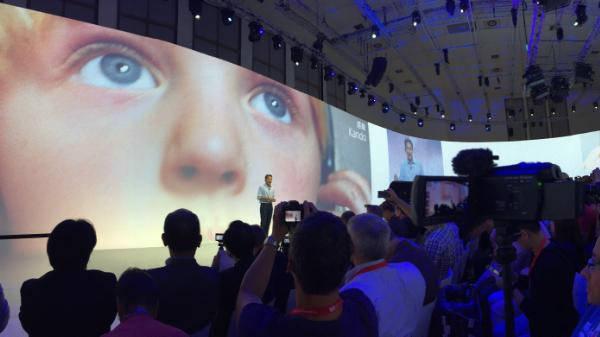 Last year in TV, Sony boosted its product offerings and the company believes its share of the TV market has doubled in Europe over the last year. Sony has a unique 4K X1 processor, which Hirai said is the key to the quality of great picture content. HDR is a big new topic and brings content closer to the image of real life. Sony is working with Amazon video to deliver HDR content. Sony has "X-tended Dynamic Range Pro" to boost LED output, as well as local dimming. Hirai said that Sony is leading in HDR content as well as display.
Hirai then went through the Sony range of mirrorless and compact cameras which have been doing very well (we love them! – Man. Ed.) The company has also done well in selling its sensors to other device makers. Sony will invest €1.5 billion on sensors for smartphones and other applications.
Turning to mobile, Sony aims to offer high quality devices and experiences. A new phone is the Xperia Z5, which has a new camera for smartphones. Autofocus is very fast – 0.03 seconds – to allow the capture of quick images. There is a new clear image zoom mode that uses a new 23 megapixel sensor. The phone also has improved low light performance. Hirai said that Sony's battery life is much longer than other "popular" smartphones – allowing up to two days use. The phone will be available with 4.6″ (Compact) which has a 1280 x 720 display, the regular model (1920 x 1080) and the Premium which is, we think, the first to have a 5.5″ UltraHD screen.
Hirai then moved to talk about Hi-Res audio, which was launched in 2013 at IFA. Qubuz, Deezer and others are now offering some streaming hi-res audio. There were new headphones and a walkman at the show. As before, digital noise cancelling will be available to Xperia users.
Project Morpheus is Sony's VR experience for PlayStation and Hirai said it delivers new and immersive experiences for PlayStation owners.
Sony started selling its 4K Lightspace UST projecton system in Europe this June. A new UST projector and a new sound lamp will be shown at the show and will be available in the spring of 2016.
New ideas include a programmable remote control using an E Ink display. Ideas have been developed under what Sony calls the "Seed Acceleration" programme.