We always spend a long time on Haier's stand, because the company seems to cram in all sorts of products that we're interested in, from mobile screens to large TV sets. This year was no different.
19 new TV models were introduced at IFA 2015, across five ranges. Haier's UltraHD TV series was relaunched, and was joined by a variety of Android TVs.
Starting with conventional TVs was the V100 range. These are 1920 x 1080 sets in 24″ – 49″ sizes, although only the 40″ and 49″ were at the show. Each model features Timeshift and a DVB-T/C/S2 tuner. Two 8W speakers and ports for HDMI (x2), VGA, Scart and coax ports, as well as a CI+ slot.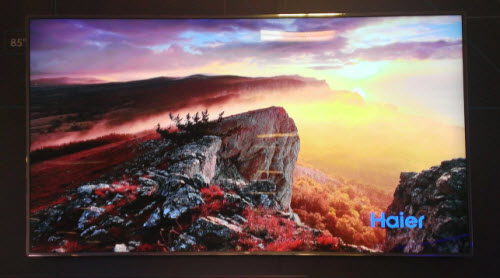 Prices for the V100 TVs will be €170 (24″), €195 (28″), €210 (32″), €250 (40″), €295 (42″) and €380 (49″). They will be launched in September.
Stepping up to a new size class is the V200S range, in 55″ (€590) and 65″ (€1,000) sizes. These sets still have 1920 x 1080 resolution, as well as thin frames. They are smart models with a built-in PVR and edge-LED backlights. A DVB-T2/C/S2 triple tuner is built in. HDMI (x4), CGA, Scart, S/PDIF, USB (x2) and RJ45 ports are featured, as well as two 8W speakers. They support Wi-Fi and will be launched this month.
Android TV first appears on the U5000A models, which also feature WiFi. They have 1920 x 1080 resolution, a 50Hz refresh rate, timeshift and four 10W speakers. HDMI (x3), Scart, S/PDIF and USB (x3) ports are featured. They also have a hotel mode, automatic volume limiter and the same triple tuner as the above sets.
September will be the launch date for the U5000A TVs. They will cost €295 (32″), €460 (43″) and €590 (49″).
UltraHD TVs were part of the B9500 (49″ and 55″) and V300 (40″, 43″, 48″, 55″, 65″) ranges. They have energy efficiency ratings of A and A+, respectively, and are also differentiated by their inputs: HDMI x4 on the V300 and x3 on the B9500. All sets have Scart, S/PDIF and USB (x2). They are smart TVs with double tuners (DVB-T/T2/C), DLNA, two 10W speakers and a CI+ slot.
Haier will launch the UltraHD TVs in Europe in Q1. The B9500 models will cost €590 (49″) and €840 (55″). The V300 will cost €420 (40″), €500 (43″), €590 (48″), €755 (55″) and €1,175 (65″).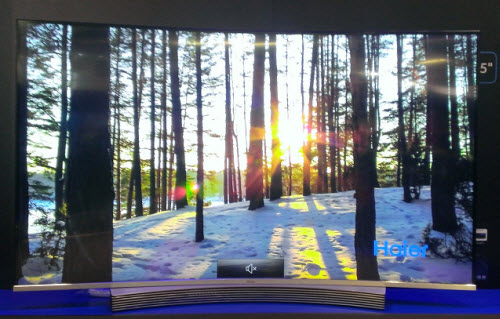 Additionally several UltraHD 'future TVs' were on show, which do not have launch dates yet. These included the U9000U (85″), H9000U (75″ and 70″), Q9000U (55″) and Q700SU (65″). The latter two TVs are both curved, and were also seen with a 105″ curved 5k TV called the Q9000W, with a radius of 4,000R.
Haier was also showing its various TV technologies, such as Roku TV (although there were no new models) and the Modular TV. Haier's Modular TV concept can be upgraded with new features through the application of a special module, much like Samsung's Upgrade Kit. However, we did have to ask about the claim that a TV could be upgraded 'from Full HD to 4k'! In reality, adding such a module would mean that the TV can accept and display UltraHD signals, but they would be downscaled to 1920 x 1080. This would still look superior to native 1920 x 1080 video, so perhaps end-users would be content with it.