Lenovo subsidiary Medion was not showing all of its new products on the stand – the brand had, somewhat oddly, decided to give the space to existing products, instead. However, there was enough information and people to talk to that we were able to cover what wasn't there! No-one that we talked to knew release information, though.
Medion's new Akoya products all run Windows 10, and there were three on the stand: two notebooks (S3041 and S4219) and a tablet (E2211T).
The first notebook was interesting, as it is one of the few that we saw at IFA with UltraHD resolution – or, at least, it is meant to. The marketing material says that the 13.3″ display is UltraHD – but a model with 1920 x 1080 resolution was on the stand. We understand that there will be two versions of this notebook available. The one that we looked at was using an Intel Skylake processor (Core i7), with Intel HD graphics and optional SSD and HDD combination. HDMI, USB (x2) and USB-C ports were featured.
A more affordable option will be the 14″ S4219, with 1920 x 1080 resolution as standard. This notebook will have a 32GB or 64GB SSD, but an HDD is optional. The processor can be up to Intel Pentium, and HDMI and USB (x2) ports were featured.
Medion's Akoya tablet was an 11.6″ convertible model. It uses an Intel Atom processor. The unit has 2GB of RAM and up to 64GB of storage.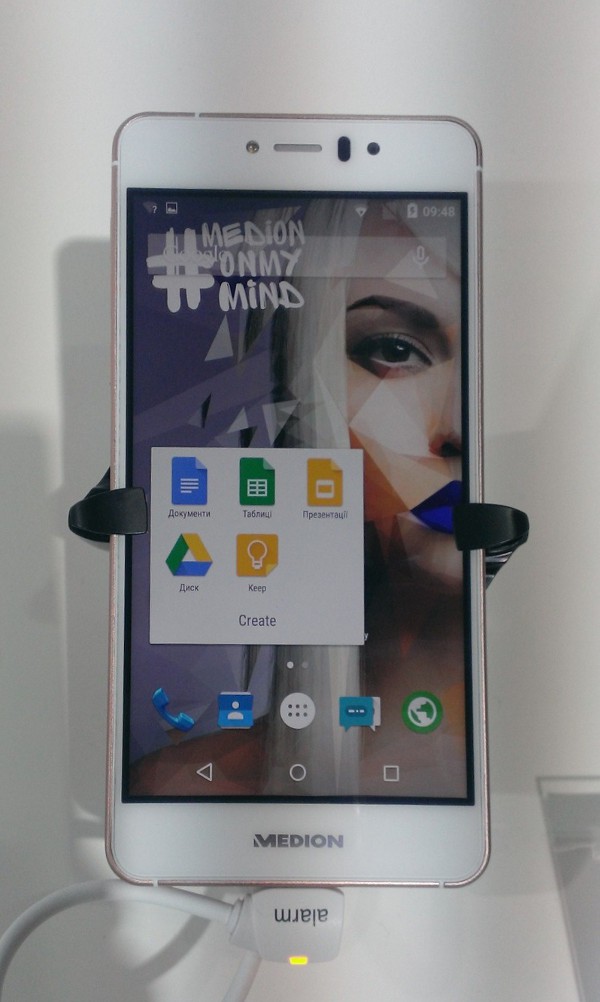 The only smartphone on show was the 5″ X5020, which features an octa-core processor, running Android 5.0, in a slim chassis. It has 1920 x 1080 resolution – the screen protected by Gorilla Glass 3 – with 32GB of storage and 3GB of RAM. The phone will be a 4G model with dual SIM slots.
In the larger mobile space were the 10.1″ S10531 and 8″ S8311 tablets, although only the 8″ was on show. We learned that the larger model is 4G, with a 1.3GHz quad-core processor and up to 128GB of storage. By contrast, the S8311 is 3G, with an octa-core 1.7GHz processor (Android 4.4) and 16GB of storage. The smaller tablet uses an IPS panel with 1920 x 1080 resolution.
'Erazer' is the brand name for Medion's dedicated gaming products, such as PCs and notebooks. None of the notebooks were on the stand, but we have the core specs just the same.
The Erazer P6661 is a 15.6″ notebook, with 1920 x 1080 resolution; it has a Core i7-6500U processor, Geforce GTX 950M GPU with 2GB of VRAM, 16GB of RAM, a 512GB SSD and 2TB HDD. Medion's Erazer P7643 is identical internally, but has a 17.3″ display (1920 x 1080).
A premium gaming product took the form of the Erazer X7843 notebook, with features such as a backlit keyboard, colour-coded WASD keys and a rubberised design to improve grip. It is another 17.3″ (1920 x 1080) model, but the processor is a Core i7-6820HK device. The GPU is a Geforce GTX 980M, with 8GB of VRAM. The notebook has 32GB of RAM, a 480GB SSD and 2TB HDD.
Last of all, Medion was showing two TVs: one new product that will be coming to market, and one prototype.
The X18119 is a 78″, curved UltraHD set. It features WiFi, DLNA, smart functionality and a triple tuner. Contrast ratio is 4,000:1 and brightness is 350 cd/m². HDMI (x4, supporting UltraHD at 60fps), VGA, mini-Scart, RCA, USB (x3) and RJ45 ports are featured. Medion will begin selling the TV in Q4, for €4,200 ex VAT. Located nearby was an 85″ concept TV, also with UltraHD resolution.