Emerging markets exhibited record levels of smartphone growth in Q3'14, while mature regions like Western Europe continued to decline. Smartphone sales were up 20.3% YoY, to 301 million units – balanced by falling feature phone sales, with the result that total mobile phone sales to end users in Q3 were flat, says Gartner. Total smartphone sales are expected to reach 1.2 billion units in 2014.
Feature phones fell 25% YoY, because the difference in price between them and low-cost Android phones is continually narrowing. Smartphones represented 66% of mobile phone sales in Q3, which Gartner expects to climb to 90% in 2018.
Eastern Europe and MEA achieved the highest sales increases, up almost 50% YoY. In terms of mature regions the USA performed admirably, with sales rising 18.9%, bolstered by the iPhone 6. Western Europe declined the third consecutive quarter this year, down 5.2%. Record sales of the iPhone 6 and 6 Plus are expected in Q4, but Gartner analyst Annette Zimmermann warns "W]e should not underestimate the Chinese ve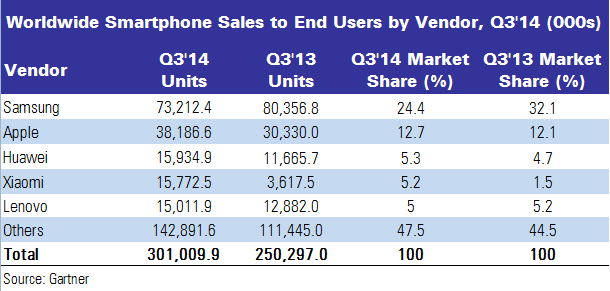 ndors and local brands… [They] will continue to look at expanding in overseas emerging markets".
Three of the top five smartphone vendors in Q3 – Huawei, Xiaomi and Lenovo – were Chinese. These brands raised their combined share by 4.1%, thanks to their low-cost, high-spec phones. Apple and Samsung held the top two spots with a combined share of 37%, down 7% YoY.
Samsung, the largest smartphone vendor, saw demand weaken in Western Europe and Asia. Sales in China – Samsung's largest market – were down 28.6%. iPhone sales were up 26%, helping Apple to halt the advance of its Android rivals. Record sales are expected in Q4.
There was a difference of less than 1 million units between the bottom three vendors in the top five. Huawei led, followed by new entrant Xiaomi (with sales up 336%).
Android remained the leader in the OS market with a 22% share, while Windows Phone fell. Zimmermann said, "Microsoft needs to keep the momentum going from the third quarter, when Windows phone-based devices grew quarter-on-quarter thanks to the introduction of more mid-range devices".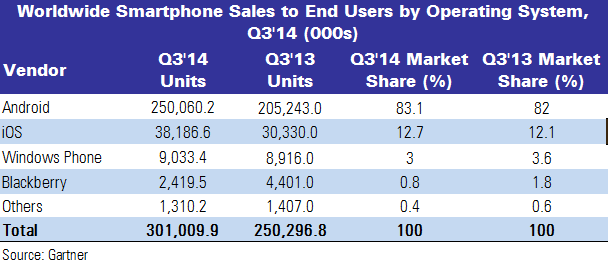 Worldwide mobile phone sales to end users in Q3 totalled 455.8 million units. Although this was flat compared to Q3'13, sales were actually up in all regions expect Western Europe (down 13.5%), Latin America (down 7.4%) and Japan (down 1.8%). Samsung led the market, although its feature phone sales were down 10.8%, although maintained a market share above 20%. Nokia's share was down, allowing Apple to close in and narrow the gap between the vendors to just 5 million units.
Display Daily Comment
The sustainability of Xiaomi's growth was called into question recently, as net profit of the Beijing handset maker was reported at $56 million (CNY347.5 million) in a regulatory filing. That's just 10% of the CNY3.46 billion reported by the Wall Street Journal in November, according to a ChinaDaily.com.cn story. The WSJ quoted a 'confidential bank document' as its source.
Suffice it to say that Google's Android will continue to dominate with most vendors selling the popular (albeit stratified) versions of operating system. However, it's a tough business for hardware makers, as Samsung is demonstrating. Without a way to product differentiate, top vendors are having problems at both ends of the spectrum, facing the new Apple larger display offerings, and China's bottom feeders like Xiaomi willing to live on razor thin margins to literally buy market share at the cost of profitability. And so it goes… – Steve Sechrist