Omdia has yet another datapoint on smartphone shipments which faced another dip in Q2'23. The industry experienced a 9.5% year-on-year (YoY) decrease, reaching a total of 265.9 million units. This decline marks the eighth consecutive quarter of negative growth, revealing a complex interplay of factors affecting the market. Despite the challenges, the industry's giants, including Apple, Samsung, and Xiaomi, are strategizing for a potential recovery in the coming quarters.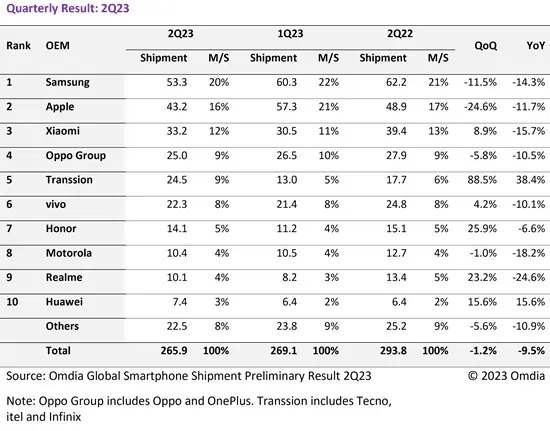 Major smartphone original equipment manufacturers (OEMs), with the exception of Transsion and Huawei, witnessed YoY drops in shipments. Apple, Samsung, and Xiaomi, the three largest players in the market, all faced more than a 10% decline in shipments from Q2'22 to Q2'23.
The ongoing decrease in shipments can be attributed to various factors. First, the recovery period of smartphone demand experienced during the pandemic's earlier stages seems to have tapered off. Additionally, the industry grappled with a multitude of challenges, including supply chain disruptions due to component shortages and reduced consumer demand amid high inflation.
Samsung, despite reporting the highest number of shipments in Q2'23 at 53.3 million units, faced an 11.5% dip from the previous quarter and a substantial 14.3% fall YoY. Apple also encountered a significant quarterly decline of 24.6% following a successful Q1'23, with its market share dropping back to 16%.
Xiaomi, maintaining its position as the third-largest global smartphone player, saw shipments fall by 15.7% YoY, primarily due to competition from Chinese OEMs Oppo and Vivo. Oppo, including OnePlus, reported a 10.5% fall in shipments from the previous year, narrowing the gap between itself and Xiaomi.
Transsion Holdings made a remarkable turnaround, recording a 38.4% increase in shipments year-on-year, placing it as the fifth-largest smartphone OEM in Q2'23. Its expansion efforts into new markets have been instrumental in this achievement. Honor and Realme, both faced with shipment declines in the previous quarter, experienced rebounds in Q2'23. While Honor's growth was driven by overseas markets, Realme's recovery was supported by demand resurgence in the APAC region. However, these improvements weren't sufficient to reach their Q2'22 figures.
The smartphone industry's outlook remains challenged, with expectations of continued contraction until Q3'23. Despite this, hope is on the horizon as industry giants Apple and Samsung, though facing obstacles, are anticipated to see improved performance in the later part of the year and into 2024.
Global inflation and economic pressures are gradually easing, thereby potentially alleviating the constraints on consumer purchasing power. Simultaneously, manufacturers are actively managing high inventory levels, and the rising popularity of recycled smartphones is reshaping market dynamics. This trend, particularly evident in the mid-range smartphone segment, has contributed to the recent demand decline.