The landscape of smartphone usage in South Korea has been experiencing noteworthy shifts, particularly among the younger demographic. Recent data from a comprehensive consumer survey conducted by Counterpoint Research during the first half of 2023 unveils fascinating insights into the preferences, switching patterns, and influencing factors of smartphone users, shedding light on the dominance of Android phones as the first choice among the younger generation and the rising popularity of iPhones among this cohort.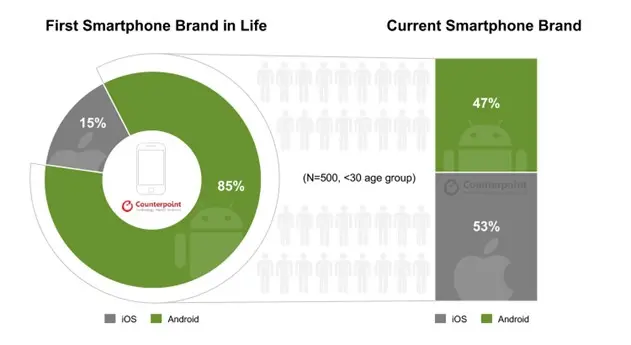 A significant 85% of South Korean smartphone users below the age of 30 reported selecting Android phones, primarily from brands like Samsung and LG, as their initial smartphone, as revealed by the Counterpoint Research survey. This dominance can be attributed to a unique trend: young users, especially adolescents, often prioritize the preferences of those with substantial purchasing power, such as their parents, when choosing their first smartphone. Notably, the survey highlights that the most prevalent reason for opting for an Android phone was recommendation from family or friends.
However, the survey indicates a shift in preferences over time. Among these initial Android users, approximately 53% have now transitioned to iPhones, signifying a substantial conversion to Apple's ecosystem. The motivation behind this migration lies in the perceived performance and brand image of iPhones, with 32% and 31% of respondents identifying these factors as their primary reasons for switching.
Apple's meticulous focus on camera performance emerges as a pivotal part of its attraction. The company's investment in research and development, particularly in imaging technology, has resulted in tight integration of hardware and software, culminating in exceptional camera capabilities. Apple's strategic campaign, 'Shot on iPhone,' has further reinforced its camera prowess through collaborations with notable figures in the South Korean creative industry.
Within the age group under 30, Apple appears to have secured a loyal user base, encompassing both initial iPhone users and those who made the switch from Android. A remarkable 92% of respondents who initiated their smartphone journey with iPhones continue to remain devoted to the brand. About 76% of these users express an unwillingness to embrace Android phones in the future. The dissatisfaction with Android phones' design (52%) and performance (29%) is cited as a driving force behind this sentiment.
For a comprehensive view across all age groups, more than half of respondents who transitioned from iPhones to Android devices identified user-friendly features such as Samsung Pay and user interface (UI) as pivotal differentiating factors. Encouragingly, this echoes the sentiment among current iPhone users, who express a willingness to make the switch to Android smartphones in the future. As a result, the avenue to attract new users and foster brand loyalty centers around marketing strategies that prioritize user convenience.