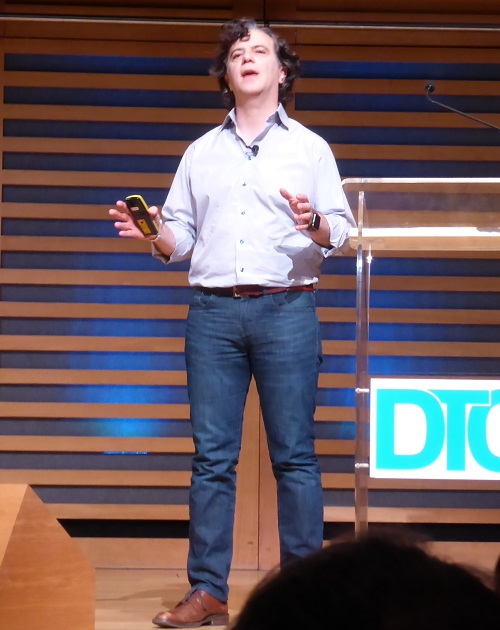 SkyQ is Sky's new multi-room service for customers who want the most up-to-date pay-TV experience (Sky Overhauls STB, Prepares for UltraHD). As well as all the features of Sky+, SkyQ features a choice of two set-top boxes (SkyQ and SkyQ Silver), one of which will support UltraHD later this year.
Andrew Olson is the director of new products at Sky, and was behind much of the development of SkyQ. He said that Sky had "torn up the research rulebook" when designing SkyQ and its new interface. The brief was to make a TV feel "like a 65″ iPad on the wall." Things that we think are intuitive about the TV experience may just be learned, Olson said. Sky's research shows that when people are left alone with an unfamiliar box – be it YouView, Apple TV or anything else – most consumers are not even aware that most of the features in the box even exist. Of course, companies spent a lot of time and money testing these features!
The SkyQ Silver box – the most premium model – has 12 tuners, and the regular SkyQ box has eight. SkyQ Silver users can record four channels while watching a fifth. Both of these can connect to the SkyQ Mini – Sky's first STB that does not need to be connected to a satellite – and stream TV to a tablet (two for Silver, one for SkyQ) through an app. A phone app will also be released later this year. Also coming in 2016 are voice services and a new product: the SkyQ Router. This will use the same 5GHz networking technology as the other boxes, and will turn each SkyQ product into a WiFi hub.
Sky's intent with the new service was to reimagine how we watch TV, which is increasingly done across multiple screens. The multiple tuners support this by streaming content to other devices around the home, as does 'Fluid Viewing' – a continuum feature allowing content to be 'moved' between screens in the home. This is not only possible with live TV; recordings can be taken from a PVR and downloaded to a tablet to be watched on-the-go.
During a question session, Olson said that the SkyQ boxes are "as future-proof as we could make them." Sky bought "the best chip that we could" and will move more services to the cloud over time.
On the subject of IP services, Olson said that Now TV – Sky's VoD service – is not a part of SkyQ. Now TV is mainly aimed at younger consumers who cannot afford the full monthly Sky subscription. He also mentioned that Sky has "no religious objection" to working with Netflix in the future.