CCDL was showing a 6mm pitch LED stereo 3D display based on a polariser over each pixel, and these have polarising filters that are arranged to alternate in chirality. The firm told us that the approach is unique and patented.
DNP was showing a number of films including new QD films. These will be available later this year. Later the company believes that it can achieve 120% of Rec. 2020 with new colour filter materials that could be available by the middle of next year.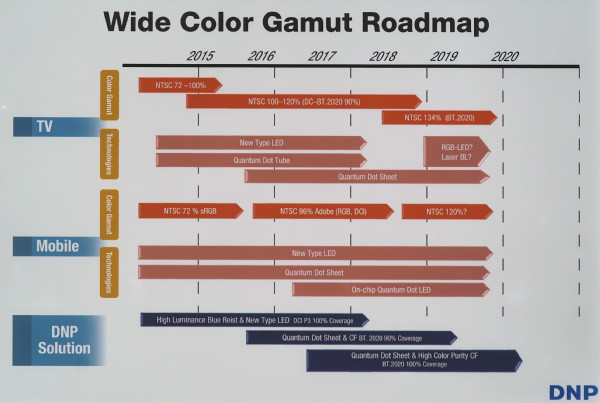 ELO had a 10 touch procap prototype display using 'non-ITO' materials. It expects to start with non-ITO procap touch from 32″ later this year. It was also showing the latest version of its SAW technology, which uses acoustics. The latest version is closer to procap in performance and the touch pressure needed.
Kyocera was showing its range of displays and has now fully integrated the Optrex business which it previously acquired. It has IPS & FFS technology and concentrates on wide viewing angle and high brightness. It has a-si and LTPS technology and makes its own filters, BLUs and assembly. It normally makes passive panels and has developed OGS touch technology which is factory integrated. It has on-cell touch in some sizes and will gradually backfill the range.
It was showing a 1.8″ LTPS display for automotive HUDs. It also had displays for mirror replacement and dashboards and its displays are said to be in the BMW 535. Kyocera told us that most of its BLUs have a lifetime of 100K hours.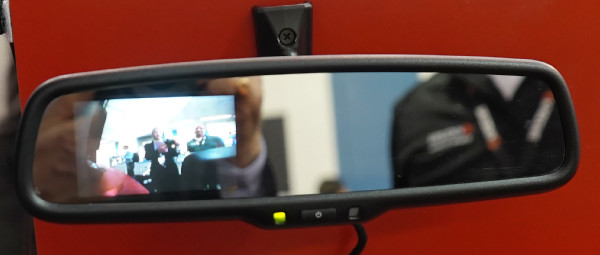 LMS of Korea was at the show to talk about its prism and diffusion sheets. It has QD films for monitors up to 28″, based on QDs from Nanosys.
Mitsubishi was showing a 15″ 1024 x 768 LCD with 1000 cd/m² of brightness and using IPS technology. It also had rugged displays that can survive 6.8G of impact.
Novaled did not have any specific news at the show, but this was our first chance to catch up since the takeover by Samsung, so we were able to catch up with changes. First, Gerd Günther, CEO of the company, told us that despite the takeover, there is no problem with working directly with others and the firm is working with companies including China and "other" Korean companies. The development focus is now heavily on doping and ETL layers and it is working hard to try to solve problems of temperature sensitivity to help OLED develop in automotive applications.
Ortustech had new "superfast" LCD using a new LC material (and not "IPS" we heard"). Also being discussed was new reflective LCD technology that has quite good reflectivity and reasonably saturated colours, for a reflective display. The company calls it "color movie paper" as it can support video frame rates.
Sun Innovations was showing a 1280 x 800 transparent rear projection glass that is said to support transmission of more than 90% and more than 95% with A/R coatings. Haze level is <2%. The company also supplies the projectors which are DLP-based.
Toppan was showing how it can use copper to make touch panels for automotive applications that allow curved surfaces with high performance and high noise immunity. The touch is sensitive enough to be used underneath a thick plastic cover, even up to 2mm. You can also make Wi-Fi antennas around the edge of the display.
The University of Saarland was on the German pavilion and was showing its dynamic backlight driving technology for mobile applications. It has IP in analysis and is interested in licensing it to companies. It can save up to 30% of power, depending on the content being displayed. The group also has IP in the digital driving of AMOLEDs (at the moment, most are analogue). The technique eliminates the DAC and reduces the cost of the backplane as well as increasing the possible pixel density and allowing for aging compensation. It reduces power consumption.
Last year, VP-Dynamics had a low cost 28″ UltraHD monitor at the show. We asked why we had never seen it on the market and were told that because there were almost no controllers available, and those that were available were expensive. This year, the company was showing a 5.5″ UltraHD LCD using an RGBW pixel structure and will sample in Q3. There will be a 10.1″ version too.