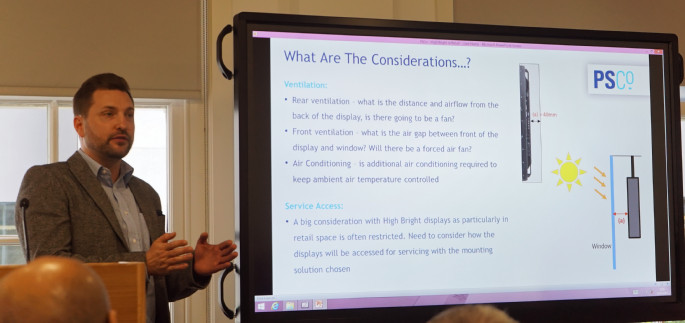 PSCo is specialist trade-only distributor and wholesale rental company that we have reported on before. Liam Norris is a Product Manager at PSCo which is working on the public display side of the Sharp offering. In his talk, Norris looked at high brightness displays especially for retail.
High brightness displays are needed for high ambient light situations. In retail, the importance is to be able to deliver messages – standard monitors simply won't have the impact to get the customer's attention. Retailers want more control of the design of their stores and don't want to be limited by the needs of the display. Stores that are brighter are a trend and having displays that work well in these areas means less compromise on the store design. High brightness can extend the area of the store into semi-outdoor applications and with careful engineering, displays can be put in windows.
Norris said that sunlight is the big challenge and direct heating from the sun on the surface can be a problem. If the temperature gets too high the image can get black spots and if they persist, they can permanently damage the panel. Forced air cooling or heat resistant films can be used in front of the displays to keep temperatures under control. LCDs also need UV filtering to maximise lifetime as the UV from the sun can cause deterioration of the display.
Rear and front ventilation can be simply by forced ventilation or in more extreme cases with air conditioning. With multiple displays, such as video walls, the top panels can be hotter than lower ones.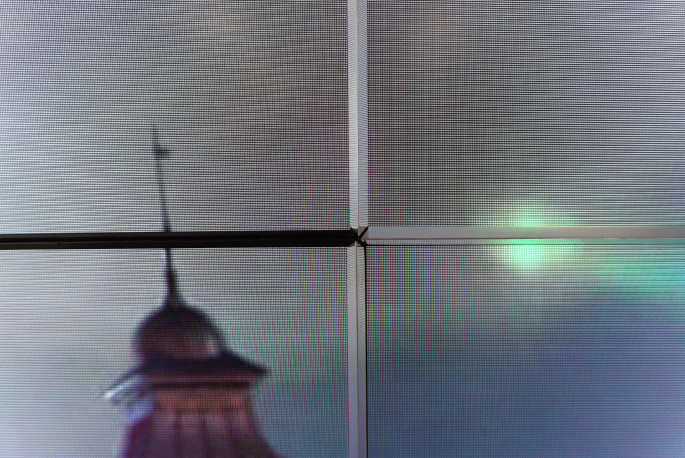 Sharp video wall detail – the company has a steel reflective system that can minimise the effect of bezelsSpace is always at a premium in retail, so mount solutions are important, but you also have to ensure service and maintence considerations, to allow access to the panels.
High ambient light can also degrade the contrast on the panel, so Norris likes the fact that Sharp uses local dimming to boost contrast. PSCo sees Sharp as a pioneer of high brightness panels. PSCo can supply 3M window films which can reduce heat by 44% and UV by 97% while also delivering 22% glare reduction. The firm also has fan solutions for ventilation of window-mounted displays.
Norris then showed some of the prestigious projects that it has been involved with in London, including the Photographers Gallery, Watches of Switzerland and a SuperDry store.