Sharp held an open day in London for its dealers and distributors and we went along to hear what the firm had to say.
Sid Stanley is Sharp's European Sales Director, a position he has held for a year or so. He has been in the display business for some time, having worked at Barco, Promethean and others. He said that Sharp wants to "earn the right to get your business".
Sharp is no longer in any consumer businesses in Europe since it eliminated its white good business by moving it to Vestel and is out of the TV business, with UMC licensing the brand. Sharp in Europe is now 100% business to business.
There are four divisions in Europe covering multi-function printers, displays, energy and components (including display panels). There are around 2,500 people with around 1 billion Euros turnover and the group is profitable. MFP is around 80% of the business in Europe, with visual solutions at around 15%.
Sharp's product positioning is about trying not to simply attack the high volume mass markets. Core features of the product range include:
always on 24/7
Bright
Big
Built to last
Exceptional colour reproduction
Great Contrast
The aim is to make displays that are suitable for business critical and revenue-generating applications. An example, said Stanley, is a long term project with Stroer of Germany that has seen the company install 1000 displays in German railway stations with a failure rate of less than 1%. This kind of application is core business for Sharp.
The firm also generates some business where sets are installed in cabinets for outdoor/semi-outdoor use. An example Stanley gave was Dumets in the Netherlands which is making displays for Dutch railways.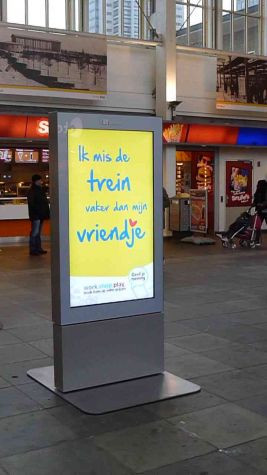 A new market for Sharp is corporate touch displays. Corporates often want to use Microsoft Lync (now Skype for Business, I think – Man. Ed.). The system for controlling these conferences is often from Crestron, which is Lync-approved and needs touch. In turn, Sharp displays are Crestron approved for use on Lync.
The 60″/70″ and 80″ (PN-L603B/PN-L703B/PN-L802B) are now approved by Crestron.
The meeting was at the special London facility that Sharp has and which is available for resellers to use by arrangement with the company. The offices is very central and is close to a number of prestige LFD installations.
Sharp is not in the "commodity" education market for large touch displays.
Sharp displays have been used in semi-outdoor applications such as in windows and temperature can be a real challenge (see PSCo later) but there is often a real business case for this kind of application.
Stanley said that Sharp wants to be in a "Big Bright & Beautiful" niche.
There are now two distributors only, PSCo and Midwich Thame (both well known as value-added distributors in the UK – Man. Ed.). "Realistic targets" have been set for the group based on longer term business.
Sharp is looking to build 15 to 20 good VAR/SI resellers as its target and the firm has a reseller programme. Stanley does not want to be selling commoditised products.
He said there will be "no web dilution" and there is price protection and project registration available for qualified resellers. Sharp's ambition is to be a "strong" player in fourth or fifth place in the market.