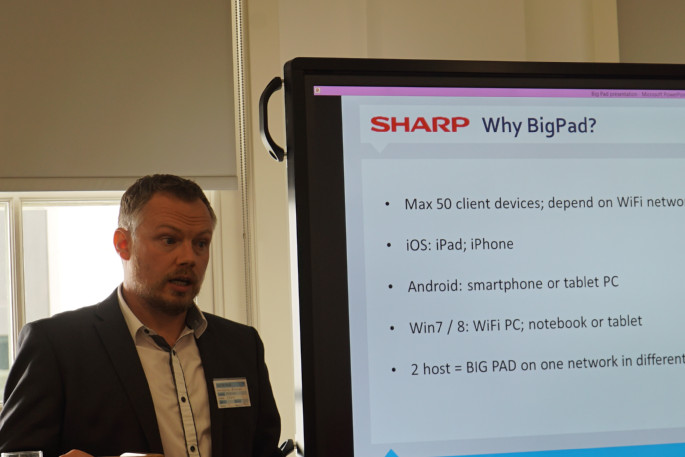 Warren Bremner is Product Manager for Interactive Displays at Midwich. He quoted data showing the strong shift to flat panels in education in the UK. He expects the market to more than double by 2018 and increase by more than 20% in this year.
Education remains a key market especially for BigPad, Bremner believes. Corporate and retail are also good opportunities and these are often genuinely technical solutions with real value add in integrating with client systems.
Lower panel cost is a driver for more flat panel sales and especially for the larger sizes. Buyers are attracted by lower Total Cost of Ownership (TCO) as there are no lamps or filters to change. There is a strong demand for connected meeting rooms where the trend to BYOD is a big driver.
The BigPad has pen-based software that can support 10 touch operation (up to 4 users/pens). The sampling is at 200Hz for smooth tracking and the pens are pressure sensitive. Bremner believes it has "the best touch performance in the market". (Have heard that one of the problems of a number of the large display touch solutions is poor performance – Man. Ed.).
Sharp has Touch Display Link 2.0 for collaboration. The software supports screen sharing and up to 50 clients (depending on the client) with iOS, Android or Windows operating systems.
Midwich is a big supplier for the large display market in the UK and for Sharp products has public sector and bid-pricing available. The firm believes that getting in front of the product is essential so is investing in dedicated specialists as well as training and open days to support the Sharp products