At IBC, SES held its annual press event on the evening before the show started.
Over the last few years, it has been interesting to see SES 'pivot' to ensure that its business would not die if the video market was to move to delivering everything via the internet using OTT technology, without traditional broadcasting. It has been developing the data side of the business and has also acquired broadcast services (ingest, distribution etc) in the form of MX1. Now, the company has re-organised itself to put MX1 alongside the video satellite business as SES Video. SES Data is the IP side of the business and did not present at the event.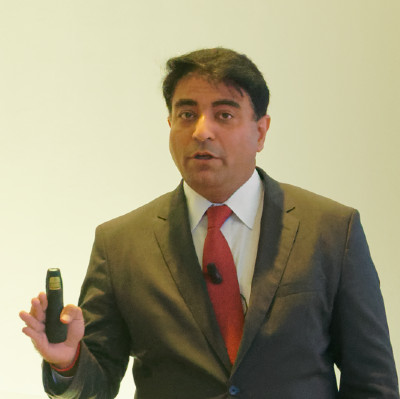 Deepak Mathur is a Senior VP at SES Video and was previously looking after the Middle East and APAC.
Mathur started by saying that there is a lot of content, but it needs distribution and it must be cost effectively distributed. Video consumption is exploding with more devices being used to view video. There is a lot more appetite for HD, there are many SD channels that are still moving to HD.
As well as the traditional market, there is still an opportunity for delivery in homes without access to digital TV and exploiting that will reward SES's prior investment.
In developed markets, content is being consumed throughout the day – the growth in OTT hasn't caused a decline in evening viewing. OTT is not proving to be a replacement to linear TV, but a complement, SES believes.
TV is the key device for consumption in the evening, but at breakfast it's the tablet, while smartphones are the main device late in the day. Streamers and PCs tend to be used late on.
SES showed this graphic that shows how different devices are used at different times of day. Click for higher resolution
Millenials like tablets but they consume a lot more content than older viewers – consumption is 28 hours per week for older viewers, but is 35 hours for millenials and linear TV is still being consumed in high levels by all groups.
Turning to the money side of the business, Mathur pointed out that in terms of TV revenues, 95% of the total revenue in video is still being made by linear TV, both FTA and Pay TV. OTT is still less than 5% of the revenues of the whole TV business. One of the issues for OTT content creators is that they have only have a single channel, whereas others can provide their content through more channels.
Although there has been a lot of interest in the development of 'skinny bundles' and cord cutting, Mathur said that the trend is towards 'stacking'. Subscribing to Netflix means no sports, no light TV or news, so viewers are stacking more subscriptions and the total may be even more than a single subscription to a traditional multi-channel package. However, service providers have to meet the need for content through the day.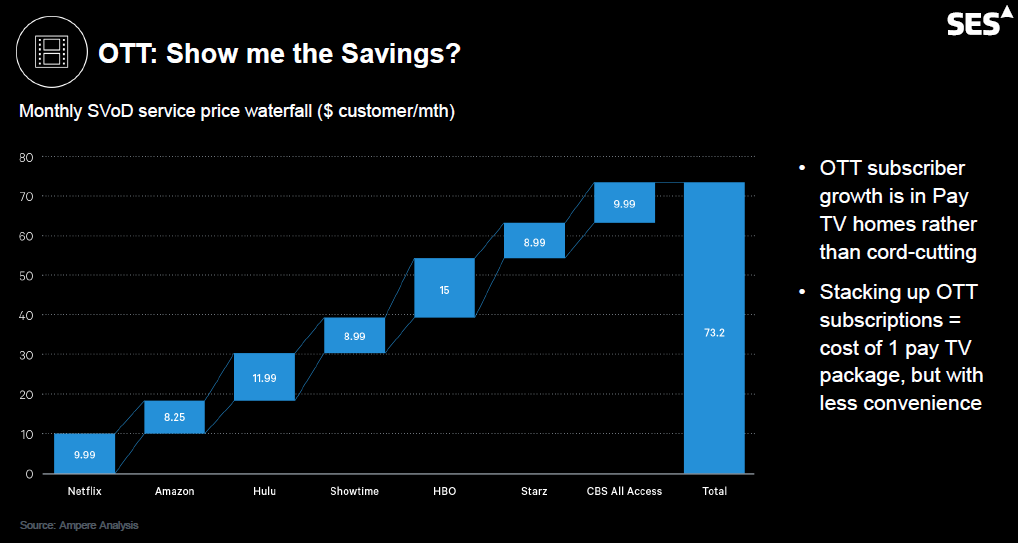 Channel "stacking" can mean a higher cost than full service providers.
Traditional pay TV suppliers have the best chance to add OTT to their packages and Mathur said that "stickiness" is increasing. There is a relationship between HD quality, ARPU and stickiness. More than 60% of subscribers say they must have HD, mainly in developed regions, but even in some developing markets.
HD is increasing in penetration and since 2012 the number of channels has doubled and will double again by 2025, so there is still a big market opportunity.
There are more digital homes to come – 40% of homes globally do not have access to digital Pay TV or TV at all. For example, in Indonesia there is less than 10% penetration of digital pay TV and it is also low in Africa. In Latam, PayTV is growing well and overall there could be two billion people in the category of still not having access to TV.
SES Structure
Mathur then looked at the way that SES is structured now and he said that the customer demands in data and video are completely different. For example, what a customer looking to provide internet access for an aviation application is completely different from what is needed for head end video support. Video customers are very stable and relationships often last 15 to 20 years. So, he said, it makes sense to organise differently.
On the data side, SES has announced seven new satellites with Boeing and this is just for the networks business.
Power, reach and reliability are the core requirements for the infrastructure market. However, content is getting more complicated so MX1, the video services business, was developed to meet those needs, beyond satellite infratstructure.
SES's MX1 division offers a full range of services. Click for higher resolution
On top of the video services business, there is a need for media platforms for playback and presentation. The requirements for the playback depends on how the content gets consumed. You need to be able to deliver on a tablet or via IP as well as TV and that raises a lot security. Some customers just want transponders as infrastructure, while others want "everything" from SES Video.
SES believes that it serves 1 billion viewers globally as it reaches 325m homes and delivers 7,741 channels. 2587 of those channels are now HD (33%). It is now distributing 31 UltraHD channels globally. Previously most UltraHD channels were demos and experiments, but now there are real commercial services in UltraHD, although we are still in the early days.
SES supports 40+ DTH platforms globally, with 20 in Europe and the rest in Africa, Latam and including Asia now. There are still some parts of the world where SES does not have services – usually there are regulatory reasons for this, but the firm hopes to 'colour in' the blank parts of the map.
The firm's satellites deliver TV via DTH, Cable and IP and Mathur said that the company is still seeing 'surprising' growth and there is "still a lot happening" to develop infrastructure. In North America, SES is supporting 78 million homes – mainly by providing feeds to cable headends and there are now just 707 SD channels, whil HD is 1373 so most content is now HD, so that will be a good place for UltraHD to develop. The company has five satellites in NA and good renewal business and there is plenty of need to use satellite to get to the cable head ends.
Asia is still seeing very strong growth in viewer numbers, channels and HD. West Africa is seeing entrepreneurs starting new pay TV systems on a national or regional basis. There are also developments in pan-African TV services and SES is working with a Chinese entrepreneur that is developing services in sub-Saharan and has 1.5 million subscribers already.
In Latam, there had been a slow down in market development because of Brazil's economic problems, but now a new satellite has boosted development in that market.
The SES satellite at 5 deg E was designed to support the Nordics market, but there is also interest in using it in Africa where it can reach. SES sees one of its core advantages is that it can support providers that want content that can be delivered globally as channels often work across language regions e.g. Brazil/Portugal and France/Africa.
MX1 Developing its Services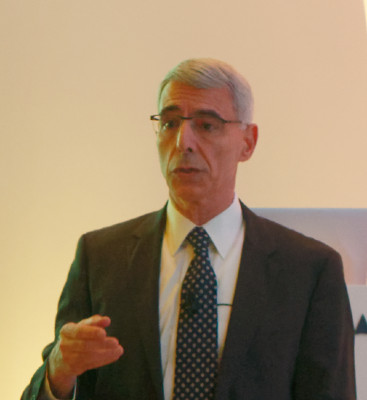 Avi Cohen runs the MX1 group that provides services for operators and he said the firm tries to 'Shape content for ultimate viewer experience on any device". The division fully manages more than 500 channels out of 2750 channels distributed by SES. It can support VOD platforms and produces 8000 hours per day of streaming video, 500 hours of live events and sports per day and handles 3500 live events per month.
MX1 customers are of many types – there are channel owners, but also content owners and sports organisations – it could be anyone that deals with content. On the other side there are platform owners and MX1 is "in between". Platform owners now include Amazon which was added during the year.
The firm has its own MX1 360 platform which is used for aggregation, content management, channel playout, VOD and distribution and supports all of the services globally that are all based on the same platform. The combination of MX1 and SES gives a lot of power to provide a very comprehensive solution and a range of different 'menu options'.
New success stories include doing the acquisition, processing, aggregation and delivery for Prime and the company is now adding live sport. On the evening of the event, the first Thursday night live American football match was being supported. The company is used by BBC Worldwide which uses MX1 360 to monetise content – customers' orders can be taken and delivered via the platform.
Urner Summarises Media Platform Developments and HD+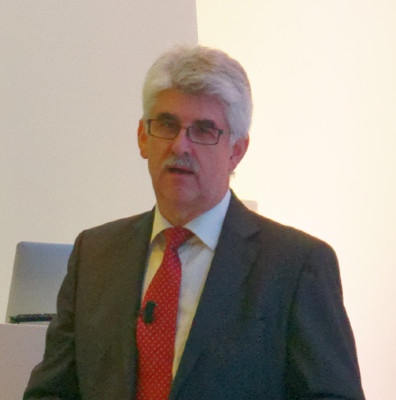 Wilfried Urner looks after the media platform activities including the HD+ service which started in Germany in 2009. HD+ has gone from 1m+ paying subscribers in 2013 to 2m+ in 2016. Customers in Germany are really buying to get better quality. The channel is using MPEG 4 and HD+ partnered with Eurosport on soccer (there is a 'no single buyer rule' in Germany). Discovery bought out a package using MX1 and SES was able to offer a channel in a single week. The company charges €5 euro for the combination of IP player and satellite. 99% of customer problems have been with the player, so advertising on the service is now around the satellite. It's easy to cancel via a monthly subscription, which appeals to some consumers.
SES is developing a global VOD service with daily updates delivered to servers and CDNs via satellite. There are different pipelines to deliver variable rates to support movies or catchup content. The company has an OVP – online video platform – so that mid-sized and smaller broadcasters can add services easily and with a fast time to market. Added since last year, is an analytics service and platform to more easily analyse customer behaviour. This has become essential. The OVP now has a UI Urner claimed is skinnable very easily and that is also a new feature this year.
The other big development this year is UHD. UHD growth is outpacing HD channel growth when it started. Now, the company has developed a UHD solyution for cable operators – and SES already supports 10 cable channels.
The company now has 30+ pay TV providers as customers including Verizon and Frontier as well as Charter. It will also be providing STBs for operators in the future to allow the development of more sophisticated services. There are already three Pay TV operators that have UHD packages in the US supported by SES.
In Ghana, in Africa, Media Platform is developing a service with 2.7m receivers as well as 2.3m more Nigeria and is developing Pay TV options and platforms for next year.
Questions
In questions, it was said that there is an increased focus on data by all providers – but reducing the cost of connectivity is the key factor in driving data. Cheaper bits delivered on planes or to 4G towers means more consumption.
SES Video has 1000 employees in total, with 600 in MX1. MX1 also works with other satellite providers and collaborates with other infrastructure companies such as Arqiva. MX1 also uses fibre or any other infrastructure and does not limit itself to just using SES's satellites. One reason that MX1 has seen more demand is that the complexity of service delivery is much higher to enable monetisation of content.
Booth
On its booth, SES was showing a demonstration of live 10K 360º content being delivered by satellite and shown on a big screen as well as headsets. The demonstration was developed with Fraunhofer HHI and used the Omni 360 camera developed by the HHI. The content was captured at 25fps and was being compressed to a range of 24Mbps to 34Mbps and broadcast over a satellite at 28.2 E. Fraunhofer managed the playout which was using Sat>IP and was using a Fraunhofer app for playback.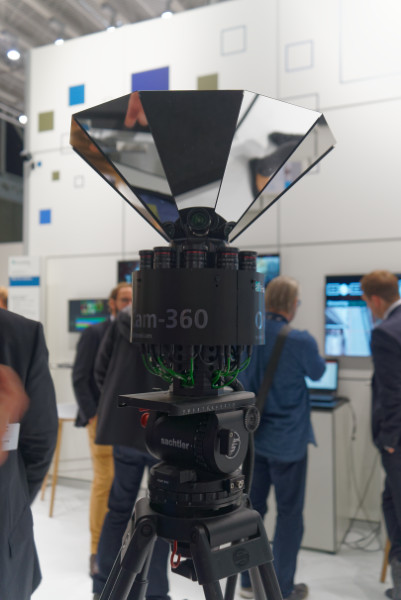 SES worked with Fraunhofer HHI and used the Omni 360 to broadcast 10K video for VR. Image:Meko