Seabear is an Austrian company that is "developing devices that are rugged, waterproof and reliable – for research, professional and recreational diving" and is bringing two new diving-related products to the market. The first is the smartwatch H3 and other is an update to its dive head up display HUDC S1, which is coming soon.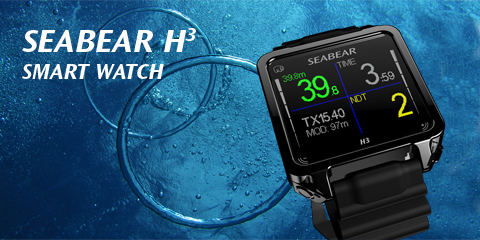 Source: Seabear
The Seabear H3 dive computer comes with a 1.7″ OLED full color display. The display is claimed to make it easy to see in difficult environments such as in caves. The computer is intended to be "the ultimate dive companion" with all necessary computations available on the watch and a sensor array (compass, altimeter) that provides safety for the diver. Besides the dive-related tasks, the device also comes with USB port and near field communication (NFC) capability. The following video describes the main features of the H3 dive watch.
The H3 is a smartwatch that does not follow the mold of other developers. Instead, it goes for the rugged, "no nonsense", military look that may be attractive for the serious user. This is not a watch for the casual user – which is also clear from the price of $975.
At the same time, the company also announced that the new head up display (HUD) dive computer HUDC S1 will be available soon. This near to eye device comes with an O2 sensor for measuring the pO2 in a closed circuit rebreather. The device locks onto the facemask and provides the diver with critical information such as time to surface. The following image shows a diver with a prototype for the new HUDC S1.
Source: Seabear
The device reminds me a lot of the Recon Instruments HUD Snow for skiing, but is completely water tight and focused on diving. While there is no price or availability date for the HUDC S1, the former HUDC device is being sold for $1,350. The devices are available from SubGravity, but are on back order for the moment. – NH
---