We met up with Samsung and got a tour of the booth. The big news is, of course, the further development of direct LED, with 1.5mm indoor product coming from Samsung's own LED display production in Suwon, and with 2.0mm and 2.5mmm also available. 1.15mm pitch displays will be available in early 2016 and pitches from 3mm and upwards are available through the Yesco acquisition (Samsung Buys Yesco Electronics). Yesco's experience and organisation is expected to be used by Samsung subsidiaries outside the US. The 1.15mm pitch allows 2560 x 1440 resolution on a 133″ diagonal display.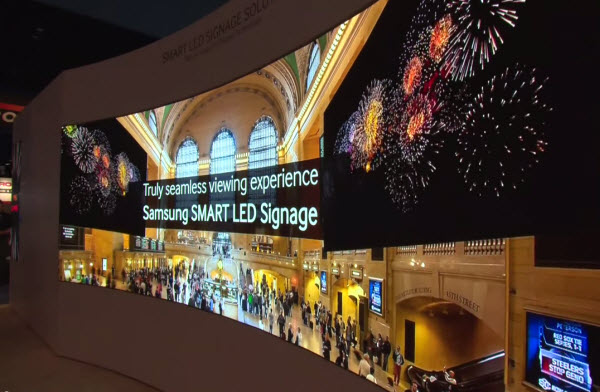 Turning to flat panels, one of the innovations was a new 55″ UDE-S video wall display which has a 3.5mm bezel but is specially set up for broadcast applications. Rather than the usual D65 white point, the monitors are set up with a panel that can be adjusted for white point at anything from 2800ºK, and are mainly expected to be used in broadcast environments, where colour temperatures are typically 3200ºK where studios are lit by tungsten lighting (5500ºK where there is daylight). Brightness of the new monitor is 100-300 cd/mm².
Samsung also said that for video wall displays shipped from now, it would add Samsung Color Expert software and would factory calibrate to improve the uniformity and reduce the time needed for set up (presumably reacting to the Sharp uniformity testing – Man. Ed.).
Staff highlighted the 46″/55″ and 75″ IP56-rated digital signs for outdoor applications, although we get the impression that sales of outdoor and very high brightness displays have not been at the level that the company hoped.
There was a closed "Innovation" area on the inside of the booth and there were a number of demonstrations including a 1.x" very narrow bezel monitor for video walls, another version of the concave LCD shown from ISE 2014 onwards, and the latest version of the transparent OLED that has been shown from CES onwards. We have heard that Samsung's Display division is showing this OLED quite widely and is gaining a lot of interesting. Transparency is now being quoted at 45% – an impressive result when LCD struggles to get into double figures. There was also a 37″ "stretch" display.
There was a technology demo of autostereo 3D, but we weren't over-impressed – we have seen better from other companies. (although, Len, our education correspondent thought it was the best AS3D at the show – which also tells you something! (Mumbo Jumbo: 3D 4D 4K UHD 8K @ InfoComm 2015)
Less interesting to most Infocomm attendees, but of interest to use were two all-in-one 'cloud monitors' featuring integrated thin client technology using AMD's Embedded G-series system on chip (SoC). The TC222W (21.5in) and TC242W (23.6in) both feature 1920×1080 FHD panels, three USB 3.0 slots, four USB 2.0 slots and an Ethernet port. They are powered by AMD's dual-core GX222 APU running at 2.2GHz alongside a 655MHz GPU and 4GB of DDR3-1600 RAM – that's quite high powered for a thin client. The range supports thermal design profiles (TDP) from 5W to 25W and can dynamically configure TDP capabilities, making it more energy efficient. The GX222 SoC has a TDP of 15W and a shared L2 cache of 1MB. The units should ship in Q3.
Analyst Comment
The booth was notable, for us, by its relatively low key Samsung branding. The brand name was not "everywhere". It was only when we were back at the office and writing up the article that we realised that we hadn't registered, at Infocomm, the wide support of partners that we saw in Europe at ISE and this may reflect slightly different marketing strategies in the different regions.
The development of products with special LCD panels specifically for broadcasters highlights, again, Samsung's shift in emphasis from volume to value in its panel business. Up to now, this kind of monitor has been supplied by specialists such as Eyevis in Germany. Given the dominance of the Samsung brand in the regular signage market, it's not really surprising that the Samsung Electronics set business is looking for new and different applications, but the Display division is more dominated by volume/cost considerations and so this development of niches is slightly less expected.
We also heard at the show that Samsung has sold 4,000 of its smart (SoC)-based 23″ monitors to Sky for installation in pubs to promote Sky sports coverage. (BR)