As an executive board member for the ISTE 3D Network, I find myself obliged to keep my tender toes dipped in the constantly changing waters of the educational 3D world. In my recent sojourn through the grand exhibit halls of ISTE 2015 in Orlando, I completed my yearly scan of 3D technology developments that could be of interest to educators. Walking every aisle, I dutifully completed my duty in record time. But this time I included 4D, 4K, UHD, 8K and Expanded Perception in my fact collection efforts. Below you will find my sense of the currents (and undercurrents) in the mumbo jumbo of 3D 4D 4K UHD 8K that captured my attention at Infocomm from an educator's point of view.
Best stereo 3D content. By any measure, the best stereo 3D content being displayed in the exhibit hall belonged to Esdlumen. A jungle snake emerged from the screen to seize the attention of passersby. Immersive. Impressive. Undercurrents. Folks supporting the booth knew nothing about the content; neither did they realize the quality and impact of what they had in hand (or, in this case, in view). If you can't recognize and leverage the content, how can you sell the hardware? It mystifies me.
Glasses-free stereo 3D display. Autostereoscopic 3D was clearly a 'wannabe' meme at Infocomm 2015. I counted six glasses-free 3D featured displays in featured exhibits across the floor. The best, sharpest, and most remarkable glasses-free 3D displays belonged to Samsung. Clearly "a cut above", these two displays were secreted away behind their closed-entry booth. These displays, I predict, will do well. So, will glasses-free stereo 3D display become a true meme? It depends. Here's the explanation. Undercurrents. Not one glasses-free 3D showed compelling content. I'm sorry, but Pinocchio, the Avengers, food fights, and other fast-moving cartoons with inherently poor stereo design simply don't cut it. What a waste of a Samsung quality, showing this drivel. Incidentally, the other glasses-free 3D displays scattered across the hall were all substandard in viewing quality and experience. No meme at play yet.
WolfVision's 3D visualizer with autostereoscopic display
Oh, no! 4D. 4D also hit the Infocomm scene. Unfortunately. The problem with the 4th dimension is that everyone defines the final 'D' differently. For some, it involves moving seats; for others, smells or water sprays. Undercurrents. According to Wavien, which offered a small 4D booth, the 4th 'D' involves stereo images that move and are not static. Huh?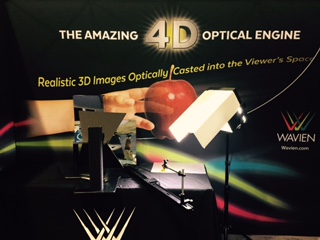 Wavien's apparatus-based 4D
Mumbo Jumbo. 4K, UHD, 8K were everywhere at Infocomm. And they were done well. They're more than appealing— they're breathtaking. Certainly a promising technology for science and university classrooms, bound to make a splash in the classroom, once the content truly arrives. Undercurrents. Here's a dirty little secret, as far as educators are concerned: When watching any 4K UHD 8k (choose one) display from acute angles, the field of view really suffers. All the advantages are lost. Why does that matter in education? Well, many classrooms in the U.S. are quite wide. Students situated on the extreme right or left side of the screen will have a greatly diminished viewing experience. Let's just say the viewing experience will move from compelling to less-than-blah; in turn, the student learning experience will move from alert to disaffected. It's the weak link of 4K UHD 8K (choose one). Or is it? I can see both sides. This is a good thing for the manufacturer because a classroom would need two or three of these large displays, and one could sell more displays; it's a bad thing from the perspective of the customer, because now I need to buy more than one to have the instructional impact desired. The educational institution's costs increase two- or three-fold.
Expanded perception. Expanded perception uses extreme HD rendered 3D to create a more immersive viewing experience, and was used in a few places around the exhibit hall floor.Undercurrents. Leyard's expanded perception 8K wall display sent chills down your spine, it was so good. Sony's expanded perception booth nauseated viewers.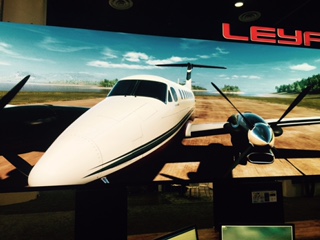 Leyard's jaw-dropping display
Stereo 3D. Other 3D solutions were evidenced throughout the exhibit hall floor, employing both passive and active glasses. Undercurrents. Except for Esdlumen, described above, they were all relatively ho-hum. Nothing new here. On another note, one-off conversations questioned why Texas Instruments has not yet tackled a key problem in education with DLP active glass 3D: the left-right swap problem. As a teacher alternates between different simulations in her classroom, eye swapping occurs. The teacher is forced to use a hot key (F7 or F1) to switch the view to what it should correctly be, constantly checking. Now it's immersive, now it's not. Rumor has it that TI has left it to individual content companies to solve this on their own. Really? Individual companies accommodate their own interests and rarely work with other 3D companies. Please enforce a standard, TI!
Virtual unreality. All this being said, one wonderment remains: where has all the virtual reality gone at Infocomm? I saw it there last year. Not a peep this year. Undercurrents. Perhaps virtual reality is retreating back to the monastery for regroup, honing its Kung Fu, ready to reappear at the point of time when humility meets strength, just in time to save the day from evil warlords…
*****
If you are offended by my commentary, remember I am just following the facts—wherever they lead me. And like Mark Twain said, "Get your facts first, and then you can distort them as much as you please". – LS