Tuesday July 11, and Wednesday July 12, 2023, are Amazon prime days, and anecdotal evidence suggests that there is significant activity in TV marketing and sales. Consumers are probably looking at a bumper crop of offers with the sweet spot for deal hunters being the 50-55 inch range of televisions.
Obviously it is all relative because Sony and Samsung, for example, both come in at the high end of the retail price range so, even with hefty discounts, their products are still at premium prices that don't feel like bargains. That's in comparison to premium specifications from companies like TCL and Hisense, both of which are doing a pretty good job pricing their premium 55-inch offerings within the range of more middle-of-the-road products. That means those brands not listed on Amazon's marketing promotions, including the e-commerce giant's own Fire TVs, and products from Insignia, and Toshiba.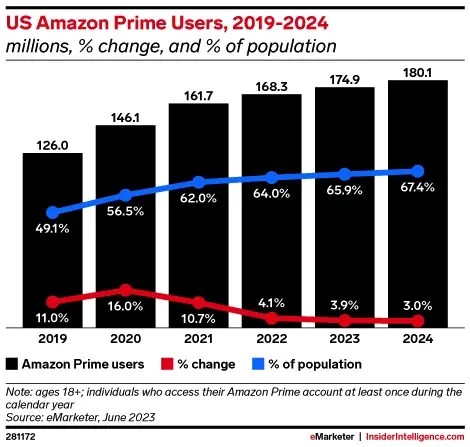 Whether the price drops and deals compare more, or less, favorably to deals in the last two or three big shopping dates may not matter as much as whether any new demand is generated. The next two days will say a lot about the state of the consumer TV market.
55 Inch TV Deals
| Manufacturer | Offer |
| --- | --- |
| Samsung | Save up to $400 on Samsung 55-inch TVs (QLED & more) |
| Sony | Save up to 31% on Sony 55-inch TVs (Bravia, OLED) |
| Vizio | Save up to $60 on Vizio 55-inch TVs |
| LG | Save up to $400 on LG 55-inch TVs (OLED, NanoCell, QNED & LED) |
| TCL | Save up to 31% on TCL 55-inch TVs (4 Series, 5 Series & more) |
| Hisense | Save up to 27% on Hisense 55-inch TVs (ULED, QLED & more) |
50 Inch TV Deals
| Manufacturer | Offer |
| --- | --- |
| Samsung | Save up to $230 on Samsung 50-inch UHD & QLED TVs |
| Sony | Save up to $150 on Sony 50-inch class smart TVs |
| Vizio | Save on Vizio 50-inch class smart TVs |
| LG | Save up to 33% on 50-inch LG smart TVs |
| TCL | Save up to 32% on TCL 50-inch TVs |
| Hisense | Save up to 42% on Hisense 50-inch TVs |
Smart TV Deals by Brand
| Manufacturer | Offer |
| --- | --- |
| Samsung | Save up to $230 on Samsung smart TVs |
| TCL | Save up to 25% on TCL smart TVs |
| LG | Save up to $150 on LG OLED & LED smart TVs |
| Sony | Save up to $100 on Sony LED & OLED smart TVs |
| Vizio | Save up to $50 on Vizio FHD & 4K smart TVs |
| Hisense | Save up to $200 on Hisense smart Android & Google TVs |