It's always a pleasure to catch up with Ruwido, the developer of high end remote controls and the matching user interfaces. We met with Regina Bernhaupt, who is Director of User Experience Research at the company who explained the latest developments in using audio with its remote controls. Bernhaupt is also an academic that also works at the IRIT (Institut de Recherche en Informatique de Toulouse), where a lot of her academic user research is done.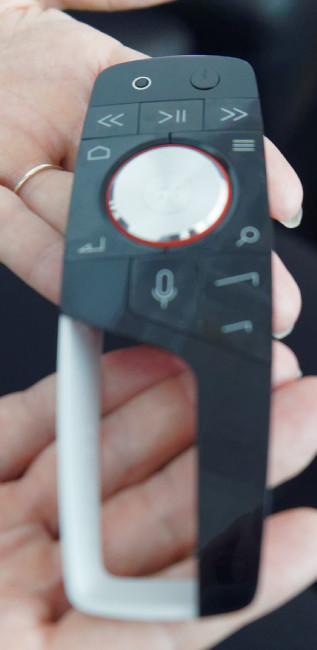 Ruwido's CEO, Ferdinand Maier, told us several years ago that he believed (and research showed) that audio is a good way to find something, if you know what you are looking for. The company has been working in this area for some time and the latest remote that was demonstrated at IBC included a button to enable the voice recognition. (Ruwido's research showed that a lot of consumers dislike the idea of a system that is permanently listening to them, like the Amazon Alexa or Apple's Siri).
The company has been looking to improve the efficiency of audio when a consumer has a less specific request. In other words, previous versions worked well when a user instructed "Show me the Sound of Music", but not if you asked "Show me something exciting". Viewers watch TV to relax and don't want to have to work hard to find some content to appeal to their current mood, and the technology that Ruwido is using also tries to take account of the mood of the user, which can be detected using information about the voice changes. When Bernhaupt asked the system for "something nice", we got a list of romantic movies.
Because most of the work can be done in the cloud, even relatively simple existing STBs can be used along with the well established "Organic Haptic" remote control technology that Ruwido has been developing for some time. This is an opportunity for MSOs with existing inventories of STBs to transform the user experience at a much lower cost than swapping out boxes. To show that heavy hardware is not needed, the demo was being run on a Raspberry Pi 2 system.
The same approach is being developed with Tivo (Rovi) and the companies are collaborating to develop an ecosystem that can improve existing STBs. (We have previously been very impressed with the semantic search technology that we have seen from Rovi)
The company also had a new 'Space Frame' design of remote control that it can make (image right). This supports a joystick type of remote interaction. A second design is designed for use where user interfaces start to move away from grid concepts more towards an 'app' look, where the buttons on the remote (image below) can be used to directly select a particular app. The app remote can have different app settings for each user.
Analyst Comment
As always, the Ruwido designs are very clean and beautifully made at the company's model factory near Salzburg. Meier started at the company as an apprentice and has a real love of building great technology, even in something often consider as just a low cost item, like a remote. That's one of the reasons that its remotes are used by prestige car brands in Germany. (BR)