The market for capital equipment used in the manufacturing of OLEDs and LCD panels has experienced a significant decline since its peak in 2017. As the flat panel display (FPD) industry has matured, annual revenues for FPD equipment have continuously decreased, reaching a record low of $3.1 billion in 2023. However, a recent report by Omdia, titled OLED and LCD Supply Demand and Equipment Tracker, suggests that the market is poised for a rebound in 2024, with an anticipated growth of 153% to reach $7.8 billion.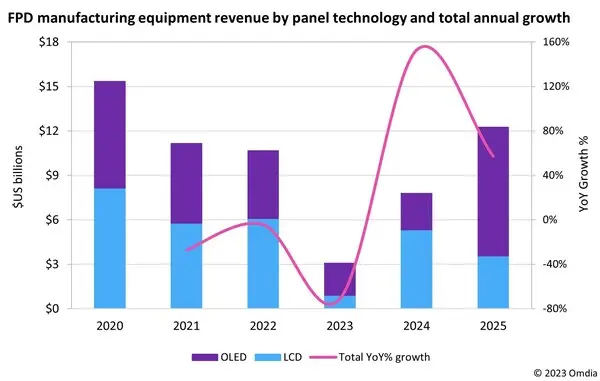 The projected recovery for 2024 has already gained traction, with major players such as Tianma, TCL CSOT, Samsung Display, and BOE securing purchase orders for their respective Gen 8.6 LCD and OLED factories. These companies are investing in advanced technologies, signaling their optimism for an upturn in panel demand and improved profitability.
Panel makers are currently evaluating various new factory plans and technologies to meet the growing demand for advanced displays in applications such as near-eye AR/VR, automotive, IT, and televisions. While market conditions currently deter significant capital outlays by panel makers, equipment manufacturers remain hopeful that the balance between panel supply and demand will shift in 2024 and 2025. This expected improvement in panel profitability is expected to drive new factory investments.
The timeline for establishing a new factory in China, from ground-breaking to equipment move-in, is approximately one year. In Korea, the repurposing of shuttered LCD factories for OLED production can be accomplished relatively quickly. Similarly, the lead times for manufacturing equipment, from purchase order to delivery, are estimated to be around one year.
The decision to invest in new factories will depend on factors such as government-backed financial support, market conditions, and technical feasibility. However, the visibility into investment plans for 2025 is currently limited. Assuming that several factories under consideration, including those by BOE, LG Display, HKC, Visionox, Vedanta, and expansion projects in Korea, come to fruition, a moderate and sustained recovery in the FPD equipment market can be expected through 2026.