Razer always manages to surprise with its new CES products, and has won 'Best in Show' for the past four years running. This year was no different.
Android TV was announced back in June (Display Monitor Vol 21 No 29), and people commented then on the inclusion of Razer as a launch partner – why would a gaming peripheral company be entering the TV market? The answer? Forge TV.
The Forge TV is a set-top box, embossed with the Razer logo (all black, naturally).  As well as hosting OTT apps like Hulu, YouTube and Crackle (through Google Play), it also supports Google Cast to beam services from Android and iOS devices. So far, so standard.
The big difference comes in the gaming capabilities. Hey, it's Razer; what did you expect? The Forge TV box can play Android games natively, using its quad-core Snapdragon 805 processor, Adreno 420 graphics, 2GB of RAM and 16GB of storage. Control is offered through a smartphone or tablet – if you haven't got the new Razer Serval, that it. The Serval is a gamepad, much like Razer's Sabretooth Xbox controller, which is dedicated to Android gaming. There are 'Home' and 'Back' buttons, as well as clip on top to turn attach a smartphone. In this configuration, the controller looks a lot like Nvidia's Shield.
Speaking of the Shield, one of that device's big selling points is its ability to stream PC games to a TV screen. Well, the Forge TV does that too – and it's not limited to PCs with Intel chips, either. The Cortex: Stream service will enter beta in Q2'15, running on the Forge TV or any other micro-console running Android 5.0. It is both GPU- and client-agnostic (so will run on Nvidia and AMD chips and can stream from Steam, Battle.net, uPlay, etc). We hear that the games will be streamed at full resolution and with "low" latency, via WiFi or Ethernet.
Hold on, though – who wants to set up a desk in their living room to hold a mouse and keyboard? Razer has you covered there, too. The Razer turret is a 'lapboard'; a wireless keyboard and mousemat combination, with a mouse that is magnetised to the surface. The keyboard also includes dedicated Android keys. Battery life is said to be a fairly stunning four months. The mouse is also capable of being used as a wireless mouse (40-hour battery life) for other devices, via a USB dongle that rests inside.
In terms of pricing, the $200 Shield is certainly more expensive than the $100 Forge TV, although you will need to buy the Serval ($80, or $150 bundled with the Forge TV) and/or lapboard ($130) for control.
Last year, Razer showed the prototype Nabu smartband, which was launched this month for $100. At CES, the company showed a cheaper option, called the Nabu X ($50), with three coloured LEDs instead of a passive-OLED display. It was launched at the same time.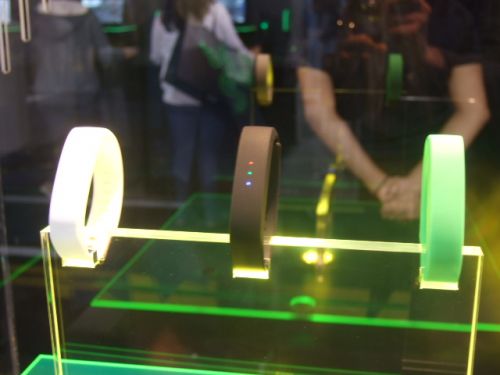 Finally, Razer was one of the companies taking part in the new Open Source Virtual Reality (OSVR) project (see The Open Source Virtual Reality (OSVR) Effort Aims to Speed Adoption). Billed as "the Android of virtual reality" by CEO Min-Liang Tan, it is an open-source software platform that encompasses multiple game engines, head-mounted displays and control schemes. Razer is the main developer behind the project, but other companies include Sensics, Leap Motion, Intel and the International Game Developers Association.
Because it is all open source, interested parties can access all parts of the ecosystem – from HMD designs (to build their own) to plug-ins and APIs. Razer wanted people to try it out of course, so showed off the OSVR Hacker Dev Kit (HDK) at the show. When I used it it felt very similar to the Gear VR, although I appreciated the lenses that allowed me to toggle view distance.
The HDK appeared to be using a smartphone display, which was confirmed when I looked at the specs: it is a 5.5″ screen with 1920 x 1080 resolution and 60fps, although as the Dev Kit is modular this can be switched out and replaced with a smartphone. Resolution was not great, as the display is so close that you can see the pixels if you stop to focus on them – of course, this is a very early edition.
Display Daily Comment
Razer's HDK was possibly one of the most impressive products that I saw at CES, but not because of the display: it was because of the combination of the VR headset and Leap Motion gesture controller. Holding my hands up in front of the visor would make them appear in-game, with finger twitches, pointing and everything. Using my own hands to manipulate the environment (and throw fireballs) felt much more intuitive than Oculus' keyboard and mouse requirements, which – of course – you can't see while wearing the device.
Razer's HDK will be launched in June for $200.
I also asked about the Project Christine modular PC that Razer showed last year and was told that it is still being worked on – a special project of Tan's, apparently.