Nanosys
Nanosys has been a leader in the QD space for years, and they had a clear presence on the trade show floor strategically placed alongside Samsung's booth. They had their usual demos of films, QDs for color filters, ink-jet printed materials (no display), and electroluminescent devices (all InP based). Nearly all of their technology is now focused on InP based QDs. The only exception is their Hyperion film product (Green CdSe QD, red InP QD) which has <100 ppm to meet the RoHS limit. The most impressive part of their booth was the Vizio P-series TV which looked incredible.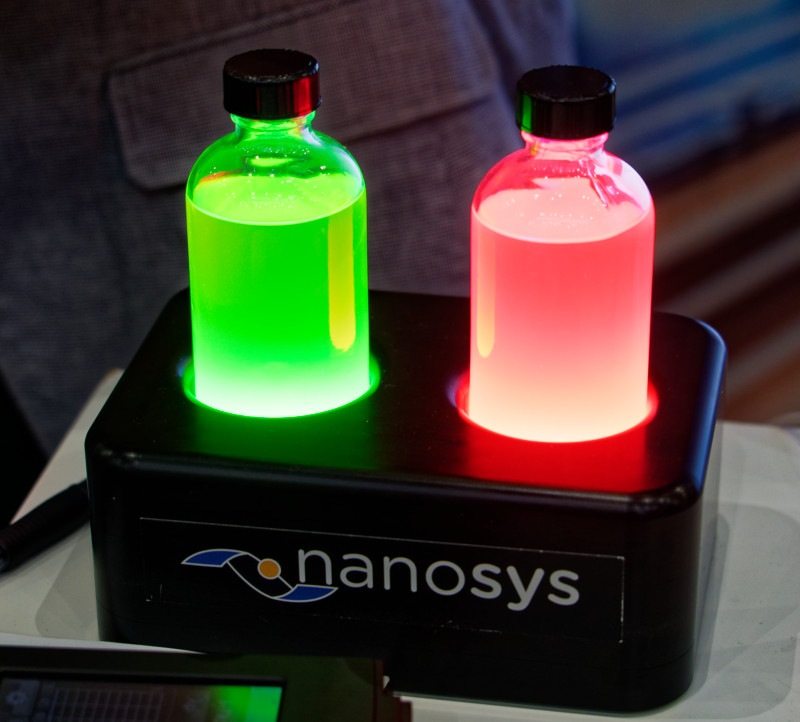 Nanosys QDs Image:Meko
Avantama
A Swiss company, Avantama makes perovskite QDs for QLED film and color filter applications. They are focused on creating a green perovskite film product right now, and have claimed stable materials in line with what the display industry requires (see the summary of their talk 41.4). There were no demos at their booth other than a large jar of glowing green perovskite QDs. The focus right now is on scaling up, and they plan to launch products next year.
IQoemy
Another Swiss company, IQoemy has only been working on QDs for the past few years, but they are playing with many of the different materials in the QD space including carbon, CdSe, InP, and perovskites. As a printing company, they are looking to leverage their printing capabilities to create value in the display market.
Tuanjin Zhonghuan Electronics Lighting Technology Co Ltd
The company had a number of LEDs with QDs lighting up their booth. I believe all were CdSe QDs in luminescent microspheres or similar technology (see summary of their talk 4.4). They claim good stability and are marketing for on LED applications.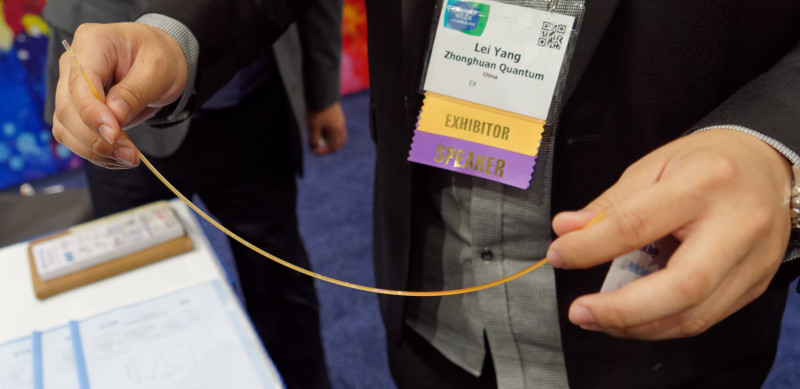 Tuanjin Zhonghuan Electronics showed this QD tube. Image:Meko
Zhijing Nanotech Co Ltd. (I-Zone)
A young company focused on perovskite QDs for displays. They appear to be working with TCL as they showed a demo in their booth with a TCL TV with their green perovskite film. It's worth noting that they were the only company on the show floor demoing an actual running display with perovskite QDs (backlight was blue LED with KSF phosphor).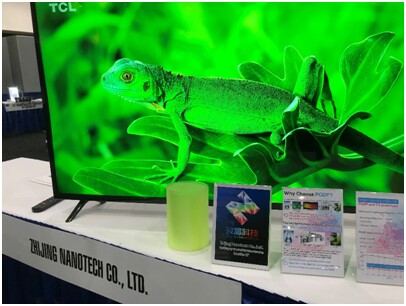 The only TV at Display Week with perovskite film installed, we think. Image:Palomaki
Quantum Solutions (I-Zone)
Showed a demo of a range of bright perovskite QD colors, including infrared QDs (PbS-based). Also showed a small demo film (green only). They are still doing research to improve reliability, also working to scale up using flow synthesis. Showed a few different formulations including encapsulated perovskite QDs, as well as an emissive perovskite QD powder and a pure perovskite film (with no polymer matrix).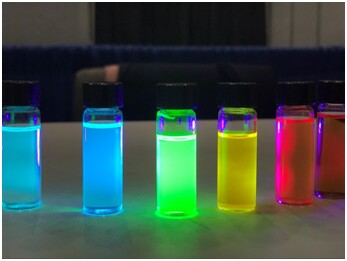 Other QD technology worth noting
Samsung Display showed two QD on glass demos in their booth – as they had at ISE (Samsung To Develop QD Glass LCDs). The 8K 65″ and 4K 31.5″ QD Glass displays looked nice! They claim lower temperature of the glass and a thinner panel as the major advantages. Looks like QD on glass will have it's day!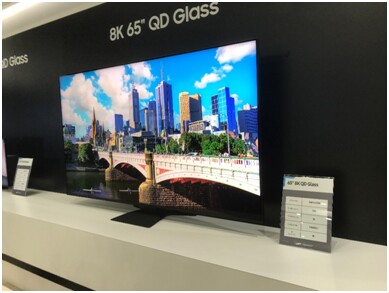 Samsung's 8K 65in QD Glass demo
Fraunhofer IAP showed two InP-based EL-QD devices (green and red). They made a point of saying that the devices had been on for a few days straight (but they were turned down to pretty low intensity). See my summary of their talk 4.2. Fraunhofer and Nanosys were the only ones showing InP ELQD technology in their booth.