Samsung's Display business had a private meeting room at ISE and was talking about its plans for the future of its large display LCDs.
The first product that we looked at was a development of the Samsung high brightness panels which are being upgraded this year to boost brightness from the 2,500 cd/m² level of last year to 3,500 cd/m² in 2018. The panels should be available in September in 55″ and 75″.
(around the show, after we visited Samsung, we heard gossip, unconfirmed, that the high brightness panels are based on AUO open cells with Samsung backlights. That might make sense as we assume that special processes might be needed to shield the transistors which can be falsely triggered by very high brightness, although it's a few years since we heard that this was a problem in LCDs – Man. Ed.)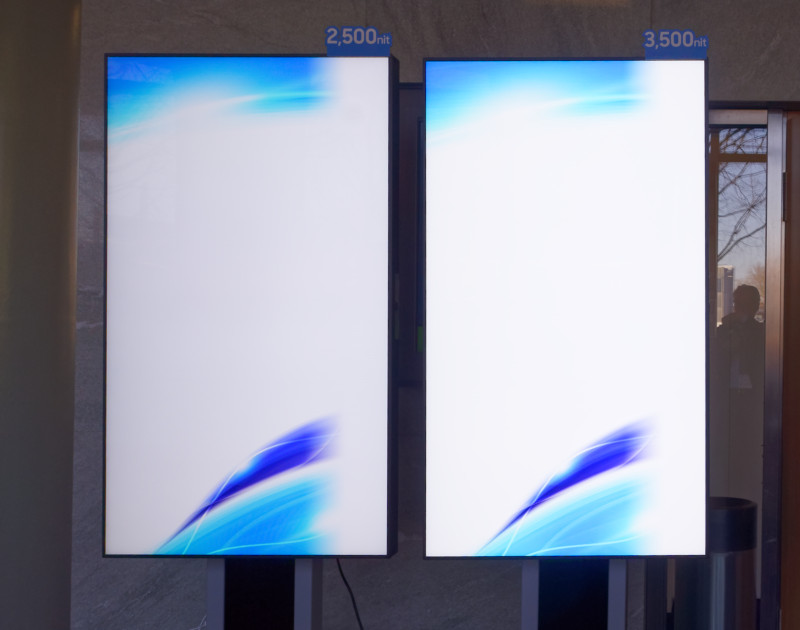 Samsung is boosting its high brightness panels to 3,500 cd/m² this year. Image:Meko
Next we looked at the latest version of the company's Extreme Narrow Bezel panel (ENB) which it called a 'zero bezel' design. The new design brings the gap between the panels to <1mm (well, to 0.99mm bezel to bezel, we heard). The aim is to have a single model in 55″ diagonal. We asked about special mounting to eliminate the air gap between panels (like the Barco solution), but the LCD division does not have any plans in that area.
The next panel we looked at was a 98″ 8K display with a 120Hz refresh rate that will be available in the second half of 2018. 8K panels will be available from Samsung in 65″, 75″, 82″ and 85″, with open cell panels available initially and with full modules supplied later.
A 'technology demo' was a reflective UltraHD LCD panel. The unit had 34% reflectivity, which is high, especially as the colour performance was rated at 72% of NTSC. The 40″ panel used just 4.8W in reflective mode, making it ideal in areas where power supplies may come from batteries or solar cells. Contrast is quoted at 24:1.
QD Glass Uses Corning Iris
We rather spoiled Samsung's surprise as the company had not spotted the Display Daily that we published about the QD on Glass concept which exploits a thin glass LGP to seal a QD film, reducing the cost of a slim LGP and QD compared to the separate costs of the LGP and a separate film (Will QDOG Have its Day?). Samsung is developing this concept and was showing two displays. The first was a 27″ QuadHD monitor panel that is just 3.9mm thick and could be used on a desktop.
A second concept was a 65″ unit that uses a dual sided design based on QD on Glass that can be just 11.8mm thick. Samsung is in a position to start to supply this kind of panel from the second half of 2018.
We believe that the displays shown were based on Iris glass from Corning although Samsung did not confirm this.
Analyst Comment
The reflective panel was interesting, but the colour saturation looked weak even under the 15K lux lighting that the company had installed in its meeting room. The company showed us a video that it had made of the unit being used in the bright sun of the first day of the show, when the colour performance looked good. That highlights where the strength of such a panel is, in high brightness. The downside of the concept is that if there is no illumination, the display didn't look at all good. For many applications, the challenge is what to do when there is not bright sunlight. If the application does not need legibility when there is no sun, it makes sense, but otherwise to get a good image would require a lot of front lighting, in turn needing a lot of power which defeats the advantage of the display running at low power.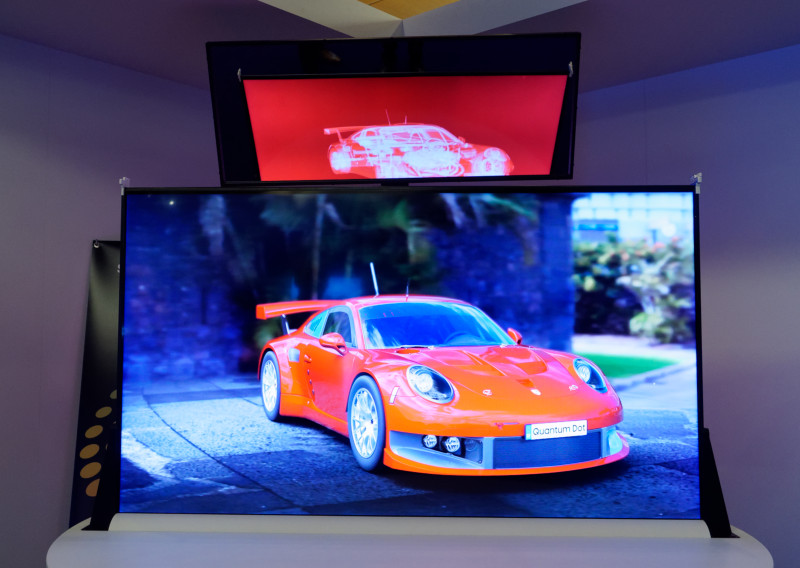 Samsung's Dual sided LCD is 11.8mm thick and uses QD Glass. We liked the use of a mirror to show the back of the LCD. Image:Meko