Global premium TV shipments in the second quarter marked a slight rebound, with a 4% increase compared to the same period in the previous year, tallying up to 4.7 million units. This rise is predominantly attributed to the surge in sales of Chinese TV brands, according to data from market research firm DSCC.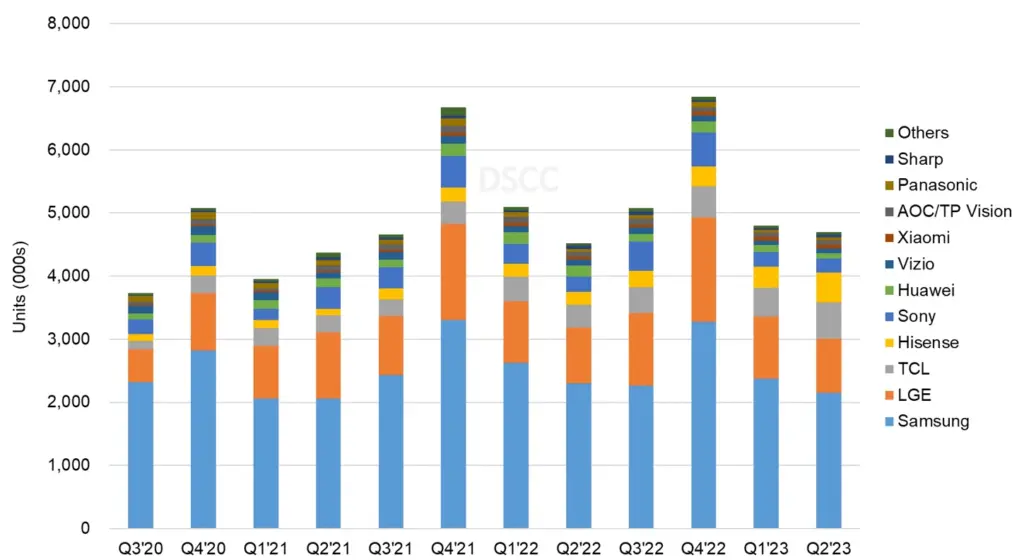 Growth was uneven across regions. While shipments experienced a downturn in most regions, including a 3% drop in Western Europe and a 5% drop in North America, China experienced an 18% increase. The Asia-Pacific region saw a 5% rise in shipments.
Samsung's TV shipments dipped by 6%, leading to a 2 percentage point reduction in their market share, which now stands at 44%. Samsung's MiniLED TV market share slipped 12 percentage points, now standing at a still commading 49%. LG experienced a 3% decline in shipments, but retained its top dog status in the OLED market with a 50% share. Sony's shipments were down by 6%, with a 15% reduction in sales.
In contrast, Chinese manufacturers TCL and Hisense experienced significant upticks in their businesses. TCL's TV shipments on its home turf swelled by a staggering 58%, leading to a 4 percentage point increase in market share, placing them third, ahead of Sony. Hisense's shipments skyrocketed by 125%, accompanied by a 118% surge in sales. In general, Chinese companies dominated the $500 to $1,000 segment, but trailed Samsung and LG in the premium range exceeding $1,000.
OLED TV shipments overall were down by 2%. While shipments of 48-inch and 55-inch OLED TVs shrank by 23% and 12% respectively, larger 65-inch units rose by 2%, and those sized 77 inches or more rose by 26%. For 8K LCD TVs, models under 55 inches saw a 3% decline, but units larger than 75 inches jumped by 54%.
Chinese companies have made a mark in MiniLEDs. TCL made a 212% jump, landing in second position. Hisense experienced a phenomenal 20-fold increase in shipments, while LG held the fourth slot with a 1% market share.