PQ Labs is a key supplier of infrared touch technology to many of the brands on the show floor. We spoke with the company at ISE about its G7 technology which deals with one of the key complaints about the existing IR solution – the high bezel. The company has got further along from our ISE discussions with the new approach, which reduces the bezel height to just 2mm. The new version will be able to support 50 touches with pressure and the system can be made waterproof and much less vulnerable to problems from sunlight. PQ hopes to have the new version ready by July.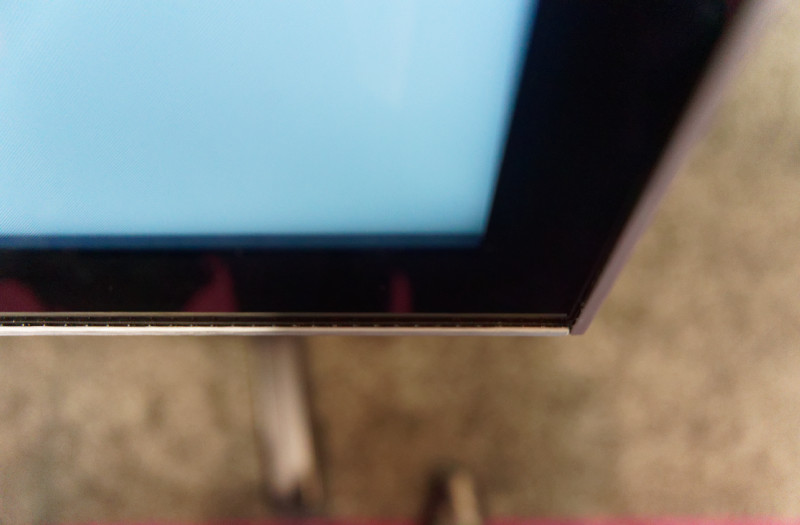 PQ Labs has got its infrared technology to only a 2mm bezel protrusion. Image:Meko
For G8, the company is developing a 'wave touch' system which, we understand, is similar to the Flat Frog system in that it uses frustrated TIR to detect touch. It is less sophisticated than G7 (or Flat Frog) and really only supports 'very basic' touch. However, the touch system is implemented by using two sensors and two transmitters on the corners of the glass. That means that it can be installed in any glass surface, including shop windows. There is, apparently, 'no limit' to the size of the glass. A calibration system is used to define an area of the glass as a touch surface and that could be to align with an LCD or LED display inside the shop. This makes the system very flexible and re-configurable. The sensors feed the touch coordinates using a standard USB HID protocol. Production is planned for Q1 2018.
Going even further out, PQ is working on exploiting its software technology to recognise gestures and the company sees applications in virtual and augmented reality.
Finally, PQ has succeeded in developing a modular version of its technology that uses edge pieces of 40.82″ to allow the building of any size touch video walls, up to a maximum of four by three at the moment. It is hoped that the modular system will be available in August.