Philips used a press conference at IFA to announce a new OLED UHD TV that is the first to use Ambilight technology. Ambilight produces a background light from the edges of the TV that can be any color and that varies based upon the color of the content on the screen or a specific mood the user prefers.
In the company's booth on the show floor, these did indeed look quite good – even with the three-sided Ambilight feature working, which I have not been much of a fan of. However, according to Philips, Ambilight buyers are loyal and want their next TV to also include the feature.
Interesting specs include peak luminance of 540 cd/m², but color gamut is said to be 99% of DCI-P3, higher than most other OLED TVs using the UHD resolution LG panel. There is not mention of the specific HDR technology although Philips did mention the use of the PQ curve, so we would assume it is HDR10-based. A Dolby Vision version is reportedly in the works, but has been delayed until 2017.
We tried to learn more about the TVs and their company's plans, but their PR people said no one would be available to talk to about this on the show floor. That's pretty bad press support.
The first screen size to be launched is at 55", the model 901F. It is claimed to have "the deepest, darkest inky levels, while even delicate shades become distinct and visible thanks to a huge contrast ratio." We didn't get to see it in a dark room with dark content to judge how it handles those darker shade textures, nor was the black level luminance revealed. Availability and pricing has not been announced either.
Philips has what they call a "Perfect Pixel Ultra HD Engine" that "brings new levels of picture performance quality to the TV market – hitting an incredible picture performance index of 3800 PPI. The Perfect Pixel Ultra HD engine has an incredible processing power of 4 billion pixels which allows the system to continually monitor and adjust each individual pixel for sharpness and brightness, creating finer lines and deeper detail. The processing engine also includes an Ultra Resolution feature that will upscale and convert any source into a sharper, more refined, Ultra HD image."
OK, it is an image processing engine, but we are not sure how a ppi specification can be attached to this.
The same goes for their claim of being able to "accurate reproduction of more than 2.250 trillion brilliantly vibrant colors." Philips says that its Perfect Color system includes a 17-bit color booster and intelligent color processing, but the OLED panel remains 10-bit, as far as we know, so cannot produce 2.25 trillion colors. This seems like pure marketing nonsense.
The 901F set includes a 6.1 high-end 30W sound system with six front-firing drivers mounted in a separate, slim-line, aluminum, integrated sound bar, along with a backfiring Triple Ring speaker.
On the LCD TV side, Philips completed its 2016 line up with the recent availability of the EISA award winning 65PUS7601. Over 90% of Philips TVs are now Smart with more than 70% using the Android platform.
The range starts with the entry level 4000 series and the step up SmartTV 5000 series including an Android platform. The 6000 Series offers Ultra HD products and is also the first series to offer HDR performance with Philips Ambilight technology. The move up to the 7000 Series brings high-end European design, wide color gamut panels, 3-sided Ambilight, Quad core processing and 16GB of internal memory. The top of the 7000 range is the 7601 featuring many of the technologies previously found in Philips reference 9000 series, including local 2D dimming from 128 independent LED segments that can generate a 700 cd/m² peak light output to give better HDR support.
The 8000 Series is reserved for premium sets with unique premium features like premium sound and the 65" 8901 AmbiLux model which includes nine pico projectors to project both colors and content from the on-screen images onto the wall behind the set.
Monitors Still on the Agenda
We also had a look at the monitors on the booth. First we had a look at with Stefan Sommer, Director Marketing & Business Management at MMD (which runs the monitor brand in Europe), at the new 40″ curved UltraHD monitor (BDM4037UW) that the company was previewing. It has a 3000mm radius, which is larger than the radius on smaller curved monitors.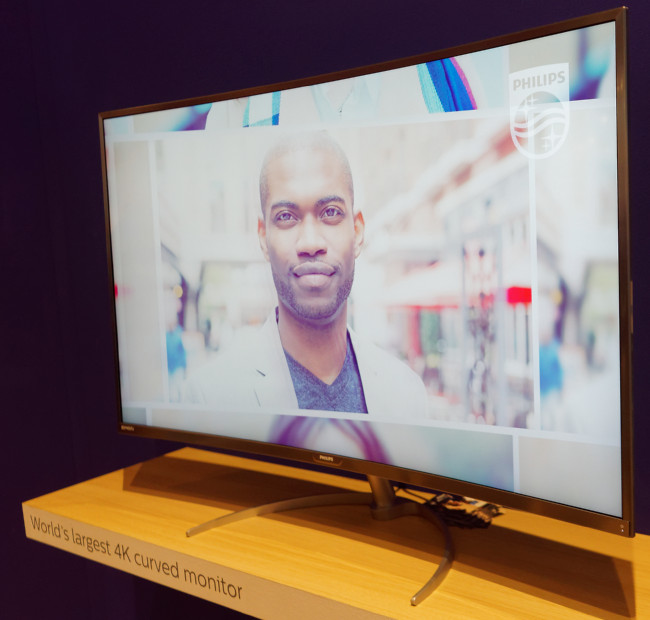 Philips 40 inch Curved monitor is being sold mainly to consumers. Image:Meko
A new 34″ 3440 x 1440 monitor has now been fitted with height adjustment to improve the ergonomics. It has slimmer bezels and will be available "later in the year".
There was also a new 'Moda' FullHD monitor (245C7QJ) that is claimed to be the slimmest monitor in the world at 5.2mm thickness. It is 24″ diagonal and based on the LG display concept, previously used by Lenovo. The monitor is claimed to support 90% of the NTSC gamut.
We also had noticed that Philips has illuminated logos on some of its monitors. Sommer told us that the illumination is programmable.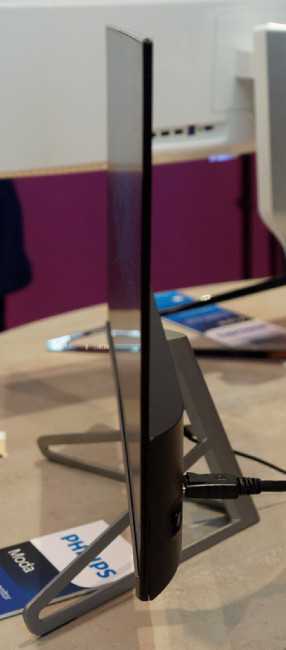 Philips Moda Slim – Image:Meko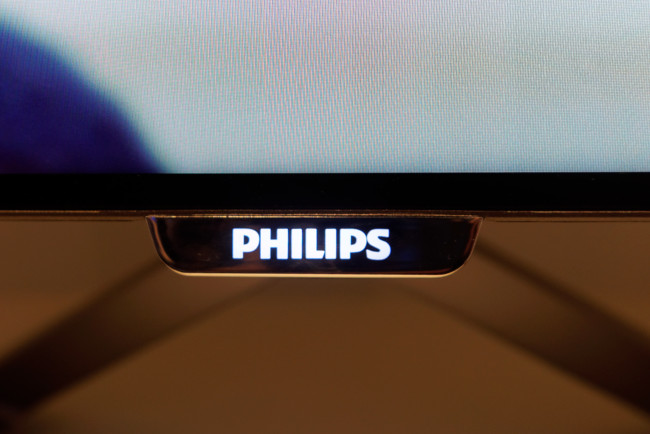 On some models, the Philips logo is illuminated. Image:Meko
A 25″ monitor with 2560 x 1440 monitor was being shown that is fitted with a Type C USB connector that can be used to supply up to 100W for charging notebooks and, as it includes support for the DisplayPort 'Alt' mode, it can be used as a single cable 'universal dock'. BR/CC
Analyst Comment
We asked Sommer about the sales of 40″ monitors. "Are they being sold to those that want to replace multiple tiled monitors?", we asked. It seems that the sales are mainly to consumers who are using the displays for IT applications, as well as, effectively, using the monitors as HDMI TVs. Of course, MMD is not allowed to sell TVs. The licence for TV sales with the Philips brand is held by TPVision, also a J/V between TPV and Philips, but not by MMD. However, if there's no tuner, the display is not a TV, it's a monitor.
We also asked about quantum dots and the work that Philips has done with QDVision, which we have reported on from past IFAs. It looks as though the interest in this solution to wider gamuts has passed. We were not impressed when we reviewed one of the monitors, so I can't say that I am surprised.