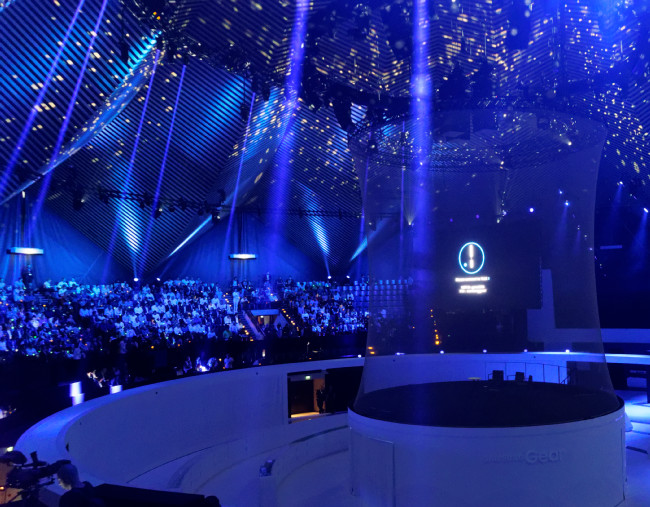 On the first day of press events, Samsung held a launch event for the Samsung Gear S3 smartwatch, attended by its staff, partners and press at the Templedrom venue in Berlin. The S3 is the seventh design of smartwatch from the company.
Samsung started by bringing on specialists in the premium watch market, including Yvan Arpa, a Swiss watch designer who worked with Samsung on the design, which was intended to get as close as possible to the style of a prestige watch and, like the S2 introduced last year, it is circular. There are two versions, the 'Classic' and the 'Frontier'. The design retains the rotating outer edge that was on the S2 Classic, but this time it's on both units. The display is still a 360 x 360 resolution AMOLED, but the diameter goes up from 1.2″ (31mm) to 1.3″ (33mm) while the body goes up from 42mm to 46mm. The display uses Corning Gorrilla Glass SR+ for protection and both models support IP68.
The display supports the 'Always on' technology that is also in the latest phones and the watch uses an ambient light sensor to work out if it is outside a sleeve and will have a display. However, this display does time out, staff told us, so it is not genuinely always on. Battery life is quoted at 3-4 days (380 mAh from 250 mAh).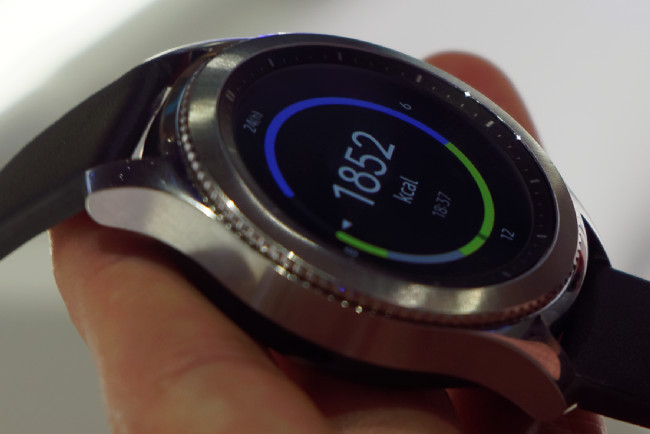 Samsung Gear S3 watch. Image:Meko
A new feature of the watch is a GPS radio and the Frontier will support LTE to make and receive calls, but only in some territories, and not in Europe, according to staff at the event. The Classic can use a Wi-fi phone to make calls.
To allow more customisation, the S3 uses an industry standard 22mm straps so Samsung is also working with a range of designers and suppliers of straps. The watch runs on the Samsung Tizen platform.
Pricing and availability will be released later.
Main Press Event
Samsung held a press conference at IFA which was wide ranging and started with Samsung emphasising its European credentials where it has been operating for 34 years and has R&D, design, engineering and manufacturing.
In TVs, they made two clear statements. Samsung is 'all in' on quantum dots for their HDR/WCG TVs and there are no burn-in issues with quantum dots. This last was a clear 'punch in the nose' to competitive OLED TVs where image sticking and burn-in can be an issue. Samsung upped the ante by declaring all of their quantum dot TV will now carry a 10 year no burn-in warranty. That's something the OLED TV guys will be hard pressed to match.
Samsung did reveal one new TV – an 88" SUHD model that is now the largest in the range of 19 sizes for the European market. The model number they released, KS9800, is confusing as this number corresponds to the existing 78" model in Europe (the KS9500 in North America). No details were revealed but we would assume they are essentially identical to the 78" model. The pricing is reported to be about €20,000.
The press conference featured quantum dot materials developer, Nanosys' president, Jason Hartlove, saying a few words about quantum dots on stage. This was followed up in their booth with an expansive section devoted to explaining what quantum dots are and why they are so great. This included infographics on how the size of the quantum dot is related to the emitted color, its comparison in terms of spectrum to an LED TV with a white LED, its use in stained glass windows, comparisons of SDR and HDR and a host of current curved and flat UHD quantum dot TV models as well. Samsung even had several artistic colorful exhibits designed to talk about and inspire the potential for quantum dots. Samsung also introduced the first quantum dot monitors, however (see separate coverage).
Samsung said it was strengthening its collaborative relationships with global partners, such as Amazon and Netflix. Netflix in particular is expanding its range of HDR content for European customers, with film titles such as Marco Polo, The Do-Over and The Ridiculous Six. European partners including RTVE and Insight TV will also begin to offer HDR content in the second half of 2016.
Quantum Dots also Important for Monitors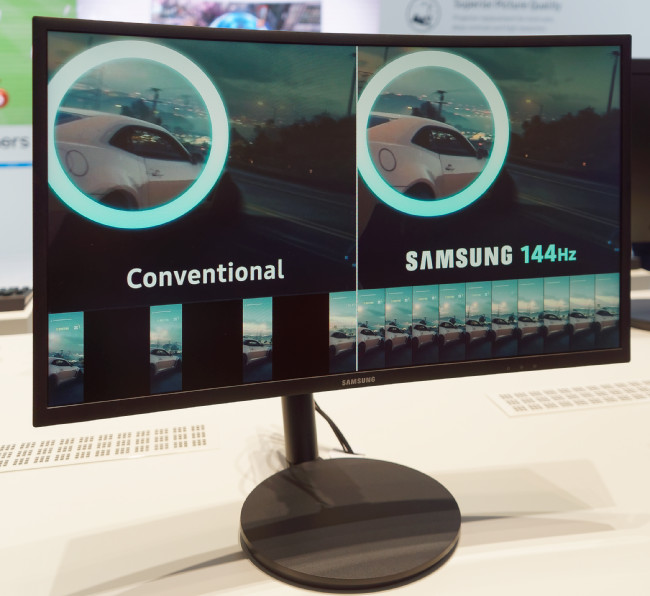 Samsung CFG70 – Image: Meko
Turning to monitors, the company said in its press event that the new curved 24″ and 27″ CFG70 quantum dot monitors (Samsung Adds QD Curved Monitors at IFA) had a motion picture response time of 1ms. We were surprised to hear this term being used in the speech. MPRT is the best way to specify the overall response time of the different grey levels of an LCD as a single number, and correlates well with subjective response times. We queried the number on the booth with Samsung and they maintained that the 1ms specification was 'grey to grey'. Even more surprising, the panel used in the monitor is a VA panel (typical fast gaming monitors are based on TN technology). We talked to Samsung Display at IFA, but no monitor specialists were available to confirm and other panel makers were surprised to hear the claim.
We dug around the Samsung specification after the event and the 1ms seems to have been achieved by blanking the backlight using the FreeSync technology and the monitor can support refresh rates up to 144Hz and the 1ms MPRT claim is repeated on the website.
LFDs Also Shown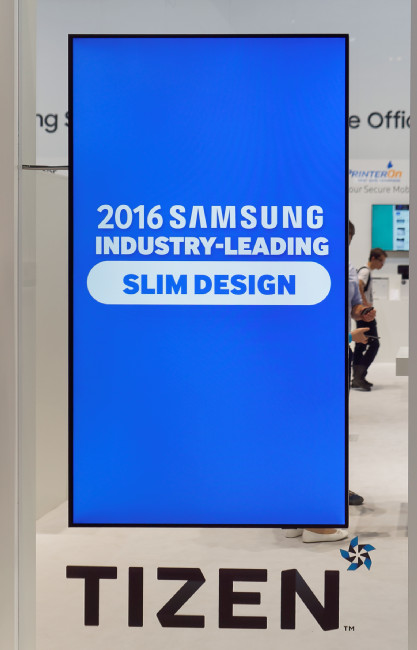 There were a number of large format displays (LFDs) at the event and Samsung seems to have cut back on its promotion of the 'SoC' concept. At IFA, the company was highlighting its new Tizen platform. Samsung was highlighting the PH44F which had previously shown at Infocomm and which has 6.9mm bezels. Brightness is 700 cd/m² from an edge backlight and contrast is 5,000:1 on the FullHD panel.
The Tizen platform is faster than the previous software and there was a demonstration of three streams of video being displayed simultaneously. The platform also allows much faster switching of different sources, without blanking between the different content streams. Although companies that had previously supported the Samsung SoC displays in their software will have to make changes, but this is said to be fairly simple.
Also on show was the QM65F 65″ UltraHD monitor that was first shown at ISE and is now shipping. It was using a motion sensor in the demonstration to allow changing content as the viewer gets close, a function that Samsung expects to be popular in retail and trade show applications.
Although attention was not really drawn to it, we noted a fine pixel pitch LED being used to promote the brand.