IHS Markit has released its forecast for panel sales in Q2 and expects a 7% quarter on quarter increase from the poor result of a 9% reduction in Q1. "The increase in shipments has been driven by demand from new product model preparation and the annual Labour Day sales promotion in China held during May," said Linda Lin, senior analyst of display research at IHS Markit. "Among applications, TV, monitor and smartphone panels will drive the shipment increase".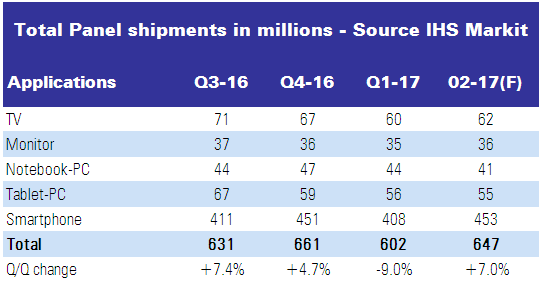 IT panel demand is expected to be conservative this year, without strong enough replacement momentum to drive volume up. Demand for notebook PC panels is forecast to decline 8% in Q2 2017 from Q1, weaker than that for monitors (up 5%) and tablet PC (down 1%) applications. In particular, tablet PC panel demand is expected to surge at the end of the second quarter as Apple and other tablet PC brands launch new products for shipment later.
TV panel inventory level is balanced at this moment, and TV panel demand is expected to go smoothly through the second quarter of 2017.
IHS expects monitors & TV to rise, but demand for notebook and tablets to fall
"TV inventory levels after China's Labour Day sales promotions will determine whether panel demand can continue up or decline in the second half of 2017," Lin said. Demand for TV panels is forecast to be up 3% in the second quarter from the previous quarter. After suffering from high panel prices, TV brands are likely to move their procurement plan to two different size segments at either 32″ and below, or 65″ and above. Smaller TV brands are aiming for the smaller segment, seen as a boon for quantity sales given the lower retail price, while first-tier brands that command better purchasing power will look to the larger segment, despite the supply shortage caused by tighter capacity, according to IHS Markit.
"Panel makers are moving more capacity to IT panels from smartphone panels beginning (in) the second quarter as mobile phone set demand slows down. This will aggravate the supply-demand imbalance in the IT panel market," Lin said.

IHS sees smartphones as returning to the level of Q3 2016