Optoma was the first to show a prototype with the brand new TI 0.67" 4K / UHD DLP chip (see also the Texas Instrument article). The projector is a very early prototype projector and is completely LED-based. The high lumen density (HLD) projector produces 1,200 to 1,500 lumens and uses the Philips Color Spark technology that was introduced at InfoComm 2015 (Philips Boosts LED Projection With ColorSpark (DS7). As expected, the color saturation of the imagery is very good even though the content on the display was using mostly a subdued color palette. Resolution is also very good as it is based on the brand new TI chip.
Optoma also showed a very interesting implementation of a pico projector that is installed in a lamp shade projecting straight down on a table or work surface, which they are calling 'Bulblight' for now. As an application, they demonstrated a cooking course that the user could copy while standing in the kitchen. Of course, this works much better on the white table that Optoma used than on a black counter top. On the other hand, this could be a great gadget for a restaurant for example to project menus and even entertainment for the customer while waiting for service. The only issue I saw with this prototype was the orientation of the projected image which allows only one user to see everything the right way, and which also moves with the lamp shade.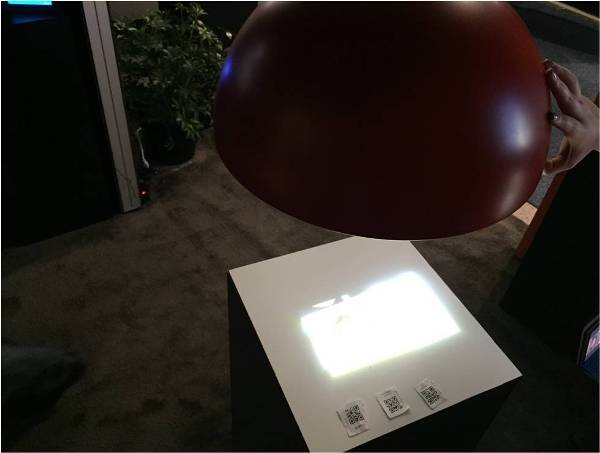 The ZH 300UST laser phosphor based ultra short throw projector is aimed at a home theater installation with the need for a theater set up. Optoma offers the projector together with a special screen to the consumer to create a 100" (120" will also be available) viewing station in the room. The brightness reaches 3,000 lumens, which makes for good brightness in low to normal ambient light conditions. The screen is of the ambient light rejection type that rejects light coming from the front and above, while reflecting the image from the projector coming from below. A similar solution has existed at Sony for some time. The 100" package will retail for about $4,000 (the 120" has no price yet).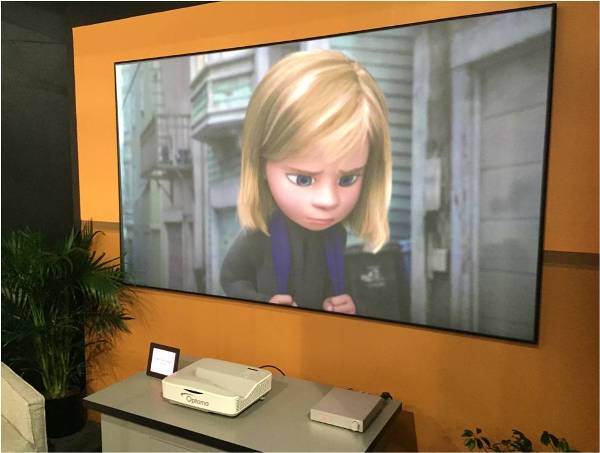 There was also a wireless VR headset demoed that use an 5.46″ AMOLED display to create a resolution of 1080 (horizontal) and 1920 (vertical) at a refresh rate of 120Hz. -NH