Microvision showed a wide variety of devices based on their scanned laser PicoP engine, from stand alone projectors to embedded phone projectors. These devices have been around for quite some time without making a big splash in the market so far. However, Microvision states that sales are going up as new devices are entering the market. The newest device comes from Qualper, which is a pico projector embedded smartphone with a brightness of 35 lumens.
They also showed their solution for a HUD with a 10⁰ field of view. This solution is not new by any means, but Microvision indicated that they are in discussion with some companies and expect embedded and aftermarket solutions to enter the market soon. The photo is a realistic view of how the HUD looks against the bright Las Vegas sky. In reality it actually looks even better than the captured image.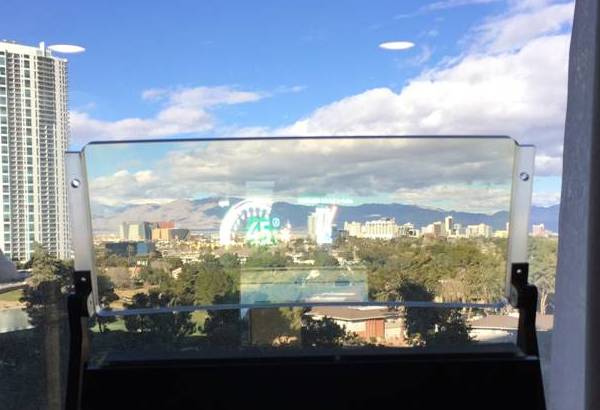 The firm demoed a solution that adds an IR Laser to a mix of projected light and a photo sensor. Through "time of flight" measurement they can create a depth map inside a projected area. The demo worked very well and applications for this kind of device are certainly more in the professional, scientific and military markets than in the consumer market.
Microvision is focusing its development on smaller form factors, lower power and cost, while adding other functionality. They believe that their technology can serve more applications beyond imaging as shown with the depth map sensor for example. – NH