Optoma has packed some innovative into its compact RGB triple laser light source ML1080 and ML1080ST projectors . The ML1080 won the Best of Show Award at InfoComm 2023 from ProjectorCentral.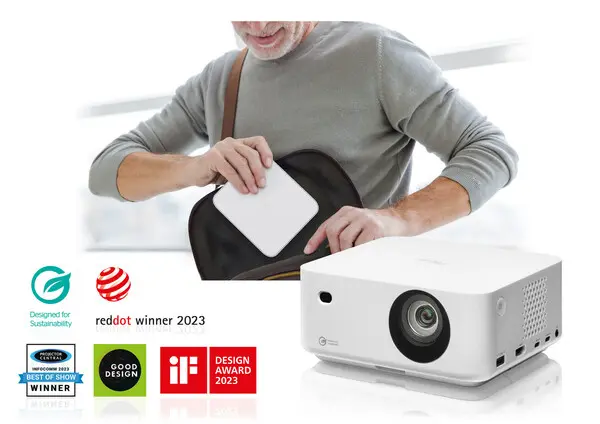 The new Optoma projectors employ a discrete RGB laser architecture, traditionally associated with high-end models, and brings this capability to a more compact and affordable device. They are not only the most compact RGB laser projectors available, but also the lightest, the ML1080 weighing only 2.2 pounds.
Despite their compact form, they do a pretty good job on brightness, offering an impressive 1,200 lumens, making them the brightest projectors in their size category. Designed to cater to both consumers and businesses, the projectors feature an RS232 serial adapter for remote fleet management through the Optoma Management Suite platform.
In addition to these features, the projectors allow wireless sharing from up to four devices using Optoma's Creative Cast function. They also offers1080p resolution and high-quality color reproduction.
The design is minimalistic and uses environmentally-friendly construction.
| Specifications | ML1080 | ML1080ST |
| --- | --- | --- |
| Resolution | 1080p Full HD (1920×1080) | 1080p Full HD (1920×1080) |
| Brightness | 1,200 lumens | 1,200 lumens |
| Contrast Ratio | 3,000,000:1 | 3,000,000:1 |
| Throw Ratio | 1.2:1 | 0.78:1 |
| Light Source | RGB Triple Laser (up to 30,000 hours of operation) | RGB Triple Laser (up to 30,000 hours of operation) |
| Image Size | Up to 100″ at 5 feet distance | Up to 100″ at 5 feet distance |
| Setup | 4 corner correction, ToF technology | 4 corner correction, ToF technology |
| Connectivity | USB-C power, HDMI 2.1, USB-A Power 1.5A, USB-A 0.5A Power, Audio 3.5mm, RS232 via Mini USB connector | USB-C power, HDMI 2.1, USB-A Power 1.5A, USB-A 0.5A Power, Audio 3.5mm, RS232 via Mini USB connector |
| Price (US) | $999 | $1,149 |