NAB was the place where we learned about new reference 31" HDR monitors that will offer a peak luminance of 2000 cd/m². They are all based upon a new dual-panel architecture being produced by Panasonic that features two DCI-4K resolution panels in series to offer a million to one contrast ratio on a pixel basis. This will compete directly with RGB OLED reference monitors that are limited to 1000 cd/m² today. Hitachi, Panasonic, TVLogic, Flanders Scientific, Ikegami and Eizo are all planning to offer their version of a professional monitor by the end of the year.
At NAB, all were showing demos of their implementation of this monitor, but only with 1000 cd/m² of peak luminance. New panels that can reach 2000 cd/m² are expected to be delivered to these companies in May, so pre-production versions are likely to be shown sometime after that by some of these companies. Only Eizo seems to be focused on offering a 1000 cd/m² version, while the others will offer 2000 cd/m² versions. We saw all of the prototype monitors except the Panasonic one, which was behind closed doors. Canon also showed a 2000 cd/m² monitor apparently NOT based on this dual-modulated panel (see separate article). (Canon Releases Two New HDR Monitors)
Hitachi's version of the monitor was wall mounted and labeled as 2000 cd/m², although it clearly was not presenting such bright images. No other information was available other than a planned release date by the end of the year.
Ikegami said they will have a 32" 2000 cd/m² HDR monitor, but they probably meant the 31" model based upon the Panasonic panel. It will support HLG, PQ inputs and is based on a dual-modulated LCD architecture using IPS panels. No color gamut or black level specs were available. A demo was on display in the booth, but like the others, was not achieving 2000 cd/m².
TVLogic claimed they have a six month exclusive access to this Panasonic panel for their 2000 cd/m² HDR monitor, but Flanders Scientific refuted this saying all the partners are getting the new panels in May. All partners are apparently getting the same panel and backlight, but each company is adding in their own electronics and firmware to help differentiate. TVLogic said the panel will use LEDs and not quantum dots to get to 98% of DCI-P3 coverage. The model number will be LUM-310R and TVLogic also revealed the black level to be 0.002 cd/m² with the peak luminance of 2,000 cd/m² – so consistent with the 1 million to one contrast claim. Their datasheet indicates there are over 2000 LEDs in the backlight as well.
The LUM-310R will support various HDR standards such as SMPTE ST2084, ST2086 and ST2094 [pending], Hybrid-Log Gamma (HLG), and more. It also supports multiple color gamuts including Rec.709, DCI-P3, and Rec.2020. Signal I/O includes 3G/6G/12G-SDI input via one, two, or four SDI connections as well as HDMI (ver.2.0).
TVLogic's LUM 310R will have a peak brightness of 2,000 cd/m²
Flanders Scientific was discussing the 2000 cd/m² reference monitor they have in development, the XM31K, but were not showing it. They decided that showing the 1000 cd/m² version like everyone else did not make sense. They will wait for the new panel and probably start showing the full 2000 cd/m² version this summer – maybe at CineExpo in June. It features a 10-bit panel and 12-bit pixel pipeline, plus multiple HDR formats support and 12G-SDI connectivity. The company has historically not sold a monitor over $8K, but this new 2000 cd/m² product will be priced significantly higher.
Eizo appears to be using the same 31.1" dual-modulated panel from Panasonic, but instead of offering a 2000 cd/m² version like everyone else, it will go with a 1000 cd/m² version, and a black level that is half of the others at 0.001 cd/m². The color coverage is 98% of DCI-P3. (Eizo Responds to HDR Mastering Need)
Called the ColorEdge Prominence CG3145, it offers DCI-4K resolution (4096 x 2160) and support for PQ and HLG EOTF curves. Video formats including HDMI input compatible with 10-bit 4:2:2 at 50/60p. The DisplayPort input supports up to 10-bit 4:4:4 at 50/60p.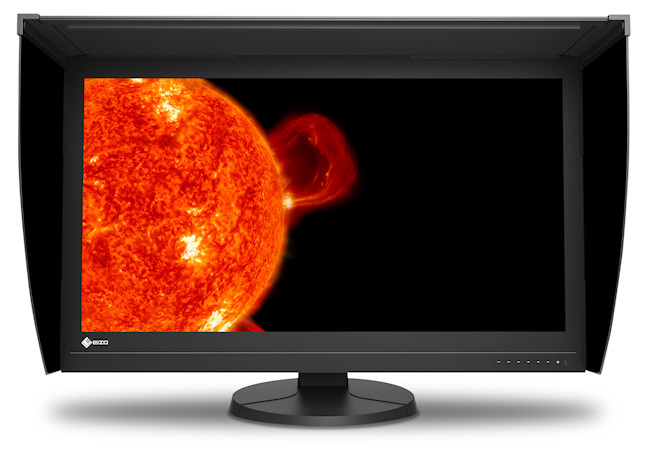 It looks like one of the reasons to focus on 1000 cd/m² is so they do not have to engage any auto-dimming algorithms. These kick in during brighter scenes and lower the overall brightness to limit any damage from running the display too bright and too hot for too long.
Availability is slated for early 2018 with a price to be determined.