Eizo has made its ColorNavigator API available to software developers and system managers with the release of its latest version of its ColorNavigator 7 color management software.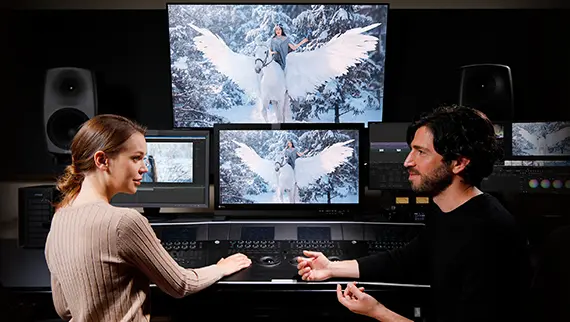 Professionals across a range of industries, including photography, video, and print, rely on accurate color settings when using image editing and design software. Currently, achieving the correct settings requires adjustments in both the software application and the dedicated color management software or the monitor's on-screen display (OSD). By offering the ColorNavigator API for integration, Eizo aims to streamline this process.
Key functions available with the API include changing the color mode, creating a new calibration target, executing or canceling SelfCalibration, and retrieving calibration results. This means users can access essential color management operations without needing to operate ColorNavigator 7 separately. For instance, video post-production professionals can seamlessly switch between SDR and HDR modes directly from their editing software.
The API provides an opportunity to not just alter color modes but also to pull crucial calibration details, such as data vital for print proofing systems to check color accuracy. Developers from various sectors, encompassing video editing, color grading, and digital graphics, have the potential to use the API to cater to specific user needs and streamline workflows.
The ColorNavigator API will be compatible with a range of Eizo's products, including the CG3146, CG3145, CG319X, CG2700X, CG2700S, and CG279X. It is available with the ColorNavigator 7 version 7.1.12 or subsequent versions.
Eizo Introduces Pixel Inspection Function for ColorEdge Monitors
Eizo has also added a new Pixel Inspection function to its ColorEdge CG2700X and CG2700S monitors. This function allows users to verify color information in creator work environments. Video creation, from editing to color grading, requires consistent settings across video hardware, software, and monitors. Deviations can lead to production delays and additional costs. Given the rise of remote workflows in post-production, verifying that creators are using the correct settings has become more challenging.
The Pixel Inspection function enables a check of color data for individual pixels. Accessible through the monitor's on-screen display (OSD), this tool shows the color data from the source input and its display on the monitor. Discrepancies can then be addressed by system managers. It is available now for ColorEdge CG2700X and CG2700S users, who will need to download the latest firmware to access it.